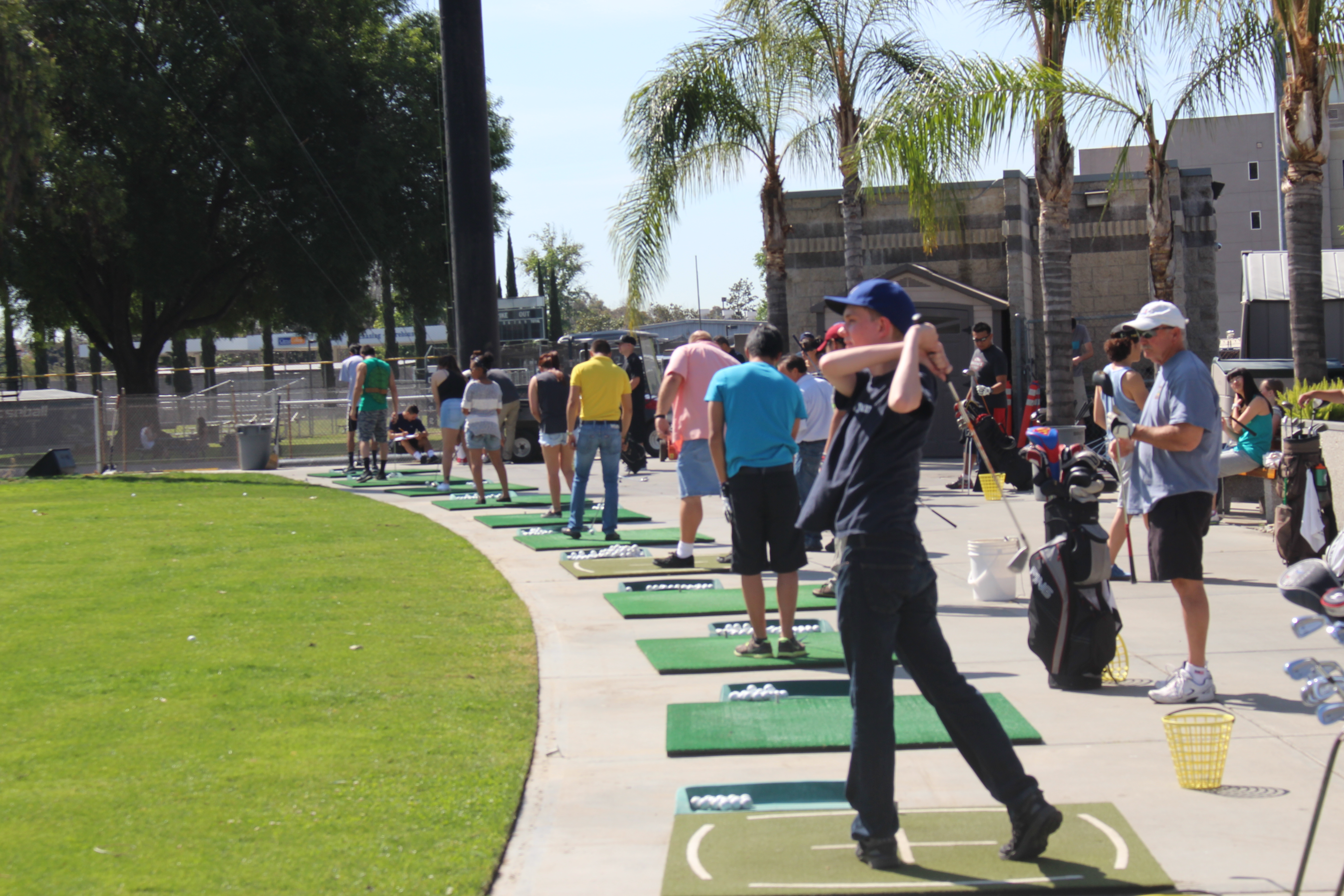 ---
Students Participating in Professor Cliff Wurst's Kiniseology 103 course take turns practicing their swing with a variety of golf clubs. The course is offered in the effort to introduce students to the game of golf and features lessons on etiquette, history, rules, and proper use of equipment. (Cameron Wisdom/Clarion)
By Cameron Wisdom | Staff Writer
The Range at Citrus College provides a conveniently located and well-maintained facility in which students, faculty, and the general public can hone their skills, practice their game, and release tension while driving a bucket of balls.
Open seven days a week, the Range at Citrus hosts a variety of services, classes, and lessons from a certified golf pro to allow the Citrus College community the opportunity to practice and learn a game that has been played for centuries in societies across the globe.
The Range itself features 13 target greens with bunkers, sand traps, 31 practice tees, a chipping area with bunkers, and a 2,500 square foot putting green.
Prices range from $5 to $22 depending on their preference to play off mats or grass and the size of the bucket of balls provided.
According to Lauri Stoner, supervisor of the Range at Citrus, the range is also used by local high school golf teams, organizations such as the Boy Scouts of America, and community groups seeking an opportunity to provide a memorable experience for their members to enjoy.
Jeff Ingraham, a Class A golf pro since 2007, has been a teaching professional since 1995.  He conducts lessons during weekday hours at the Range at Citrus in half hour increments and occasionally consults with the Citrus golf team and the Kinesiology 103 class.
"Jeff has committed a lot of his personal time to help students wherever they need it, He's got a big heart," Stoner added.
"My proudest accomplishment in golf is working with a lot of great people that come back and thank you later on for helping them with any aspect of their game,"  Ingraham said.
Ingraham noted that the most important part of the game for a prospective golfer to is grip and setup, as golf is driven by fundamentals in posture, hand placement, approach, and swing motion.
Cliff Wurst has been teaching the KIN 103 (Golf) class for eight years at Citrus College. Some of the learning outcomes of the course include the ability to demonstrate fundamental golf skills required to participate in a round of golf at a golf course, understanding etiquette, history and rules, improving performance, ensuring safety, and promoting enjoyment of the game.
"The class is a tremendous opportunity (for students) to introduce themselves to a game they can learn and participate in for the rest of their lives," Wurst said.
Prospective students are not required to furnish their own equipment as the kinesiology department and the golf range provide everything needed to participate in the class.
Wurst said that he uses the range himself to practice in his free time.
Daniel Olivas, 21, an architecture major at Citrus, works as a golf range technician at the range and in the Pro Shop. Olivas has played on the Citrus golf team and considers himself to be a "Scratch Golfer" a term in the golf lexicon that describes individuals who can play a course to a handicap of 0. "I learned the game playing with my dad when I was younger, and being around the facility as a member of the golf team and the Pro Shop has helped me improve the way I play," Olivas said.
Olivas has received golf tips from Ingraham on several occasions and testified to the quality of instructions provided by the golf pro.
"Jeff knows the game well and makes the lessons easy for anyone to understand," Olivas said.
The Pro Shop at the range recently ran a promotion aimed at attracting students and faculty to spend time and unwind while receiving pro instructions from Ingraham at a reduced rate.
"I think it's a great opportunity for students and faculty alike to blow off some steam between classes or during their lunch break," Stoner said.
Hours of operation are 8 a.m. to 10 p.m. Monday-Saturday and 3 p.m. to 10 p.m. on Sundays.
---
---