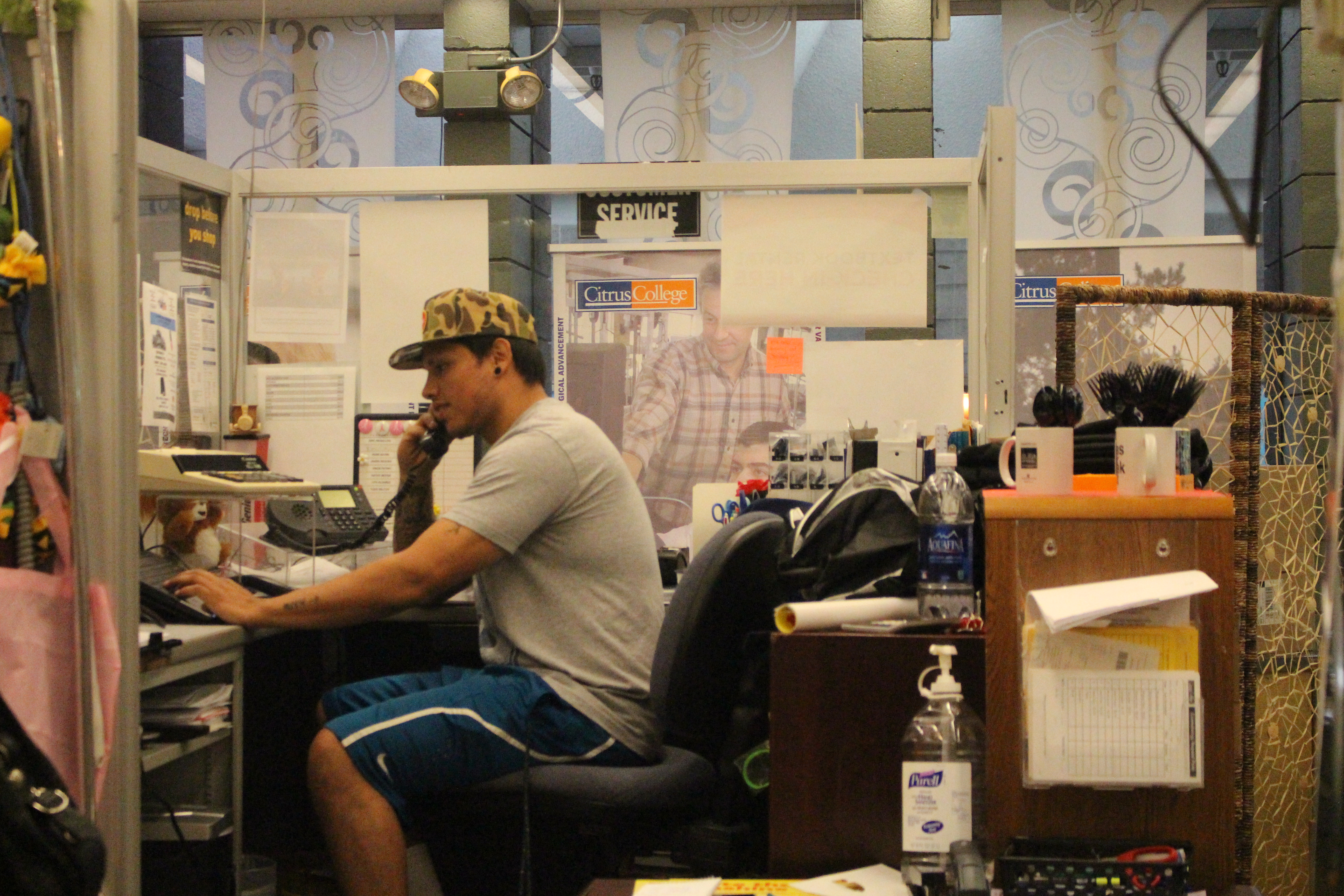 ---
Alex Lorenzana, 23, nursing major, takes customer calls in the Owl Bookstore. (Careesa Campbell/Clarion)
By Careesa Campbell | Opinions Editor 
Students can apply for jobs through the job postings found on the Citrus College website under Student Services.
Currently enrolled students and alumni can use this resource as a way to find up-to-date full-time, part-time and temporary jobs in Glendora and other surrounding areas such as Monrovia, Azusa, Pasadena and Sierra Madre.
These job listings include student jobs on campus like working at the bookstore or becoming a campus safety assistant and other jobs through outside businesses such as accounting clerks, caregivers or receptionists.
All positions listed are required to pay at least minimum wage, but the hours and salary vary depending on the job requirements.
When clicking Job Postings, each listing gives the job title, salary, location, hours, required skills, contact information and how to apply.
According to Karen Giles, student employment services technician, approximately 700 students have been hired to work on campus.
In order to do so, students must be enrolled in a minimum of 12 units.
Giles says working on campus is convenient and provides a way to gain experience for first-time employees.
"I think its really good work experience, especially for students who have never had a job before," Giles said.
Ronald Bures, 20, works as a barista at the Starbucks located in the Student Services building. "I like being a barista because there is more of an interaction with customers," he said. "I like that I can make friends but also be an employee at the same time." Depending on each department's hours, students can arrange their school and work schedules to coincide.
"It's pretty convenient since I'm already on campus for class," said Bures. "The only downside is the 20 hours a week. I would like to make more money, of course."
Using these resources can help students prepare for future job opportunities.
"It hopefully teaches them to be responsible and how important it is to be on time," Giles said. "It gives them the work experience they need to go outside and get another position."
Alex Lorenzana, 23, works in the Owl Bookstore's customer service. He says the best part of his day is assisting students.  "When I help somebody and solve their problem it's pretty cool," he said. "If anybody needs something, I'm here."
If students have questions regarding the website, SES is open Monday through Thursday from 7:30 a.m. to 5 p.m. and Friday from 7:30 a.m. to 4 p.m. in the Human Resources department located on the first floor in the ED building.
---
---