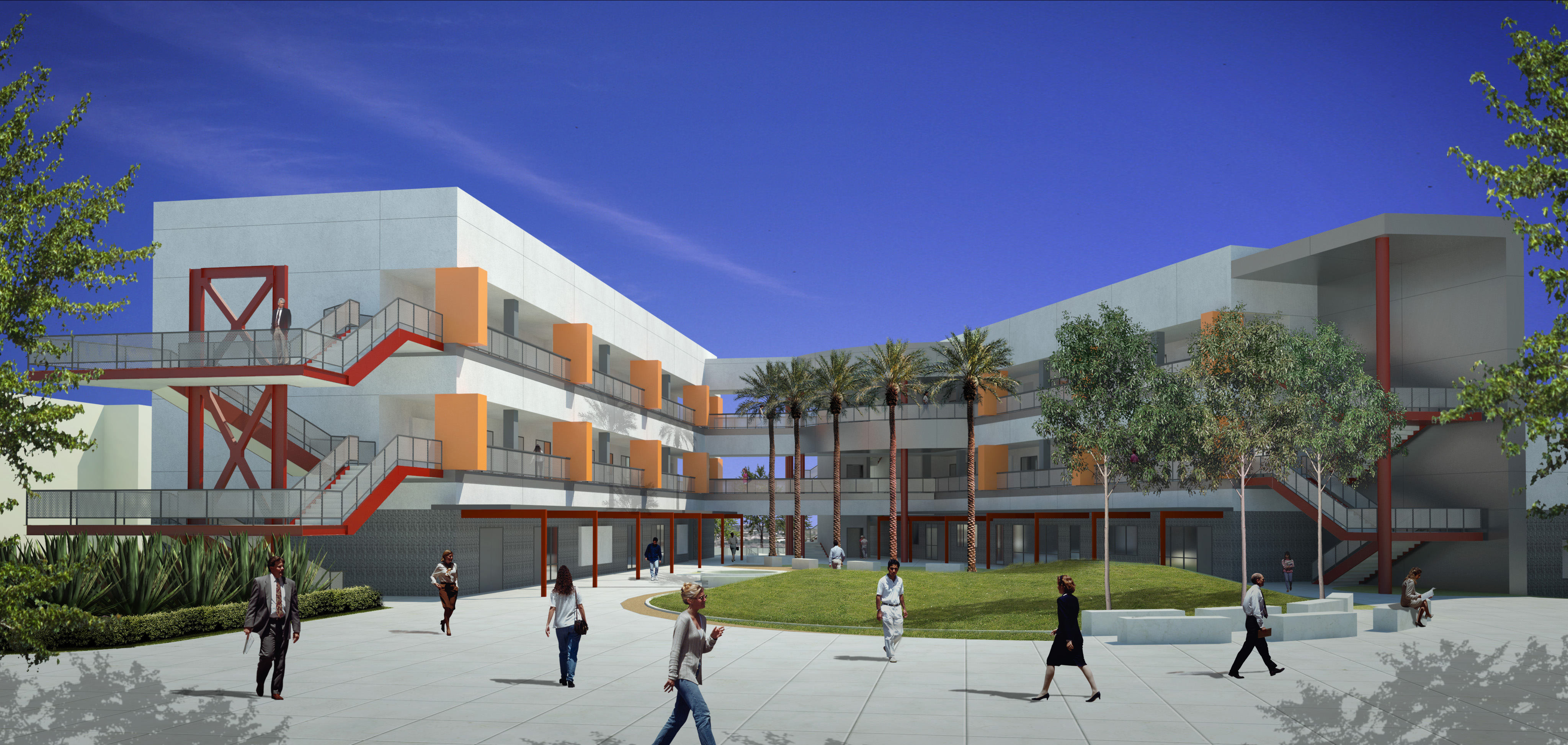 ---
Digital rendition of the recently approved Fine Arts building, courtesy of TBP Architecture.
Despite opposition from local open government advocates, skepticism from local media and a brief delay in the approval process, controversial funding for the construction of the new Fine Arts Building on campus is now secured.
The Citrus College Board of Trustees voted unanimously, 5-0, at its May 6 meeting to approve at the issuance of Series 2014D Bonds, the fourth set of bonds issued following the approval of Measure G, passed by voters in March 2004.
The vote was met with applause from the packed house in the Center for Innovation Room 159, as students and faculty showed up in full force to support the resolution.
"We're relieved," said Claudette Dain, Citrus College vice president of finance and administrative services. "We're glad to continue our promise to our community and to get ready to provide a state of the art facility to our students."
The proposed Fine Arts Building will serve home to programs that will foster development of students working toward careers in graphic arts, Web design and other digital media.
This is the fourth issuance of bonds through Measure G. But this particular issuance, Series D, has drawn criticism from opposition because the bonds will come in the form of capital appreciation bonds (CAB) rather than conventional bonds.
The Fine Arts Building is nearing an August 7 deadline with the Division of State Architect, forcing those involved with the project to consider the use of CABs.
CABs have drawn criticism from media and taxpayers alike after many California school districts abused their use of CABs.
In some instances, districts will end up owing up to 10 times the amount they borrowed, according to the Los Angeles Times.
The California State Legislature recently passed Assembly Bill 182 in response to the misuse of CABs. A.B. 182 limits a school district's repayment ratio to no more than $4 in interest and principal for every $1 borrowed.
The $19 million issuance of Series D bonds is expected to cost $49.8 million when they are eventually paid off in 25 years. This amount falls well below the 4 to 1 payback ratio at 2.62 to 1.
Despite the school's compliance with A.B. 182, local open government advocate Gil Aguirre believes A.B. 182 does not go far enough in protecting taxpayers from lax spending by school districts and in this case, the use of capital appreciation bonds will cost the district and taxpayers $16.3 million more than the use of conventional bonds.
"The use of capital appreciation bonds is just a terrible financing mechanism," Aguirre said. "It's exactly the same kind of financing that led to the housing meltdown that we had."
There are still a number of steps between board approval and the actual pricing of the bonds. Citrus will work with their consultants as their next step is at the county level, Dain said.
---
---