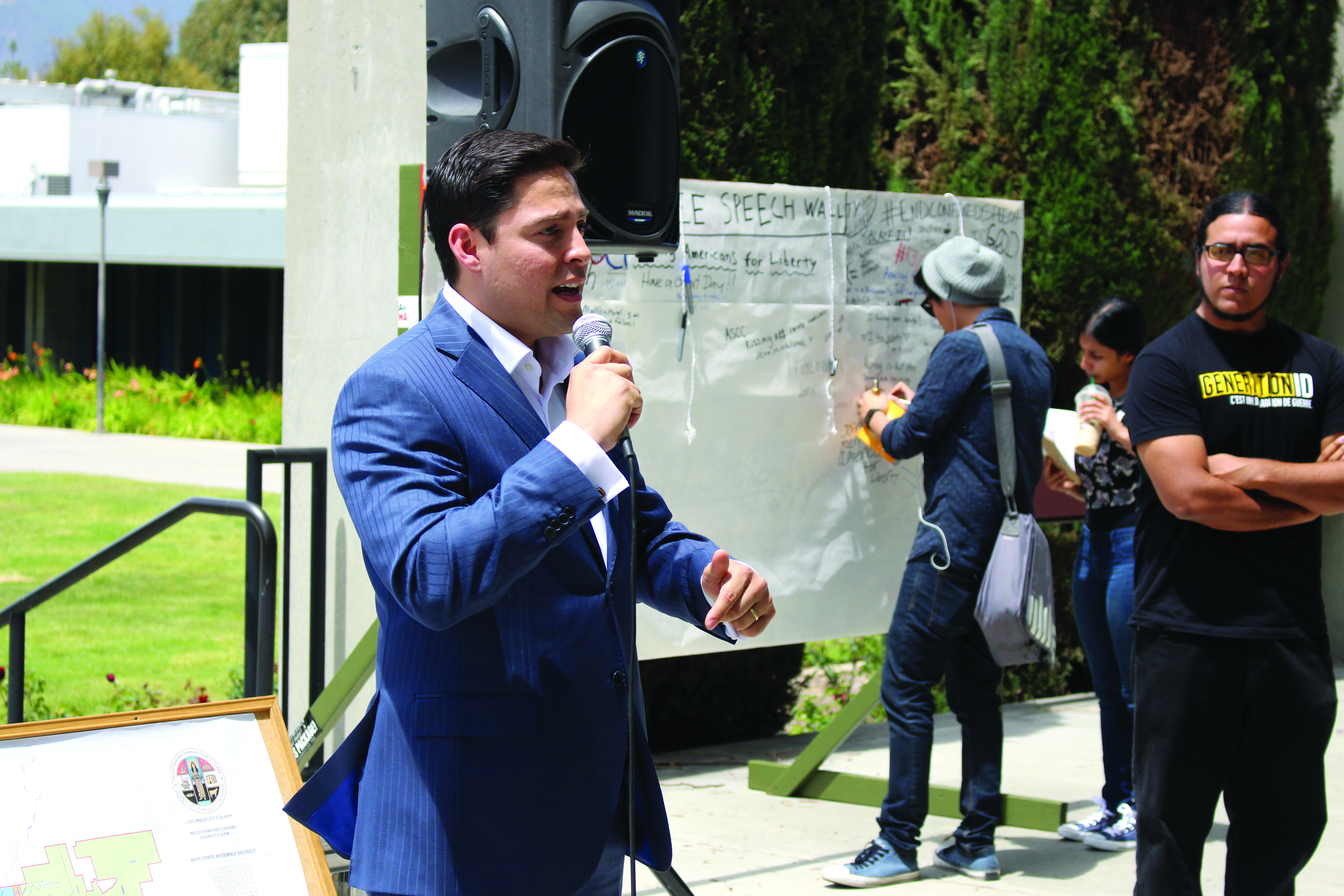 ---
Congressional candidate for the 32nd district Arturo Alas speaking before the an assembly of students in the Campus Center Mall. Alas' speech touched on topics from keeping jobs in California, to the importance of free speech on campus. (Evan Solano/Clarion)
By Evan Solano | Editor-in-Chief
Four political candidates and a free speech zone protest were the focus of America Day in the Citrus College Campus Center Mall May 1.
Hosted by Righteous Right, a recently reactivated political club, along with Young Americans for Liberty, America Day drew a small yet active and loud crowd.
Representatives of the two clubs could be heard asking students where their "American flag swag" was. Many were offered American flag bandanas to show support.
Republican candidate for the State Assembly, District 48, Joe Gardner, congressional candidate for district 32, Arturo Alas, candidate for state senate, Marc Rodriguez and Los Angeles County Assessor candidate John Wong, were all in attendance at America Day.
"The purpose of America Day was to promote American values and non-government intervention into our lives," said Righteous Right member and event organizer, Tim Peterra.
The four candidates are each being supported by Righteous Right and were invited to the event in order to give students an opportunity to meet the candidates prior to the June 3 primary election.
Students were given the opportunity to register to vote at a booth hosted by the Republican Center.
Darrell Schimel, center operations manager for the Republican Center, has been working for the past several months with Peterra to reserve his spot at this event. His aim was to attract more young voters because according to Schimel it's the young voters who are "absolutely essential."
"We love the young people, we don't have enough. We want more [and] we encourage them to get involved," Schimel said.
Congressional candidate Alas has made it his mission to attract a younger audience.
"I'm here because my campaign is a youth movement and Citrus College is right in my district," Alas said.
"I wanted to spread our message of liberty and bring awareness to the fact that our federal government is slowly but surely taking away our rights."
Students had the option of writing on the Free Speech Wall provided by Righteous Right and Young Americans for Liberty, which was open to everyone.
Opinions shared ranged from, "I want to believe in aliens" to "I hate Glendora PD."
The purpose of the Free Speech Wall was "to promote free speech and protest the free speech zones," Peterra said.
Citrus currently has three free speech zones. One primary zone is located in the immediate area surrounding the Owl fountain outside the Hayden Memorial Library.
There are also two secondary zones, one on the east side of the Mathematics building, the other on the west side of campus in front of the Performing Arts Center. Each of these zones is defined by pour lines in the concrete.
"If you were to say something controversial outside the free speech zone, a lot of administration would try to kick you off campus and some schools have taken disciplinary action against [students]," according to Gabriel Nadales, former Associated Students of Citrus College legislative liaison.
"This is confined speech, it's not free speech," he said.
"I don't think I should be limited to what I can say where I am, whenever I am," said Michael Montoya, 20, business major. "I don't think that's the American way."
Huy Fong Foods Inc. also made an appearance to support America Day. Sriracha has been making headlines in the last few months due to the pungent smell that disperses from it's factory in Irwindale that manufactures Sriracha. The company has been fighting against the city of Irwindale to continue operations out of its current location.
Righteous Right attended a protest Huy Fong Foods Inc. had at City Hall in Irwindale and to return support, the company sent six boxes of samples and a dozen shirts.
Students at the event could purchase raffle tickets for the chance to win a Sriracha T-shirt. The proceeds went towards a fund for Lukas Betance, the son of Daniel Betance, a Marine who committed suicide earlier this year.
In total $200 has been raised at this point, Righteous Right will continue raising money and depositing it into a college fund for Betance.
With a tentative date in mind, Righteous Right also plans to plant a garden outside the Veteran Center in memory of Daniel Betance.
For more information or to donate to Lukas Betance contact Tim Peterra at RighteousRightPYM@gmail.com.
---
---