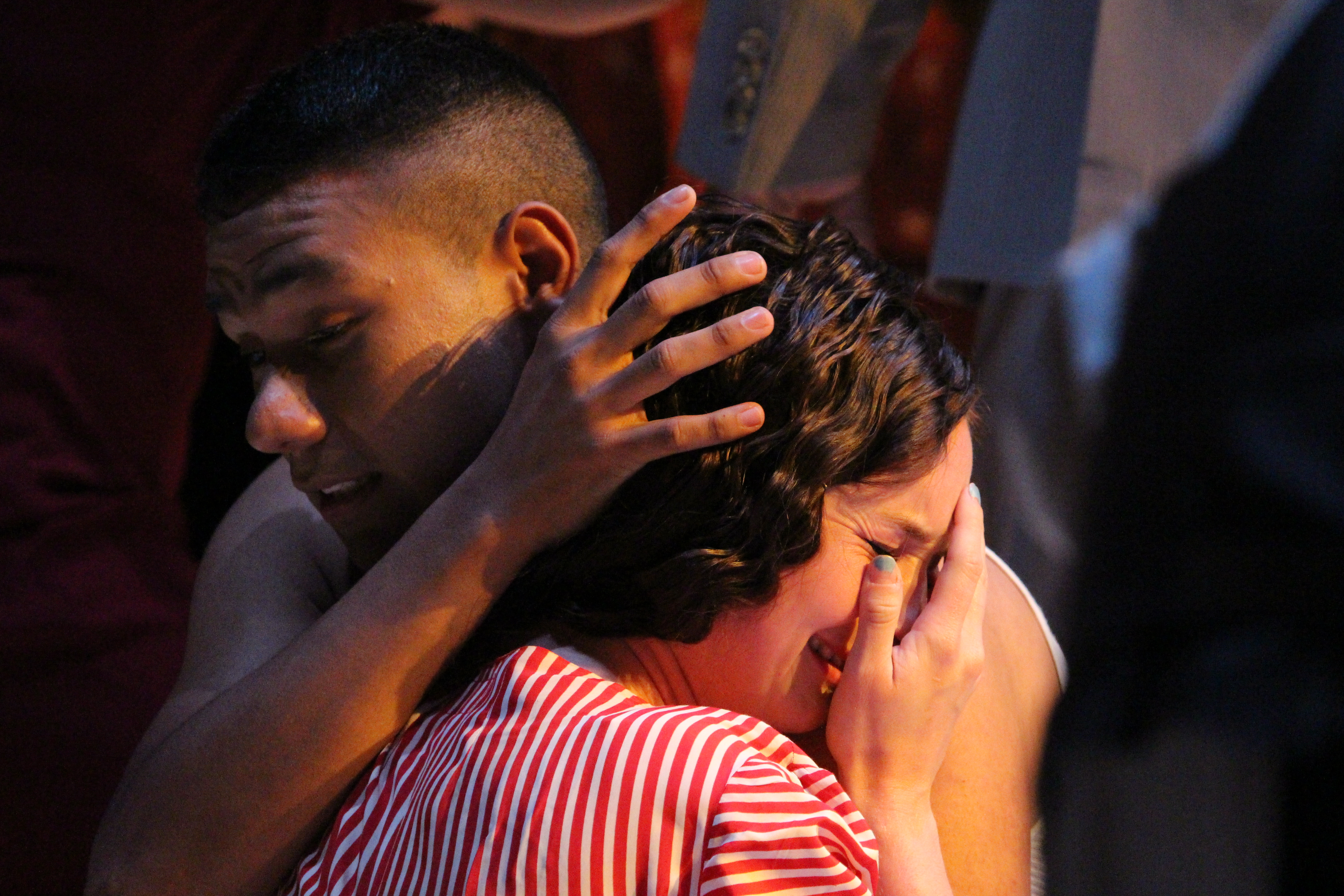 ---
In "The American Clock" Andrew Garcia, 21, plays Henry Taylor, who is embracing his 15-year-old-daughter Harriet Taylor, played by Felicity Mayer, 20, in comfort after gunshots were fired in a scene. (Careesa Campbell/Clarion)
By Careesa Campbell | Opinions Editor 
Arthur Miller's "The American Clock" is a rarely performed play that the Citrus College student performers are preparing to take on.
The play takes place in the aftermath of the 1929 stock market crash and The Great Depression, but it was chosen due to its relevance to the world today. As a professor at Cal State Fullerton, director Kari Hayter says this is her first time working on a Little Theatre production. "I love the students because they are incredibly enthusiastic and eager," she said. "They were ready to tackle a really difficult play."
"The American Clock" is complicated because of its older language, extensive dialogue and serious subject matter.
"This is one of Arthur Miller's plays that is not done very often because it is complicated," Hayter  said. "It involves really serious issues, it's dense and there's a huge cast."
The 16 student actors depict the lives of 40 characters during The Great Depression from rich bankers, to children, to the poor people in the south.
"All of them play more than one role, but some of them even play four or five roles in the play," Hayter said. "They have to transform themselves in many different ways."
While Hayter did not alter any of the original dialogue, part of her responsibility as director is to create a way for the scene transitions to flow seamlessly.
"Rather than keep the traditional blackout of a scene, I'm trying to make it more theatrical so you see the changes happen," she said.
Kevin Williams, 24, is cast as one of the main characters and it is his first production at Citrus College.
"It was really great to meet everybody and have such a great first experience here," he said. "It's been a lot of fun."
Williams' character is a young adult named Lee.
"My character talks about college as a safe haven between adolescence and transitioning into the real world," he said. "Our generation can understand that."
Williams said he loves playing his character because the role is dynamic.
"He's really idealistic," he said. "He's very positive and trying to change the world around him, even though he is still affected by it. It's very realistic."
Jamie Hernandez, 20, has performed in three Citrus plays since November of 2013.
Hernandez describes her character, Rose Baum, as a wealthy, carefree woman who, as the play progresses, gets a reality check into the impoverished post-Depression world.
"Once I read this took place in the Depression era, I knew it was going to be a challenge, and I wanted it," she said. "I knew there was going to be something so far out of my comfort zone with being vulnerable on stage. The realness is what attracted me to it, and it seems like it would just hit you."
The characters address the audience a number of times throughout the performance, but Hernandez says her character Rose breaks the wall between the cast and the audience because they get to follow her through her emotional journey.
"I find Rose and myself connecting a lot with vulnerability because she does not want people to see her break down and neither do I," she said.
Hernandez says the play relates well to the lives of people today because it shows that The Great Depression didn't just happen in the 1930s. It is still happening today.
"I think a lot of people are blind to the fact that not everyone is okay," Hernandez said. "Everyone is putting on this façade like you have to look like you've got it all together so then everyone is afraid to admit they need help."
Hayter said that she hopes those who attend the play realize that Americans are still connected to The Great Depression. "I would like them to appreciate what we do have now," she said. "The world closes a blind eye to homelessness, poverty and starvation and I think if they leave realizing this still goes on, it would be great."
Admission is $10 for students and $12 for guests. Performances are May 9, 10, 16 and 17 at 8 p.m. and May 18 at 2 p.m.
---
---