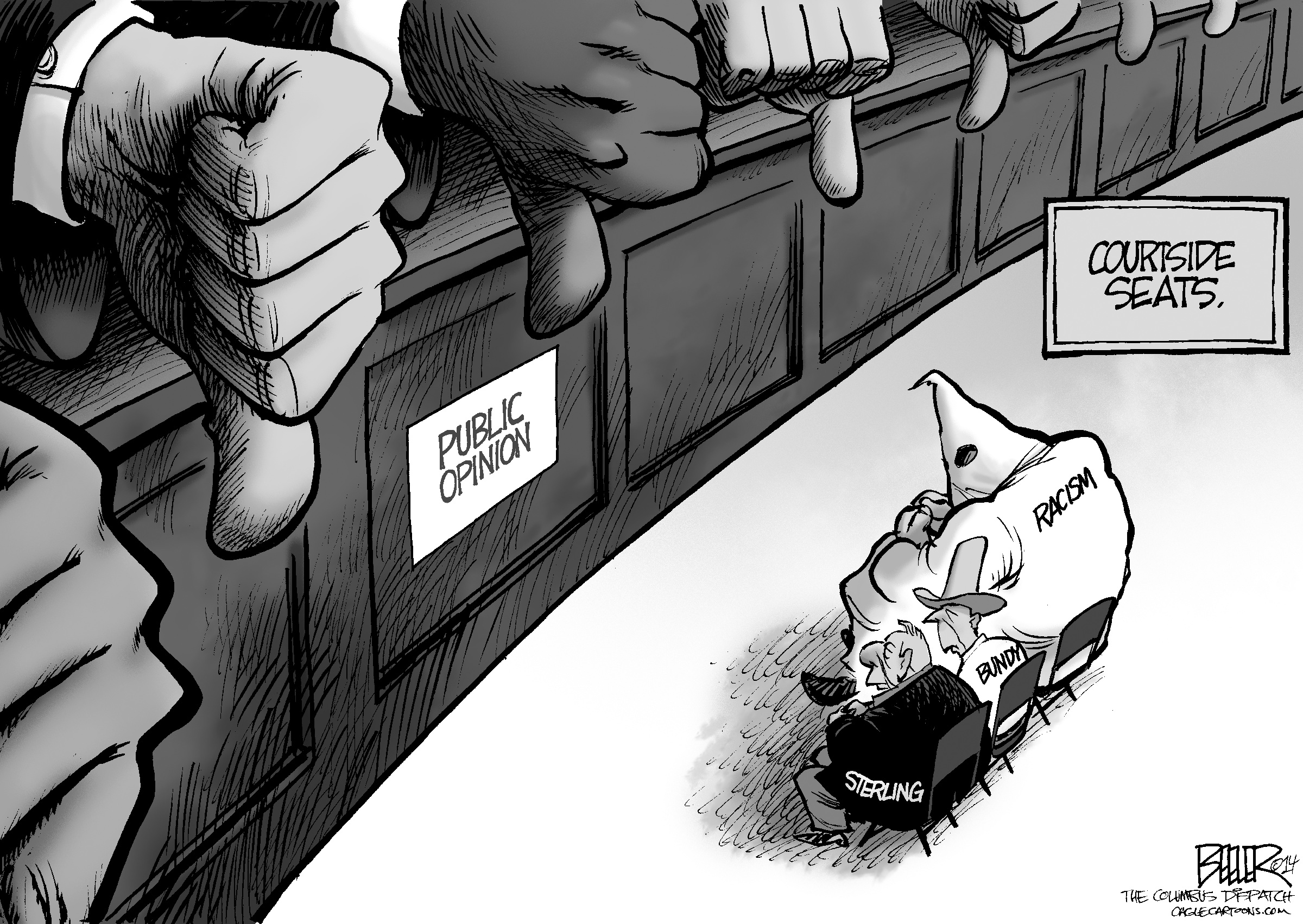 ---
MCT Campus
With the recent emergence of recordings depicting soon-to-be-former Los Angeles Clippers owner Donald Sterling making racist comments, sports fans everywhere were reminded of the harsh reality that racism is still prevalent throughout sporting culture.
NBA Commissioner Adam Silver, in just his third month on the job, acted swiftly condemning Sterling's comments, banning him for life from any association with the league or his team, while also imposing a $2.5 million fine, the maximum allowed under the current collective bargaining agreement.
Silver's decision has received unparalleled support from players, coaches, media and fans alike.
It is time for other major professional sports leagues to step up to the plate and follow Silver's lead by taking a hardline against racism.
In just the last year we have seen multiple racial incidents unfold involving the NFL.
From Riley Cooper's use of a racial slur at a country concert to Richie Incognito's incessant, often racially charged, bullying of teammate Jonathon Martin, the NFL has responded with slaps on the wrist for both men with Cooper receiving no suspension and Incognito serving a eight game suspension for "conduct detrimental to the team."
There should be no tolerance for racism in any workplace, yet alone a workplace where nearly two thirds of the players are African-American.
The flimsy punishments issued by the NFL should come as no surprise though from a league that continues to allow a team named the Washington Redskins to take the field year after year.
Redskins' owner Daniel Snyder has repeatedly refused to consider changing the name, saying it is a salute to Native Americans. News flash for both Snyder and the NFL, "redskins" is a racial slur and it is time to take action.
Maybe the Redskins brass should have a chat with MLB's Cleveland Indians who finally realized that their "Chief Wahoo" logo from 70 years ago may be slightly dated, not to mention offensive.
The Indians are phasing out the chief, replacing him as their primary logo with a block letter "C", a step in the right direction for the Indians' franchise.
While the Indians look to revamp their image, MLB is attempting to do the same through Reviving Baseball in the Inner Cities (RBI) programs throughout the country.
The RBI program alone has not been enough to revive minorities' interest in the game. MLB had an African-American population of 7.8 percent on 2014 opening day rosters, the lowest percentage since 1958, according to USA Today.
As MLB ponders this problem, the solution may lie within.
MLB allowed Marge Schott to own the Cincinnati Reds for 15 years from 1984 to 1999, this despite her controversial behavior, which included racial slurs against African-Americans, Jews and the Japanese.
MLB Commissioner Bud Selig dropped the ball in 1992 when he failed take a strong stance against Schott suspending her only one year after she used racial slurs in reference to then-Reds outfielders Eric Davis and Dave Parker. Coincidentally 1992 was also Selig's first year on the job as commissioner.
It was not until Schott made statements favorable of Adolf Hitler, saying he "was good in the beginning, but went too far," that MLB banned her from managing the team from 1996 to 1998.
While Sterling's remarks rehashes memories of players and coaches involved in race issues, the NHL is dealing with another source of racism, fans.
The Montreal Canadiens top player P.K. Subban, who is African-American, was the target of multiple racist tweets from Boston Bruins fans after scoring the game-winning goal in double-overtime of game one of the Eastern Conference Semifinals. Some Bruins' fans even took their classless remarks to the next level, posting photos of nooses they had tied for Subban.
The incident with Subban is the second time in recent history that the Bruins have had to address the issue of racism amongst fans. Joel Ward's overtime goal eliminated the Bruins the postseason in 2012, kick starting a barrage of racial slurs from Boston fans on social media.
Racism extends beyond major American sports to the international level, as many soccer leagues struggle to combat racism amongst fans as well.
At a Spanish La Liga soccer match between Barcelona and Villareal, a Villareal fan threw a banana at the feet of Brazilian international Dani Alves. It was not the first time Alves has been targeted, in January 2013 Alves was abused during Barca's Copa del Rey Semifinal match with archrivals Real Madrid.
Donald Sterling is this months scapegoat for racism, but as fans view the sporting landscape they will come to realize that racism is still an all too real issue for most professional sports leagues. From owners, coaches, players, and fans, the sports world has quiet the cleanup on its hands.
Nearly a half-century after the Civil Rights Movement, it should no longer take a Sterling transgression to illicit a Silver response. Now is the time for major professional sports leadership to strike out racism.
---
---