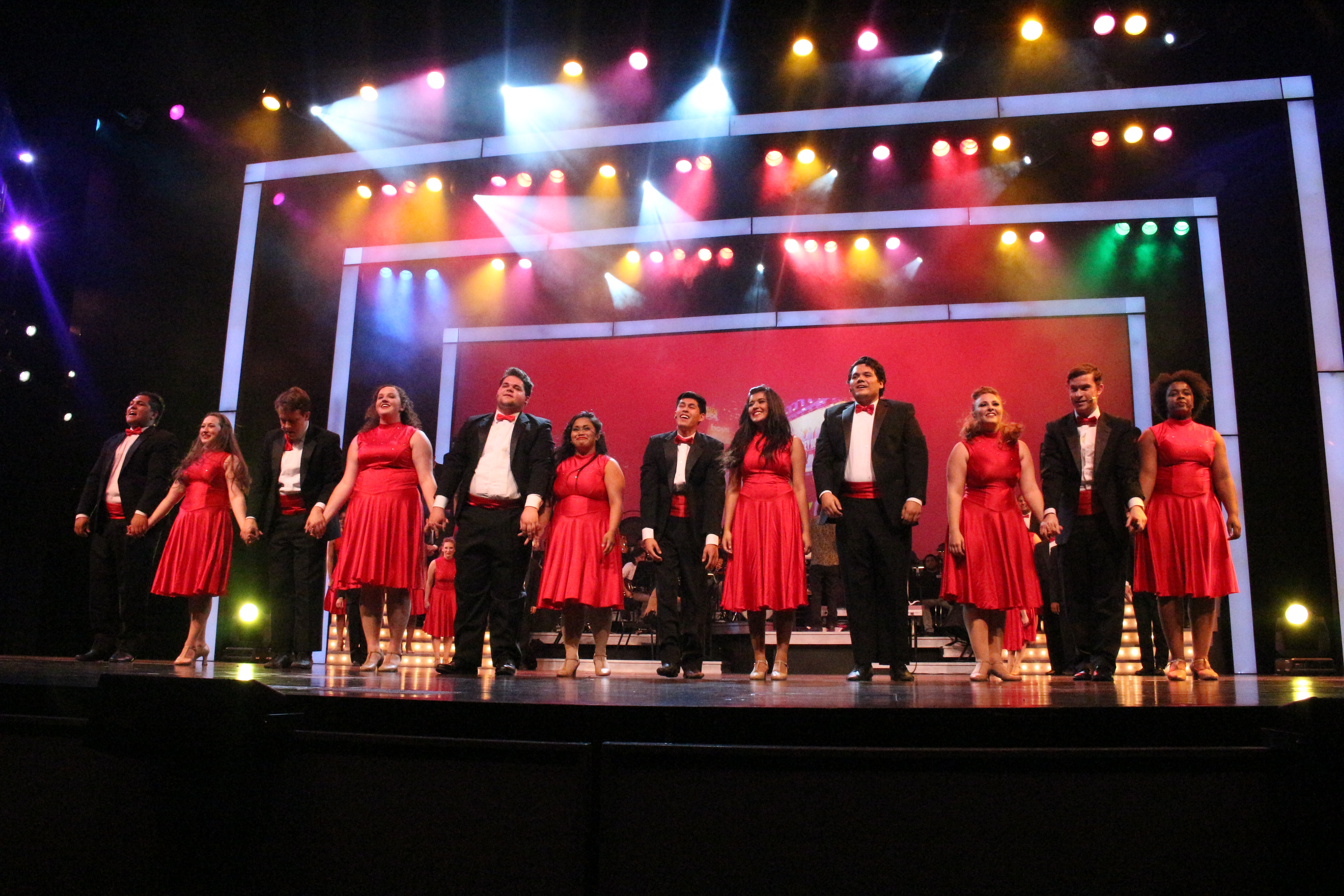 ---
The third-year Citrus Singers stepped to the front of the stage to take their bows before performing their emotional final song, "Thank You For The Music," accompanied by director Doug Austin on piano. (Jessica Soto/Clarion)
It was a show that seemed to end too soon.
The Citrus Singers performed their first ever "Broadway" inspired concert accompanied by the Citrus College Blue Note Orchestra.
From the opening number, "Magic to Do" from "Pippin" to the final song, "Raise You Up" from "Kinky Boots," the Singers showcased their vast range and capabilities.
One of the more memorable moments of the night came as quite a surprise.
The audience was thrown for a loop when a little girl appeared on stage, who was clearly not a Citrus Singer. 8-year-old Tessa Barkley soloed "When I Grow Up" from the musical "Matilda."
Joined by Karyn DeAndrade, Andy May, Timothy Jackson and Delia Trear, this musical number practically forced the inner child of every audience member to come out.
More than twenty Singers were whirling around on skateboards, scooters and rollerblades on the stage while Barkley and Trear finished the song hand-in-hand.
The men were off to a rough start when Max Droegemueller, Andrew Limon and Edward Little took the stage to perform, "Not My Father's Son."
Limon seemed to carry the trio to the end while Little and Droegemueller sounded like they were playing catch up, at one point even beginning a verse at completely separate times.
Micah Tangermann opened "Oklahoma," loud and proud making it look fun and effortless to dance and solo center-stage. Tangermann soloed two more times and each time seemed better than the last.
Quincey Hinton was more than just a Citrus Singer; he showcased his talents as an awe-inspiring dancer while solo dancing to "Novacain," sung by Zach Bondoc. Hinton achieved flawless form while performing barrel roll jumps, back flips and aerial cartwheels along with contemporary dance styles.
The "Dogfight" Medley opened with five Singers portraying the roles of Vietnam-bound soldiers in the 1960s who are out for one last night of fun and games. When Eddie, Robbie Johnson, meets Rose, Brittany Tangermann, the rules change.
Tangermann was one of the stand-out women Singers of the night. Her voice was captivating and the chemistry between her and Johnson was phenomenal. Their duet was passionate and their harmonies were beautiful.
"The Will Rogers Follies" launched with Andy May singing the part of the ultimate cowboy performer Will Rogers. The female Singers graced the spotlight in red and blue skintight suits that were slightly revealing and vibrantly colored.
The girls performed a hand jive with May singing joyfully in the middle, later turning it into what could only be compared to a sitting can-can girl performance with legs high-kicking in perfect unison.
Opening the second act was a tap dancing number that was brilliantly timed and showed there really was "No Business Like Show Business" for these singers.
Garrett Smith proved himself to be quite the theatrical character while singing "Cabaret." Speaking in a foreign language is hard enough, but for Smith singing in French and German didn't seem like much of a challenge.
Smith showed more of his raw talent when he sang a duet with Madison Lefebvre titled a "Song That Goes Like This" from "Spamalot."
From the moment the song began Smith and Lefebvre had the audience laughing with their parody of "Camelot." The comedic aspect of this song was a pleasant break from the other classical Broadway tunes.
Garrett Holder was also one of the stand-out males of the evening with a voice that was bold and unique.
His solo from the music of Rodgers and Hammerstein's "Carousel" was seemingly unbeatable until his duet with Joshua Tangermann.
Holder and Tangermann performed "Lily's Eyes"with a passion that was unlike any other during the performance. There harmony was breathtaking and their pairing couldn't have been better.
Tangermann later opened "One Day More" from "Les Miserables" and along with Brandon Jenkins, Taylor Barbata, Audrey Nieves and Jeremiah Calhoun the beauty of the song had an impact that was unforgettable.
The final song was sang by the 12 third-year Citrus Singers in their final performance with the group titled, "Thank You For The Music."
Accompanied by director Doug Austin on piano, the third-year singers said their goodbyes in an emotional finale that literally brought tears to my eyes.
---
---