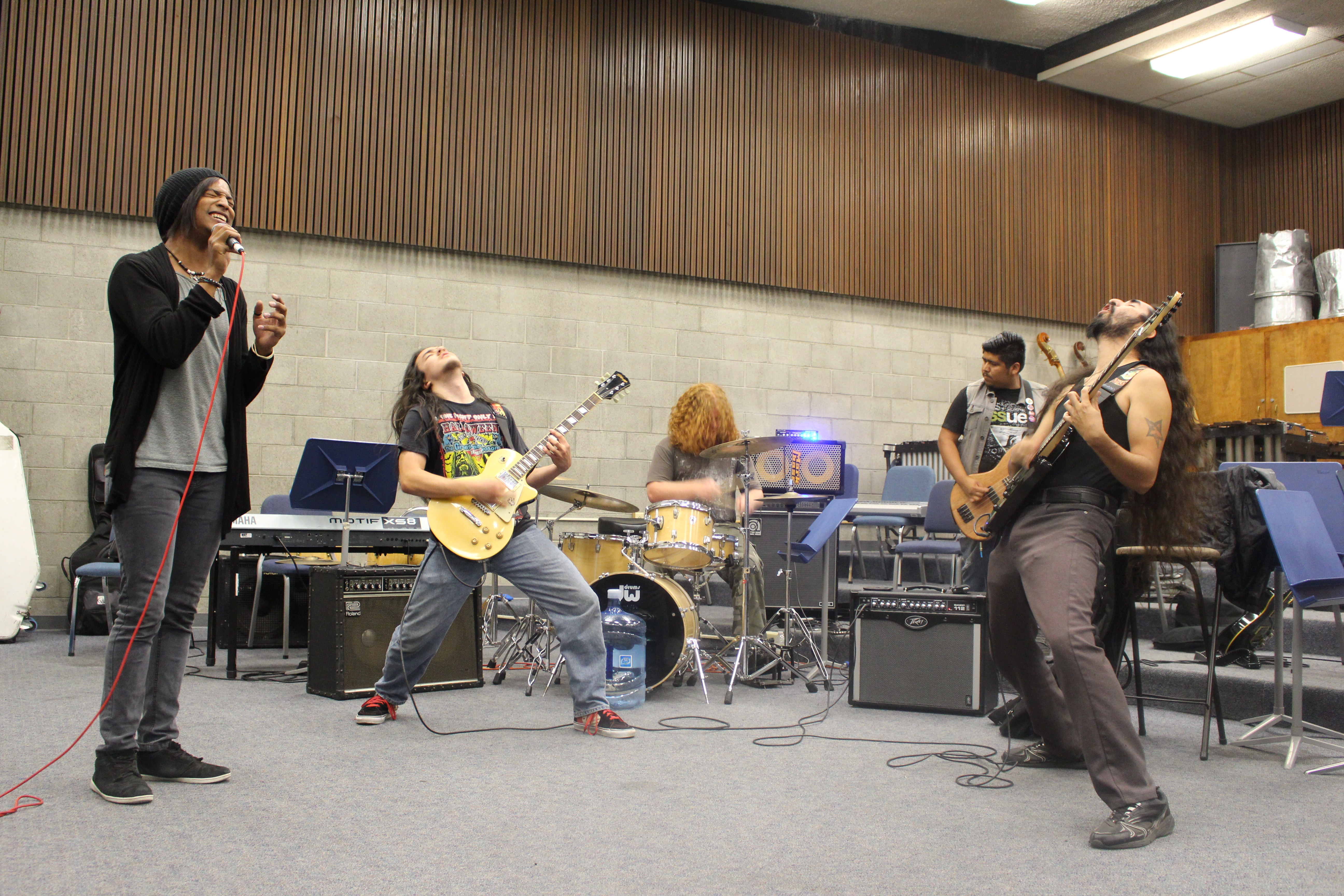 ---
Murder Most Foul, left to right, Yuri Oatis, Raiden Ikeda, Joe Moller, Miguel Camarenas and Don Peña. The band is comprised entriely of students in Introduction to Ensemble Performance, otherwise known as "Dude Rock." (Anne Marie Miranda/Clarion)
By Evan Solano | Editor-in-Chief
The members of Murder Most Foul didn't meet in the typical way most bands do. Instead of forming in a garage or studio, they were brought together by guitarist and founding member Don Peña, 33. He is a Citrus College music major who enrolled in Introduction to Ensemble Performance or as the students call it "Dude Rock".
"It was about two years ago that Alan Waddington told me to sit in on the class and see if I liked it. Alan asked me if I wanted to play and a few guys and me just started playing. It gave me an idea of what the class is," said Peña.
"Murder Most Foul was already an idea in my head," Peña said. "I wanted it to be a progressive metal band. I had an idea to try to find people at school, but I didn't really think that I could find anyone here with the same style as me."
Eventually Peña would round out the line up with drummer Joey Moller, 21, guitarist Raiden Ikeda, 21, bassist Miguel Camarena, 20 and vocalist Yuri Oates, 25, are all music majors.
The class was the brainchild of professor Alan Waddington, "I started teaching the class about 10 years ago. The idea being that the top pop group was super established, we wanted a class that allowed people to work their way up and some alternative concepts," Waddington said.
"It started to turn into this thing within a few years, it was more of 'dude thinking.' The reason the class got its name is that we had a lot of guys that started to join the class that fit the definition of dude and be involved and passionate about the class."
Singer Yuri Oatis, who goes by the stage name Pariah Roulette, got involved with "Dude Rock" in its initial phase.
"I was here the first experimental semester that Alan decided to launch the class. It was broken down. There were only about 13 of us, the class had no structure, no theory. Alan was still trying to figure out the class."
Since then, Waddington has developed "Dude Rock" into what it is today, a class that teaches the fundamentals of performing in a band.
"The whole point of this semester has been about rhythm, how a rhythm section functions." Waddington said.
According to guitarist Raiden Ikeda, the freedom to perform music that isn't Top 40 or jazz is the main reason he decided to take the class,
"Here, we get to do what we want, act how we want on stage and all the critiques are mostly suggestions about how to go about our performance." Ikeda said.
"The way Alan teaches the class, it doesn't feel like you're being demanded to do anything."
Oatis explains how the class is not only about performance techniques and theory, but its also about expression through more aggressive music.
"Pop rock teaches you how to master your craft and master like a million songs in like a week and then go out there and play. This class is for the kids who wont tuck their shirts in," Oatis said
"This is for the kids that are loud, proud and rowdy but if you ask us a question, we'll be able to give you an intelligent answer. We're smart. We just like to have fun. I think this class is exactly what this music department needs."
Murder Most Foul have played a handful of shows around Southern California but are getting ready for one of the most important shows they have played, the inaugural "Dudestock" at the end of the semester.
Unlike the pop/rock bands who host their annual "Battle of the Pop/Rock bands" competition at the end of the year, and the Citrus Singers, who have an end of the year performance, Dude Rock has never had the opportunity to host their own concert, till now.
The concert will take place in the Student Center on June 4 and feature 13 bands, all from the Dude Rock class and will have Murder Most Foul as the headlining act.
According to drummer Joey Moller, the concert is an opportunity to not only show the rest of the performing arts ensembles what the class is about, but also for many students, it'll be their first time performing in front of a crowd.
"There's no better way to get better at doing a performance other than performing, you have to go up there and screw up and make mistakes before you can look good," Moller said.
The  free concert is a bittersweet occasion for the bands, because it will also mark the end of Waddington's involvement with Dude Rock.
According to Waddington he cannot teach as an official teacher of record because the administration would have to pay time and a half which is not only expensive to the school but also the adjunct teachers union.
"It's not a crazy notion, I understand it," Waddington said.
"They brought me in and explained it to me. I'll be on campus helping other classes, but I can't have the title of an official teacher of record."
For Oatis, the prospect of life in Dude Rock without Alan is both exciting as it is nerve-wracking, "Its going to be different and I think its going to be a challenge for those who stick around," he said
"I don't mind the change as long as the ethic of the class doesn't change. The professor can change ten thousand times."
Moller will wait to see how the class looks like before enrolling again, but admits that Waddington, who is a fellow drummer himself, has been a big influence on his technique.
"He's turned me around from a high school drummer to someone who really works hard and has a chance at being a professional," Moller said
"My first couple years here, I was kind of a lazy bum and [Alan] would chew me about it. I really started working and I can honestly say I wouldn't be where I am, with this band, playing wise, any of the things I've done, without Alan." He said
"He's been a life changer in a musical sense."
Ikeda is also considering what next year will bring for the class, but will more than likely be returning in the fall
"Its so much fun I might not know how to stop," he joked.
For Peña, this class and Professor Waddington have a special place in his band's history,
"Murder Most Foul was born in this class. Literally, this is where I found the members," he said. "It's not dude rock without Alan."
Ikeda agrees with his guitarist's sentiments, "I feel like the environment created in this class, a lot of it comes from Alan's personality and the unique way he teaches. He wants to let people do what they want to but show them how to be entertaining and successful and become better performers."
Ikeda is looking forward to Dudestock not only for the performing aspect but also as a way to show other students what the class that Waddington has nurtured, is all about
"I'm hoping that a lot of people will show up and that it will get a lot of exposure for the band. Its a great sort of send off for Alan," he said.
"I feel like originally the idea just came out for fun. But we can show that this is a serious class and that we're doing serious work in here."
---
---