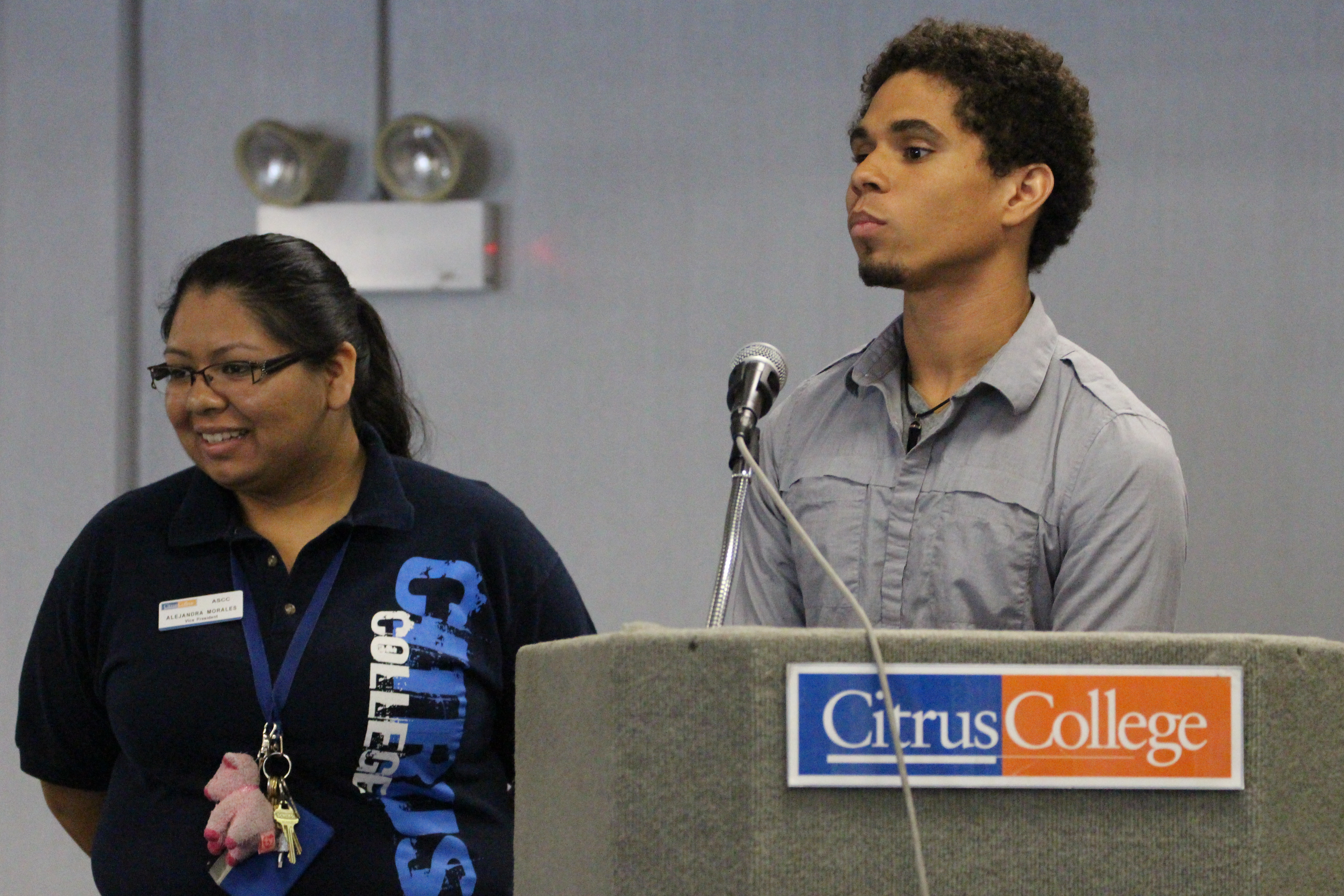 ---
Vice President Alejandra Morales and President Tyler Hernandez. (Evan Solano/Clarion)
As the spring semester comes to a close, the Associated Students of Citrus College are preparing to elect a new executive board for the fall.
According to Adrienne Thompson, supervisor of student life and leadership development, students should run for an executive board position only "if a [they] truly want to commit to something bigger than themselves and help make a difference for other students. The wrong reason to get involved is because it looks good on a transcript or an application for transfer."
Students who are interested in running for student government must go to the Office of Student Life and request an application for any of the following: president, vice president, legislative liaison and seven senator positions.
"I encourage people to be a part of ASCC and actually have a voice in the student government," said Gabriel Nadales, candidate for president of ASCC. "I like the fact that when I was legislative liaison the board was pretty diverse, we always had a lively debate and that's good when dealing with policy."
The role of the president is to chair all executive board meetings and follow through on all business. The student body president is elected for two semesters.
The vice president assumes the responsibilities of the president in his/her absense and is ex-officio member of all ASCC committees. The vice president position is one semester.
The responsibility of the legislative liaison is to inform the executive board of events, actions and proposals that may impact the interests of the student body. This position is also a two semester position.
Senators are responsible for handling specific aspects of the campus and serving as liaisons between the executive board and the academic departments in their areas.
Applications are being accepted until May 23 at 2 p.m. Candidates are vetted to ensure they are qualified to represent the student body.
The vetting process requires the student have active enrollment at Citrus College and be a paid member of the ASCC and also have a cumulative GPA of at least a 2.5.
"It does take a lot of time and commitment," Thompson said. "Students who may be struggling academically might want to rethink their priorities. While want to have students from all sections of campus represented . . . I don't think a student should sabotage their academic career to be involved in student government," Thompson said.
The current president of ASCC, Tyler Hernandez, added campaign advice.
"When you are going through the campaigning phase, make sure you are clearly detailing why you want students to vote for you. Make sure you are actually telling the students you want to have change . . . and that you have a clear goal [and know] what it is you are getting into," Hernandez said.
According to the changes made to the ASCC Constitution in March during the special election, each member of the executive board must maintain a GPA of 2.5 or higher and must also be enrolled in a minimum of six units during the semester.
Also, to run for president, vice president, senator positions or legislative liaison, candidates must have served on student government for a minimum of one semester prior in order to be eligible.
The candidates who meet the requirements will participate in a Candidate's Forum in the Campus Center Mall on May 28.
The election will take place June 4 and 5. Each candidate will need a minimum of 50 votes to be elected.
If multiple candidates for one position obtain 50 or more votes, it will be the majority vote holder who wins.
---
---