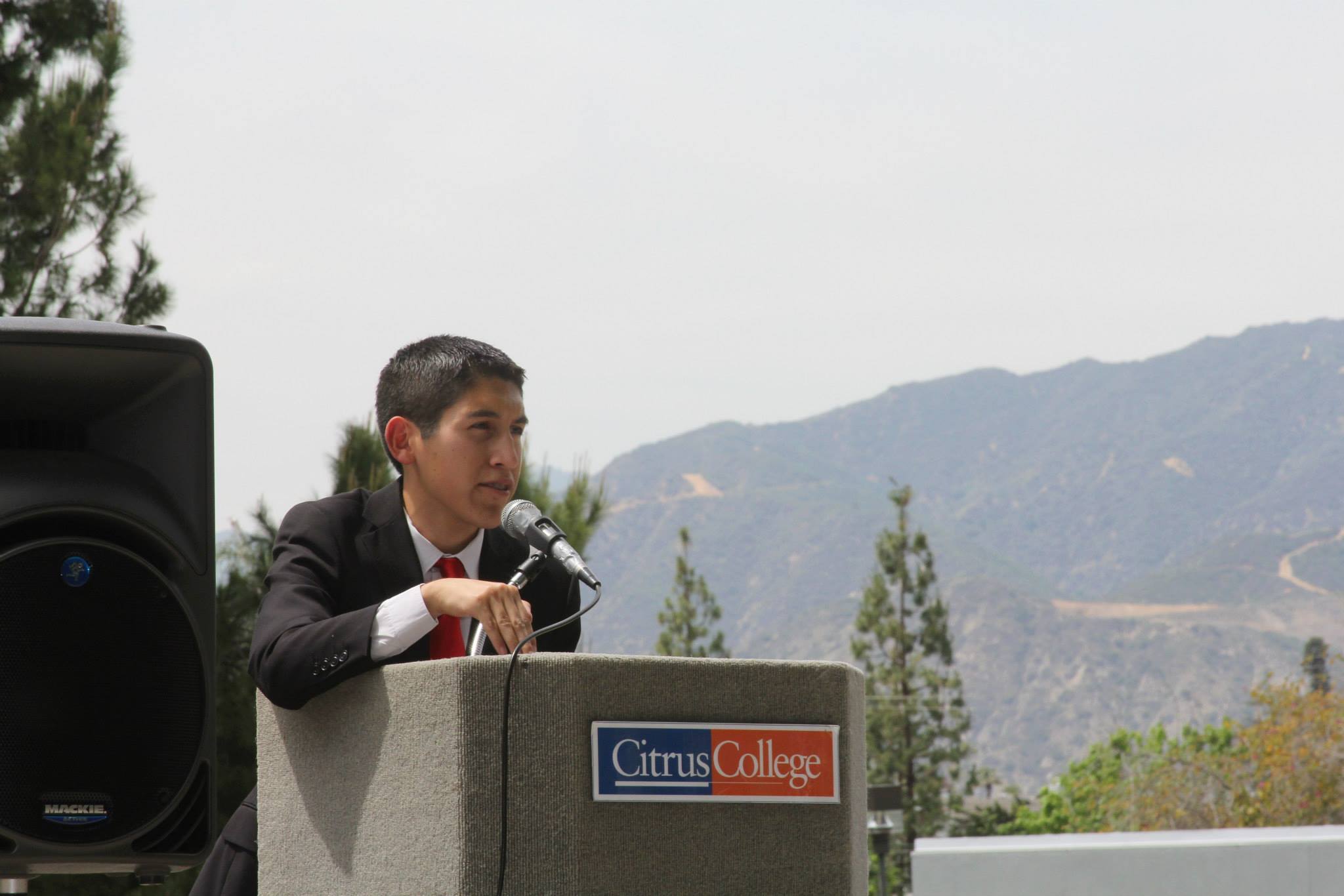 ---
Marc Rodriguez, pictured above, is an 18-year old Mt. San Antonio College student who is running as a write-in candidate for state Senate. Rodriguez gave a stump speech for "America Day" at Citrus College on May 1. (Courtesy of Marc Rodriguez)
By Fannya Cordova | Staff Writer
While the typical college student is preoccupied with academics and extracurricular activities, Marc Rodriguez, an 18-year-old student from Mt. San Antonio College is not only handling school but also running for political office.
Rodriguez, a public relations student, is the only Republican candidate for the California state Senate seat from District 22.
His main motivation is, "to give people more than one choice, and offer a new kind of leadership," he said.
Rodriguez's interest in civic life comes from his concern for politicians, he said, who are not doing a good job at representing the average citizen.  "Certain people say they dislike how the government is, but we need to stand up and change it," Rodriguez said.
Rodriguez says his love for debating is what made him follow politics while in high school.
For Rodriguez being involved in politics and voting is very important. He says his first time registering to vote was on his eighteenth birthday.
"I wanted to make sure that I was registered to vote.  People fought and died for the right to vote," Rodriguez said.  "We should at least spend a little time to register."
Even though Rodriguez has a great passion for politics and is excited to run for office, his least favorite thing when running a campaign is raising money.
"It's hard raising money; because I'm young people think I'm not going to win," Rodriguez said.
Currently, Rodriguez's only monetary source for his campaign comes from his family and friends.
One of the people who has greatly influence Rodriguez's political views is former U.S representative Ron Paul.
"Ron Paul played an important role in my life, he sticks to his positions, even when others say they are wrong . . . he tells us what we need to hear and not what want to hear," Rodriguez said.
Although Rodriguez's family are Democrats, he says they have greatly influenced his political views.
"My family has influenced me by giving me somewhere to debate," Rodriguez said.
Rodriguez is running on the Republican ticket he said he wants voters to see him as someone who is representing all citizens and not just one party.
"I want people not to see me as Republican, Libertarian or Tea Partier I want people to see me for my message," Rodriguez said.  "We need to have politicians that stand up for their principles and not their party and are willing to go against their party."
Ana Mendoza, a close friend of Rodriguez, feels inspired by his decision to run for the California State Senate.
"He inspires me because this is something that has always interested him, now that he is going for it, now I think I can do it too," Mendoza said.
Mike Gomez, Rodriguez's high school English teacher, says he has a great future in politics.
"I'm proud that he is willing to get out there and discuss important issues, he's shown me that there are young people that are interested in politics," Gomez said.
Rodriguez's mother, Martha Rodriguez, said she feels proud and inspired by her son.
"He is a young man with an old soul . . . he is a go getter who is not afraid to take on challenges," she said.
The issues he said that concerns him the most are jobs and education.
"We need a senator that will be   fighting for good jobs . . . not just minimum wage jobs," Rodriguez said.
Rodriguez stands against affirmative action and believes California needs educational reform.
"If we want our colleges to be diverse we don't work at the college level we work at the local level by giving them better access to education," Rodriguez said.
If elected Rodriguez says he plans to present a bill that would reduce the salary of state senators to the average wage of the district.
Whether he wins or not, Rodriguez plans to stay in college and finish his education. He has not ruled out running again but he says he will remain active in his community.
"I still plan to fight for what I believe in," he said.
Rodriguez encourages other college students to vote in the California primary June 3 and highlights the importance to get involve with politics.
"Our generation thinks our vote does not matter, but I'm here to say, yes we do matter. This is why I'm running to inspire other people," Rodriguez said.
---
---