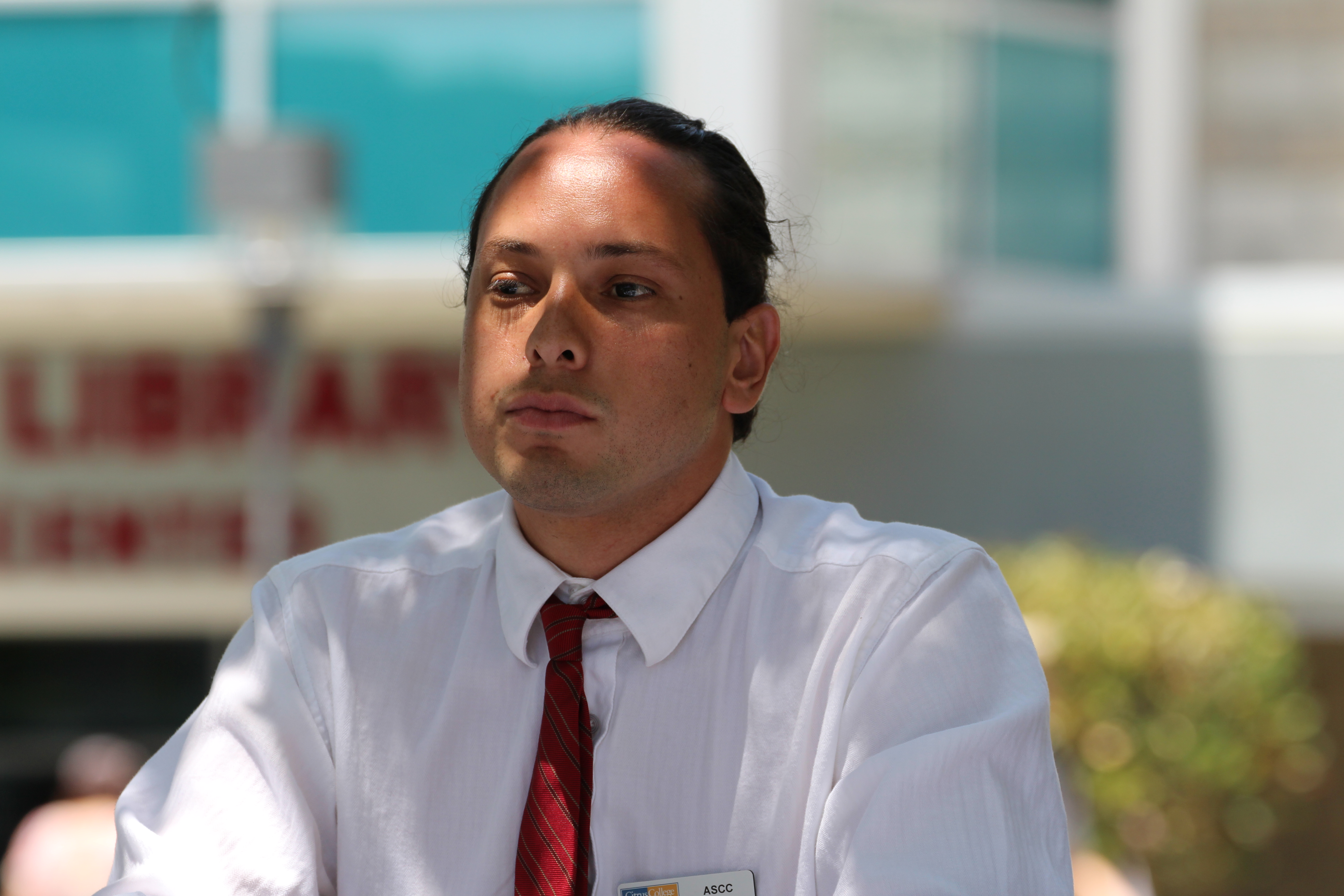 ---
Fine and Performing Arts Senator Manuel Ramirez is the only candidate running for the open ASCC president position. (Evan Solano/Clarion)
By Evan Solano | Editor-in-Chief
Seven of the nine candidates running for executive board positions assembled at a large table and answered questions posed by ASCC president Tyler Hernandez.
The Associated Students of Citrus College hosted the forum on May 27 in the Campus Center Mall.  The event gave the student body a chance to meet those in the running for student government before voting on June 4 and 5.
The 17-seat executive board of ASCC is in charge of a variety of educational and student activities on campus. Officers are responsible for representing student interests in campus decisions on issues that affect students.
They also help offset student activities expenses for those attending inter-school conferences as well as off-campus sporting events.
To qualify to run for ASCC office, a candidate must be currently enrolled in six or more units as well as have maintained a cumulative GPA of 2.5 or higher
There are five candidates running for the seven senator positions. ASCC senators are responsible for representing a specific area of the campus and serving as liaison between the Executive Board and the academic departments within that area.
Jessica Sanchez, 19, nursing major, who served as Azusa High School freshman lieutenant governor and sophomore governor is now looking to get involved at Citrus.
"I highly enjoy student government and making a difference at school. Student government is one of my biggest passions," Sanchez said.
Also vying for the senator seat is psychology major Victoria Gonzalez, 21, who would like to see an increase in graduation rates and consistency.
Louis Ibarra, 20, a biochemistry major, says the ASCC has been doing a good job, but there are always new challenges to face and improvements to be made.
"I'm fighting for the chance to enhance the representation of the student body," Ibarra said. "I believe that I will be an effective contributor to the ASCC Executive Board by giving straight forward representation and being an approachable senator."
Also running for senator is Jacqueline McCoy, 25, a music recording major.  She wants to play a bigger role in campus activities and to network more with the students.
"I feel I can add organization and more planning in activities on campus," McCoy said.
"My whole reason for running is to be a bigger voice for the students and be not only interactive in student government but with the student body as a whole," she said.
Senate candidate Jacob Trinidad, 22, a physical science and mathematics major said he hopes to bring a new perspective to student government.
"I want to get to know more people and try to make a positive difference in myself and at this school," Trinidad said.
Three candidates are running for the position of legislative liaison: Tyler Clifton, Cameron Wisdom and Veronica Gomez. The role of the legislative liaison is to act as the student representative to local political organization and associations.
Clifton, 32, is a political science major who hopes to gain further knowledge of politics by running. "Being part of ASCC is a good platform so that if I were to get involved in politics in the distant future it can give me experience and knowledge that I need to succeed," Clifton said.
Clifton is currently serving as Inter Club Council vice president and notes the similarities between the two organizations, "Even though ICC and ASCC are different groups, they are similar in that you do have to work with other people and bend a little bit to make stuff happen and get things done," he said.
Business major Cameron Wisdom, 24, said he is running for legislative liaison to be more proactively involved with the student body.
He cites his previous work experience as a logistics manager at a transportation company as an advantage in this race.
"I have over six years of professional experience in a management role." Wisdom said. "I've worked with many personalities and was responsible for a multi-million dollar operation."
Veronica Gomez, 20, liberal arts major, participated in student government in high school and wants to continue that at Citrus as well.
"I can add different points of view and rational reasoning," Gomez said. " I have been part of several clubs in high school and I want to use my experience from being part of student government and impact the ASCC in a positive manner."
Running unopposed for president of the ASCC is Manuel Ramirez who is currently serving as senator for Fine & Performing Arts as well as president of the Native America Student Association.
Ramirez says he wanted to run for president to take on a greater responsibility to be able to lead and assist the new members of the executive board, "With the encouragement of the outgoing ASCC leaders I felt it was something I could do."
Current president, Tyler Hernandez, 19, political science major, met with Ramirez to go over what the position entails, "He and I spent a good 45 minutes talking about everything I have had to do over the past two years as president. It was a really good conversation and he asked some amazing questions." Hernandez said. "I feel very confident for him going for president."
Hernandez says the responsibilities by the constitution may not seem as daunting as the day-to-day duties entailed.
"The personal responsibilities to the board members is where the real work comes in," he said. "The president needs to understand the different needs and wants of the other board members, and maintain a sense of cohesiveness within the group.  Making sure everyone is doing their job without making it seem like 'work', we're still students and we want it to be fun."
Although he does not face a challenger in the election, Ramirez says there are still challenges to being elected president, such as securing the minimum 50 votes to get nominated.
Ramirez hopes to increase student participation and continue to be active on campus to help with issues he feels are pressing to the student body, "I think because we're a community college students look at it differently in terms of how they defined their goals."
"The biggest misconception is that because we're a community college, that there is nothing available to us as much as there would be at university level, which is just not true."
Hernandez believes that the best way students can address the concerns they have is to get involved with the election process.
"We all have very different opinions on what government should do, what benefits we should have, what students and administration can do for each other. If you want change to happen, you have to be part of that change," he said.
"There are so many things that students want changed, but they need to be involved in the process if they want them to be changed, and voting is the best way to do that because you are placing people who you trust and you know will represent you to get things done."
ASCC elections will be held on June 4 & 5 in the Center Mall, from 9:30 a.m. to 8 p.m.
---
---