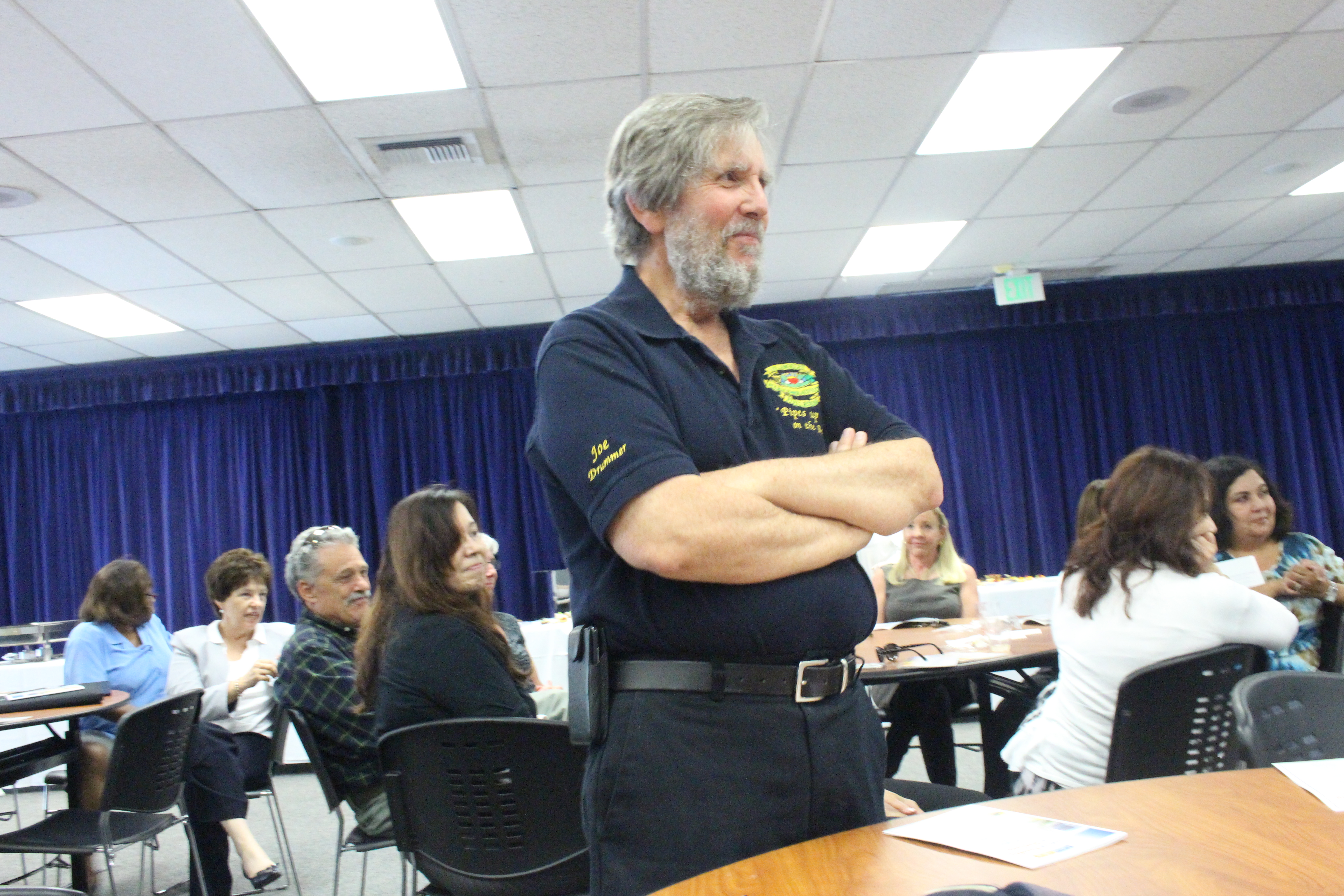 ---
Joe Harvey looks on during a recent reception for new tenured faculty and retirees held by the Citrus Community College District Board of Trustees. The professor's career was celebrated at the event for his commitment to students and representation of his peers while he served as president of the Citrus College Faculty Association. (Cameron Wisdom/Clarion)
Students and coworkers who have crossed paths with Joe Harvey in their Citrus careers agree: the professor is an unforgettable figure with a down-to-earth personality and unmistakable charm.
After what he described as 24 amazing years teaching English at Citrus, Harvey plans to retire at the end of the spring semester.
Along the way, he has left an indelible impression on the people who have been moved by the professor's "you can do it, too" attitude.
Beverly Van Citters, Ph. D., is the director of Distance Education and also teaches in the language arts department. She knows Harvey well and admires the professor's approach towards education and the way he inspires students to stay the course despite adversity.
"Here's a guy that just bares it all in the classroom and tells them exactly his trek," said Van Citters. "A lot of students find it really helpful to know that someone who eventually made it has faced a lot of challenges as well."
Harvey is well known for his ability to improvise and share relatable life stories into his lectures that keep his students engaged in the lesson plan.
"I have a lot of stories I can't even tell you," Harvey said playfully.
Business major Keivon Owens, 23, is enrolled in one of Harvey's English courses.
Owens said that he enjoys the way the ever self-aware professor injects his life stories into the topics of discussion.
"He's a man of many stories," Owens said. "Every day is interesting. The way he grew up is pretty similar to some of the students in there."
The professor's philosophy on education is that every student has a need, and that it is his job to find out what it is and to help him or her fulfill it.
He embodies the spirit of Everyman. On the first day of class each semester, students may not realize that the unassuming professor with a scruffy beard and blue jeans personality is about to take them on a semester-long journey of progression and self-discovery.
Harvey has the trademark pride and bravado that is unique to his roots in the boroughs of New York City.  The professor was born in Brooklyn and raised in Queens.
He often wears an aged Yankees hat to display his hometown pride.
"I'm a Mets fan until they start to stink, and then I'm a Yankees fan," Harvey said. "It's usually around the All-Star break."
He served about two years as an active solider in the Marines before he went to college. Harvey had originally enrolled as an accounting major but eventually discovered that he possessed an affinity for writing. He graduated from City College of New York with a degree in English and coursework in education.
Harvey became a teacher for a variety of reasons. He investigated it as a career and realized that it was the right path for him.
"I thought I would get summers off, but I ended up working the first 20 summers of my career," Harvey said jokingly.
He taught Language Arts for 11 years at Evander Childs High School in the Bronx. In search of a change of scenery, he moved across the country to Southern California and got a fresh start.
"I needed to change everything," Harvey said. "To be honest with you, besides quitting drinking, it was the best decision I ever made."
When he arrived on the West Coast, Harvey spent some time working at Los Padrinos Juvenile Hall in the city of Downey.
His first job teaching in California was at Manual Arts Senior High School in South-Central Los Angeles. During his time there he continued to apply for jobs at community colleges and was hired to teach at Citrus.
"This is the best job I have ever had," Harvey said of his time at Citrus. "I have always been treated fairly here."
Harvey believes that Citrus gave him an enormous opportunity to grow.
"The students were wonderful, my coworkers were wonderful, and even the administration and the Board of Trustees were good to me," Harvey said.
Harvey spent several years as president of the Citrus College Faculty Association advocating for the interests and rights of the Citrus faculty. The position would sometimes pit him as an adversary at the negotiating table.
"His passion for making sure that everybody was included and that nobody's rights were violated speaks to his character," said Van Citters.
Patricia Rasmussen, Ph.D., is president of the Citrus Community College Board of Trustees. She describes Harvey as having a flexible, fun, and feisty personality. She recently applauded his efforts during his tenure at a recent BOT reception for retiring faculty and staff.
Harvey beamed as she lauded his long career and dedication to the Citrus community. They quipped back and forth to the delight of all in attendance.
While teaching at Citrus, Harvey met his wife Betty and he says he is still as madly in love with her now as he was the day they married. They are selling their house and moving to Oceanside as soon as he retires.
"My wife is my soul mate," Harvey said. "She's helped me make a good life for myself."
His son James is a firefighter in the Bronx. The professor expressed pride in his son for being an everyday hero.
His daughter Brigit is a biology major at UCLA, and because Harvey is a disabled veteran, her tuition is covered by the Veterans Administration. For this reason, he said his service in the military was beneficial beyond his own experience in the corps.
"I brought them up trying to teach them how to make good decisions, rather than trying to make decisions for them," Harvey said.
The professor said that he feels very blessed to have his children in his life, and noted that they taught him just as much as he taught them.
Harvey is proud of his Irish heritage. He played the snare drum in the Los Angles Police Emerald Society's Pipes and Drums band and marched with the band in the 2012 Rose Bowl Parade in Pasadena.
Harvey is also a member of Irish Northern Aid and the Ancient Order of Hibernians.
"I've been very involved in Irish affairs both political and otherwise," Harvey said.  "I have always stayed in touch with my cultural roots."
During his retirement, Harvey said that he would like to get involved with helping the homeless, especially homeless veterans. His new home will be close to Camp Pendleton, and he sees it as an opportunity to help out however he can.
He plans to ride his bicycle more often now that he will have an abundance of free time. The professor has an old Schwinn his wife gave him as a gift more than 20 years ago, which he admits has seen better days.
"There's something about riding a ratty bike that you just can't beat," Harvey said.
His proudest accomplishment is the success of his former students.
"I think the thing that has always meant the most to me is when a student I've had comes back at some point later in his or her life and says 'Look what I've done'," Harvey said. "Those are the moments that really make you realize that what you've dedicated your life to has really paid off."
Harvey's endearing sense of humility is apparent in his perspective on life.
"You have to respect others if you expect respect for yourself," Harvey said. "If you don't treat people the way you wish to be treated, you will never be happy."
A saying attributed to Abraham Lincoln has affected his outlook on life: "I guess people are as happy as they want to be."
Above all else, Harvey hopes that his students strive to never let any adversity stop them from achieving their goals.
"I would tell the students here the same things I told my kids," Harvey said. "Don't ever give up. Just keep pushing, no matter what happens. If you keep trying and you keep working at it you will succeed eventually," he said.
"It may not be at the thing that you had originally planned, but you will end up being successful…. Don't quit."
---
---