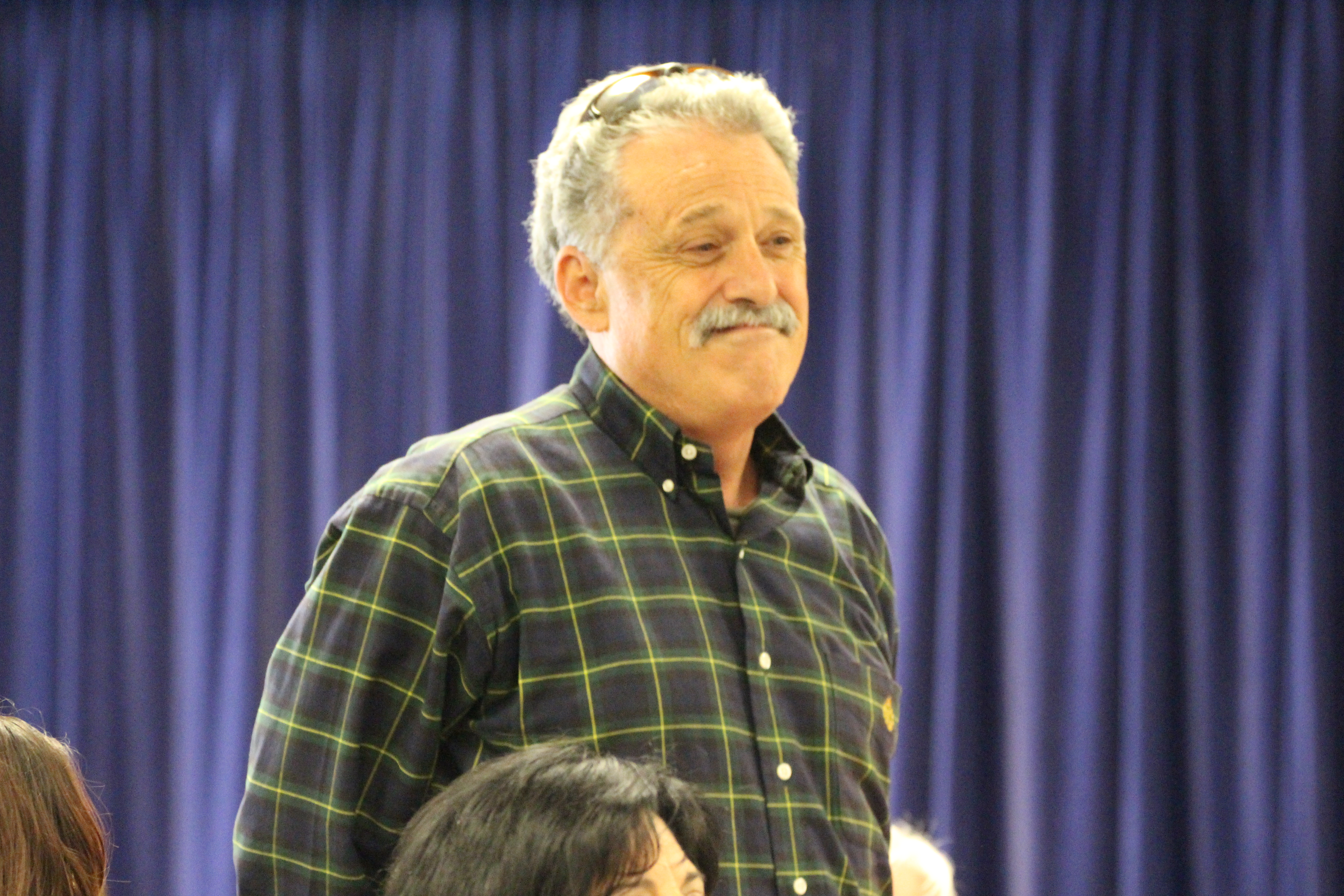 ---
Vince Mercurio, DSP&S counselor, has served the Citrus community for 34 years. He is retiring at the end of the spring 2014 semester and will use his skills to help those in need at Christ Church of the Valley. (Evan Solano/Clarion)
By Careesa Campbell | Opinions Editor 
After 34 years at Citrus College, counselor Vince Mercurio is making it official. "It's time for me to go," he said.
Mercurio has served Citrus students as a part-time and full-time counselor during his tenure.
"I have always been told I have a way of working with people," he said. "That's my gift."
His training was in marriage, family and child counseling but decided it was not the right path for him.
"I wanted to get into educational counseling because it was more structured and fulfilling," he said. "Working with the disabled population has been great. I have learned far more from them than whatever they've gotten from me."
Mercurio says one of the most important lessons he has learned is to always be encouraging, both in and outside of work and advocate equal opportunity for all.
"[The students] have surprised me and more importantly they surprise themselves when they make huge strides in accomplishing whatever their goal was," he said. "No matter what their circumstance, never prejudge anybody. Everybody has the opportunity to do the things that they want to do."
His office is decorated with notes and letters from former students thanking him for his help. The letters expressed their gratitude for his advice and comforting environment.
"My most cherished memories will be my [disabled] students coming back to me and thanking me for making their life just a little bit better," Mercurio said. "It's just wonderful."
Reuben Rodriguez, 20, says he noticed how hardworking and friendly Mercurio always is.
Rodriguez said that even though Mercurio is not his counselor, he helped him register for the right classes.
"He has helped me with picking teachers and gave me good advice on which classes I should take," Rodriguez said. "He's a very nice fellow."
Coe Lamoureux, international students program supervisor, has known Mercurio for 20 years.
"We have a lot of great people at Citrus, but Vince is truly one of the best people I have come across," Lamoureux said. "If you were going to see Vince, you knew you were going to feel better."
Lamoureux described Mercurio as humble and as a person who always exhibits kindness and sincerity. "He has such a positive countenance and always has a good thing to say," Lamoureux said.
Stephen Avalos, counselor/therapist, said Mercurio was one of the first friendly faces he has ever met at Citrus.
"He always greets you like you're an old friend whether you've just met him for the first time or not," Avalos said. "He has a really smooth and comfortable way to connect with people."
After nearly 14 years of remaining close friends, Avalos said making the adjustment in his work environment without Mercurio will be difficult. "He is a true friend in the full sense of the word," Avalos said. "When you are in trouble, Vince is there for you."
After retirement, Mercurio plans to make his free time meaningful by using his gift to help others at Christ Church of the Valley.
"I feel like I can give so much back," he said. "I don't think it will be as much educational counseling as it will be life coaching."
He said after more than 30 years of counseling, all the time he has put into helping others has to account for something. "I just thought why waste all those good years working with people here when I can work with people [at church] in a whole different environment."
Mercurio's wife inspired the idea of working with their church and they are planning to take on this new challenge together. They have completed workshops for couples' premarital counseling, but hope they can provide advice to others on ways to reach their goals.
"I saw how much joy she was getting out of it and how much she was helping people," Mercurio said. "All I would be providing is guidance in some way or another and helping them to figure out their problems and how to readjust their lives so they can experience some form of success."
Mercurio is looking forward to experience life after retirement.
"I'm going into a whole new phase of my life, and there's a little bit of apprehension and a little bit of excitement," Mercurio said. "Life is going to be different, I know that. It's all about a journey and I'm looking forward to whatever life brings."
---
---