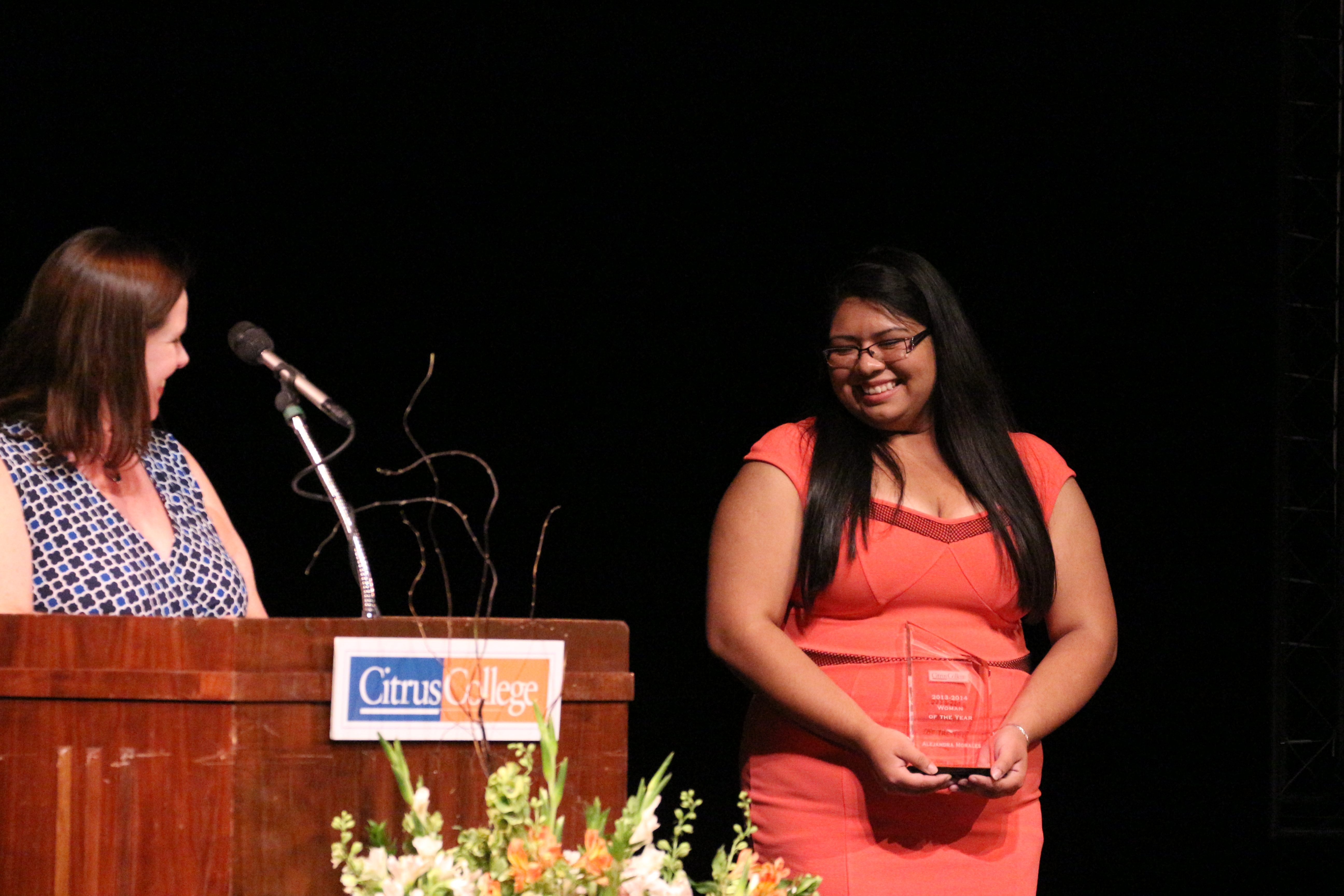 ---
Adrienne Thompson, ASCC supervisor presents Alejandra Morales, vice president of ASCC, "Woman of the Year" award at the ceremony held May 29. Morales will be attending UCLA in the fall to pursue a major in English. (Evan Solano/Clarion)
By Careesa Campbell | Opinions Editor 
The executive board of the Associated Students of Citrus College has produced more than just successful events such as Spring Fest, Suicide Prevention Awareness Day and Sex 101 Week.
It has also produced the Man and Woman of the Year.
Tyler Hernandez, President of ASCC, is the 2014 "Man of the Year."
Hernandez has a family history with Citrus College. His mother, Joanne Hinojosa, was once a Citrus student and is now an EOP&S counselor and CARE supervisor.
"Citrus College has always been a part of my family," Hernandez said.
Hernandez's interest in student government was sparked in middle school his mother said. His ability to get others involved eased him into a natural transition from ASB president at Azusa High School to ASCC president at Citrus College.
"To see what he's done just amazes me," Hinojosa said. "I love it. When other people come to tell me that my son is awesome and is doing great things, it makes me proud. He's come a long way."
Hernandez has mastered balancing school and extracurricular activities.
"He has always been a good student, but I think here he really stepped it up and not only did well with his studies but got involved," his mother said. "I see a bright future for him."
Hernandez said he has faced criticisms about his young age, but he never let it stop him from doing what he is passionate about.
Adrienne Thompson, supervisor of student life and leadership development, said that he has handled those criticisms "like a champ."
Thompson also described Hernandez as a responsible and mature young adult. "He is a student with so much ambition," she said.
Hernandez, who is graduating from Citrus at age 19, is determined to make a difference in the way that young people are involved in government.
He said he wants to prove that this young generation of college students can make a lasting impression in politics and government.
"We have a future to prepare for, and I want everybody to be prepared for it," Hernandez said.
Hernandez said that being named Man of the Year is an accomplishment he will forever keep in his heart.
"It is the biggest affirmation I have received at Citrus College," he said. "I was selected among some very high quality, highly competitive candidates."
Hernandez plans to attend Cal State University at Long Beach where he will pursue a bachelors in political science with an emphasis on comparative politics. He also plans to attend UC Irvine to continue his studies for a master's in comparative politics. "Ultimately I hope to come back and teach here at Citrus," he said.
Student government vice president Alejandra Morales, 21, has been named as "Woman of the Year."
As an undocumented student, Morales said the struggles she has endured have molded her into the woman she is today.
After Morales' first year at Citrus, her family moved to Oklahoma but because of her status as an AB 540 student, she was forced to stay behind in California, pay for her education out of her own pocket and adjust to living life according to her grandparents' expectations.
"I came from a background which viewed community colleges as a place where people who don't make it to UC and Cal States go, so when I came here, I hated it," Morales said. "But coming from that very first day to now, four years later, it has been amazing."
Carlos De La Torre, treasurer of ASCC, said Morales is ambitious and responsible in her schoolwork, serving as the president of Phi Theta Kappa Honor Society and chairing ASCC committees.
"She has a lot on her plate and she takes on a lot of projects," he said.
Morales also said that the two and a half years she has been a part of ASCC has helped her strengthen her leadership skills. "I came into ASCC as a very shy girl and didn't want to talk to anybody, but I have come to realize I have a passion to fight for bigger and better things," she said. "Through the voice I gained through ASCC, I was able to accomplish so much."
Morales said her involvement with the PTK Honor Society, which devised the plan to promote Citrus as a college of completion, is her proudest moment.
"I was able to challenge the faculty members, staff and board of trustees to take on this pledge of helping the students of Citrus College find new ways to complete their education in a timely manner," Morales said.
ASCC senator, Jonathan Carmona, 25, has known Morales for several years.
He said he has seen her transform from a quiet and insecure girl to a hard worker and detail-oriented leader.
"When I first met her, she was very shy and not too sure about herself," he said. "Now she definitely exudes confidence, and she's really proud about the work she's done and where she's going."
Thompson also said she has seen Morales blossom from a quiet girl to an accomplished young woman with passion and dedication.
During her speech congratulating Morales on the Woman of the Year nomination, Thompson explained she could not recall when she came to know Morales, but she remembers the exact moment she saw a change in the once shy vice president.
During the convocation preceding the fall 2012 semester, Morales presented a presentation alongside Geraldine M. Perri, Ph.D. superintendent/president, in front of all of the faculty and staff.
"For days before I knew she was so nervous," Thompson said. "Then she saw this overwhelming support from everybody and it just boosted her confidence and she became this totally different person."
De La Torre, 20, said he will remember Morales as a role model. "She has a lot of qualities that I admire like her ambition, her drive to be better, and her ability to be optimistic despite all her challenges," he said. "If she can do it, anyone can do it."
Morales said one of the happiest moments in her life was when she found out she had been nominated Woman of the Year.
Morales will be attending UCLA in the fall where she plans to get a Bachelors Degree in English, a Masters in counseling and a doctorate in higher education administration.
"I hope to one day see myself back here at Citrus," Morales said.
"All the work that I have done for Citrus College and all the time I have put into my education and making this school more effective for the students culminates into this title," she said.
"It's an honor. This title proves that it has been a very long road filled with obstacles, but I have overcome them."
---
---