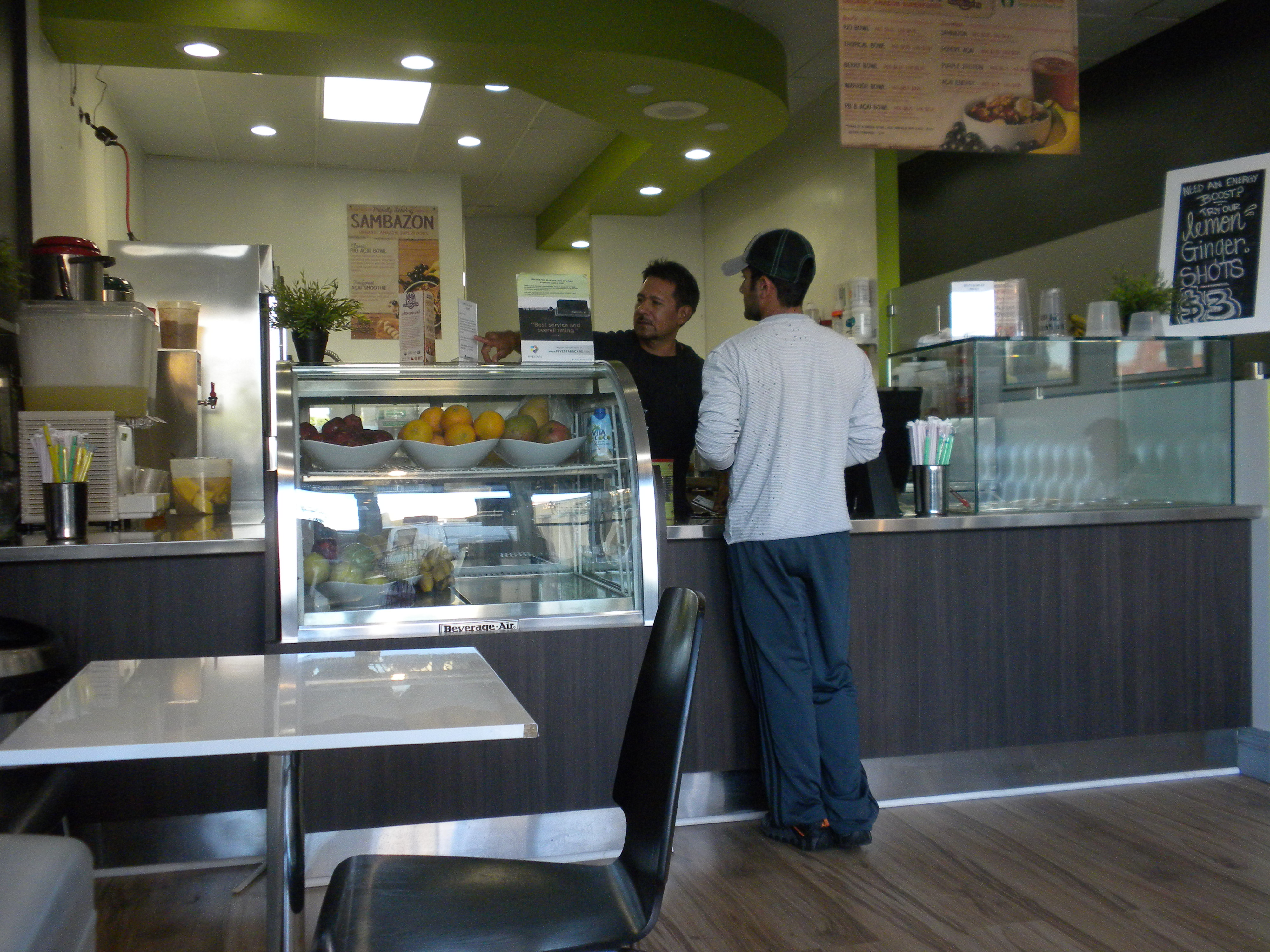 ---
A Thirsteas employee shows a customer some of the menu offerings on display. The restaurant is a short walking distance from campus at the corner of Barranca Avenue and Alosta Avenue.
By Careesa Campbell | Opinions Editor 
From trendy acai bowls, fusion teas and healthy smoothies, to milk tea and fluff ice, Thirsteas Fresh Juice & Boba Teas does not disappoint with their wide variety of options delivering each order with tasty goodness.
This restaurant is a busy but small, clean shop with hip white couches and tables, bright green walls and modern music; it's the perfect spot for college students to hang with friends and quench their thirst.
The employees are always friendly and patient, as reading through the long lists of inexpensive items can take a while.
When ordering on a busy day, the wait can last about 10-15 minutes usually because the employees are cutting fresh fruit and veggies by hand, a refreshing way to know that what you've ordered has not been processed or unthawed.
The 007 Smoothie is a passion fruit mix with peaches, bananas and orange sherbet. It is by far my favorite though I have ordered many others like the Berry Best, Mango Tango, and California Cool, all of which were delicious. I would order each again.
The acai bowls come in two sizes (regular or large) and I have found the large is big enough for two. Depending on what you order, each bowl is filled with an acai smoothie base, topped to the brim with a variety of fruit and drizzled with honey.
Fusion tea flavors include strawberry, green apple, watermelon, lemonade, peach, mango, passion fruit lychee, pomegranate and kiwi. Despite my dislike for teas, I ordered the peach flavor with a green tea base and declared love at first sip. Black tea is also available as an option.
Tax is included in the price, so what you see is what you pay. Smoothies range from $4.25 for a regular size and $5.25 for a large; acai bowls range from $6.50-$8.50; fusion teas are $2.95-$3.95.
Thirsteas is open from 8 a.m. – 9 p.m. Monday-Saturday and 10 a.m. -9 p.m. Sundays. It is located on the corner of Alosta Avenue and Barranca Avenue, less than a five minute drive from campus.
---
---