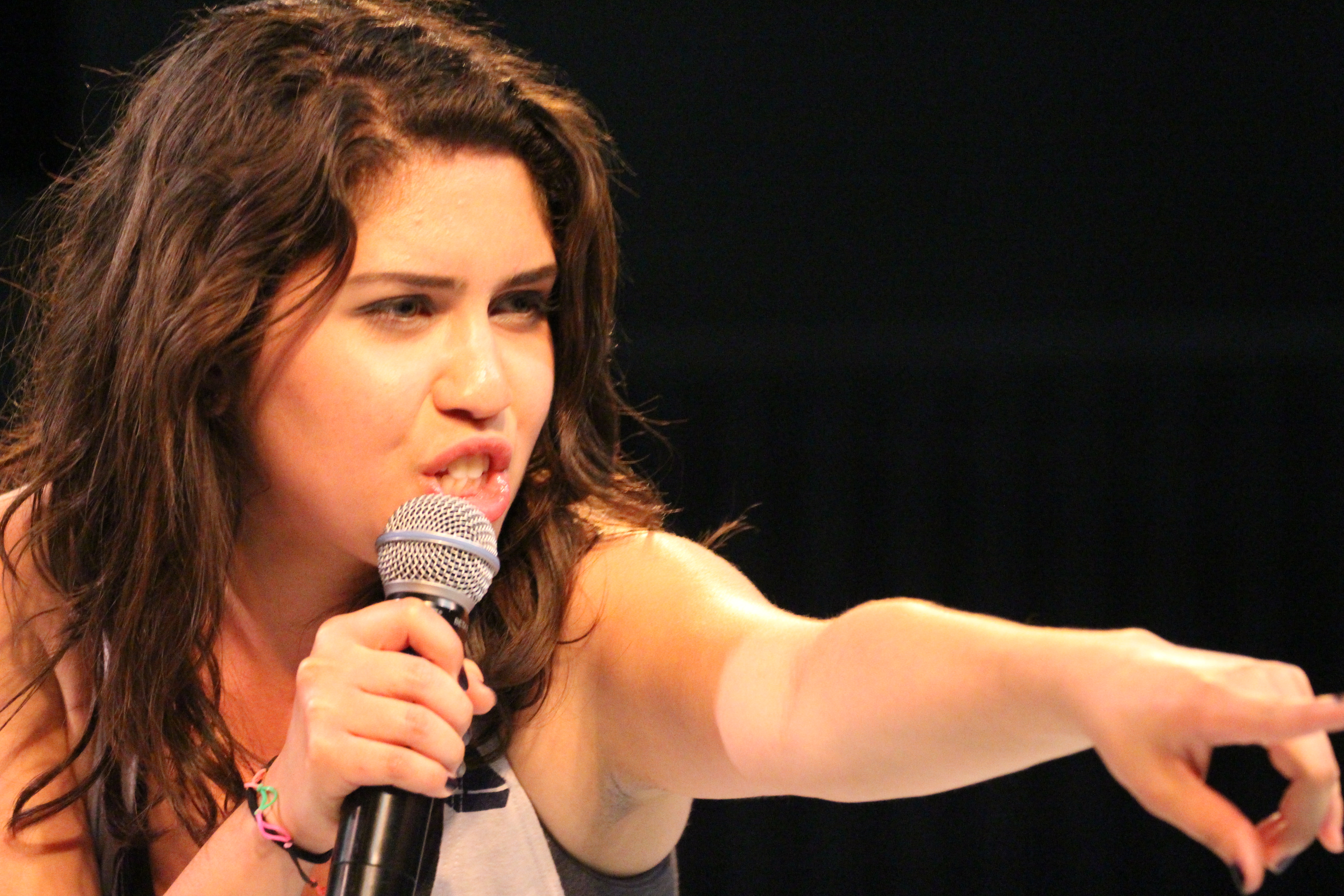 ---
Suzanne Boles, 19, fine & performing arts major performing "Sweet Dreams" by The Eurythmics. The performance "Girls Aloud!" showcases female fronted hits throughout every decade of music history.(Evan Solano/Clarion)
By Sylvia Aparicio | Online Editor
Join the Citrus College Women's Ensemble as they celebrate their group's 25th anniversary in the  Little Theatre June 6, 7 and 8.
This year's showcase is directed by Vonetta Mixson, a private voice instructor and alumna of the Citrus College vocal music department. Titled "Girls Aloud!" it pays tribute to female musicians and displays the talents of the group.
The event will also serve as celebration of its founder, Douglas Austin.
"I am honored and touched that they are celebrating 25 years of our women's ensemble program, and in the process, honoring me as the founding director," Austin said. "It is a program I have always believed in, and I am so pleased to see it thriving 25 years after its inception."
Additionally, the 18 women of the ensemble will be dedicating their closing song to cancer survivors, a cause chosen by student director Hillary Reyes, with a mash up of "I Will Survive" by Gloria Gaynor and "Survivor" by Destiny's Child.
For Stephanie Barreto, 21, biology major, this showcase marks her third and final year being in the ensemble.
"Women's Ensemble has helped women who want to be performers by giving them a chance to improve their performing skills by providing the experience and the opportunity to perform for many people," Barreto said. "It is a stepping stone for many of the girls to go on to better things."
In celebrating the 25th anniversary, the showcase will have guest appearances from former Women's Ensemble members.
"Audiences can expect a high energy show, a trip down memory lane with tunes that I like to refer to as a sound track to life," Mixson said.  "At any moment you will find yourself humming a song, saying 'I remember this…I love that song.'"
Show-goers can expect to hear hit songs such as the '60s hit "My Boyfriend's Back" by The Angels and "Our Lips Are Sealed" by The Go-Go's.
"The anniversary should and does celebrate three excellent directors [Austin, Mixson and Keely Milliken], many gifted choreographers, and above all, 25 years of dedicated, focused and talented women who have gone through the program," Austin said.
Audiences can catch the on-stage celebration June 6 and 7 at 8 p.m. with matinees on both June 7 and 8 at 2 p.m. Tickets can be purchased at the box office Tuesday through Saturday from 11 a.m. to 4 p.m.
The cost for general audience members is $12. Student/senior tickets are $10.
---
---