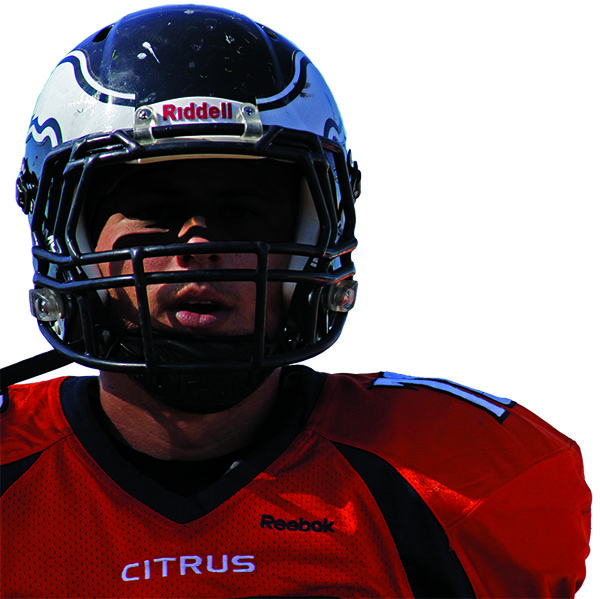 ---
By Dillon Cooper | Sports Editor
The 2013 football season ended with head coach Ron Ponciano and his Owls lifting a trophy after a bowl victory, a feat that hasn't been accomplished in 25 years at Citrus College.
Ponciano's Owls traveled to Saddleback College on Nov. 23, 2013 and on the back of quarterback Larry Cutbirth and cornerback Braxton Brown, they came out of the Beach Bowl with a 25-14 victory.
While many may focus on the positives out of the bowl victory, Ponciano leaves that up to others as he focuses on the negatives.
"We still stubbed our toe big last year," Ponciano said. "The Chaffey loss really burns me, I'm really frustrated. I did a poor job getting the kids ready and they did a poor job responding."
Since 2008, Citrus dominated Chaffey, going 4-1 against the Panthers.
However after quarterback Cutbirth threw three interceptions the Owls dropped to 4-2 in a 13-24 loss.
Since Ponciano took over the helm in 2009, he has built the Citrus football program into a new powerhouse. In the 2012 and 2013 seasons, Citrus enjoyed their best two-year stretch of football in recent memory. They won 15 games in those two years, including the Bowl victory.
Ponciano takes pride in building a roster filled with a majority of local talent, while some schools in the state will look elsewhere.  "Local talent works for us because we have all played against or alongside one another in high school," said sophomore running back Emmanuel Pooler.
"We all know what each other can do and the team chemistry is there."
With athletes from high schools including Etiwanda, Glendora and Baldwin, it's no secret that where the family-like atmosphere comes from.
"At Etiwanda, we all decided we would get here, they make me feel at home," Cutbirth said.
While local talent has served Citrus well the last couple years, there were some bumps in the 2013 season.
Two one-point heartbreaking losses to powerhouses Mt. San Antonio College and Riverside left a bad taste in everyone's mouth. While Riverside and Mt. SAC have both been top of the state polls in recent years, if it wasn't for late game heroics, Citrus would have handed them both losses.
There's much to be optimistic about in the Citrus camp.  Many of the players say that 10-0 is a reachable target.
"10-0 is very possible," Pooler said. "Our team is talented and we have the coaching staff to wield us together as one to accomplish our goal of the State game."
With Cutbirth entering his second season with a ton of hype, including several four-year schools reportedly  seeking his signature, Cutbirth still believes he has plenty on to improve.
"I've been working on footwork," Cutbirth said.
"Reading defenses and the small things to win the close games are also something I've been touching on."
The Owls' defense was extremely aggressive last year, having two players in the top five of the division in sacks.
That aggressiveness and ability to get after the quarterback is something defensive coordinator Eddie Pacheco looks to emulate yet again.
"Getting after the quarterback is always a strength of ours," Pacheco said. "We will always find a way to get to the quarterback. Pressure is very disruptive to the quarterback and it's something that's been a token of ours for years."
The Owls head into 2014 as the No. 30 community college football program in the nation, according to jcgridiron.rivals.com. With that being said, 2014 will offer new challenges.
Golden West, a team that went 9-2,5-1 last year, lost to Riverside in the Southern California Bowl 27-17, will be playing host to Citrus on Sept. 20.
Conference opponents Riverside (10-2, 6-0), ranked third in the nation according to jcgridiron.rivals.com, will host Citrus on Oct. 26. In 2013, Riverside made it to the Southern California Football Association championship game but lost to Fullerton 23-14.
Mt. SAC (9-2, 5-1) comes into 2014 ranked sixth in the nation and will host Citrus on Oct. 18. In 2013, the Mounties played Ventura (6-5, 4-2) in the Golden State Bowl and came out with a 42-14 demolition of the Pirates.
With expectations set extremely high, anything but an appearance in the State title game would be a disappointment.
The Citrus College marquee home game will be against Chaffey on Oct. 25 at 1 p.m. with Citrus having their home opener on Sept. 13 against College of the Canyons at 1 p.m.
---
---