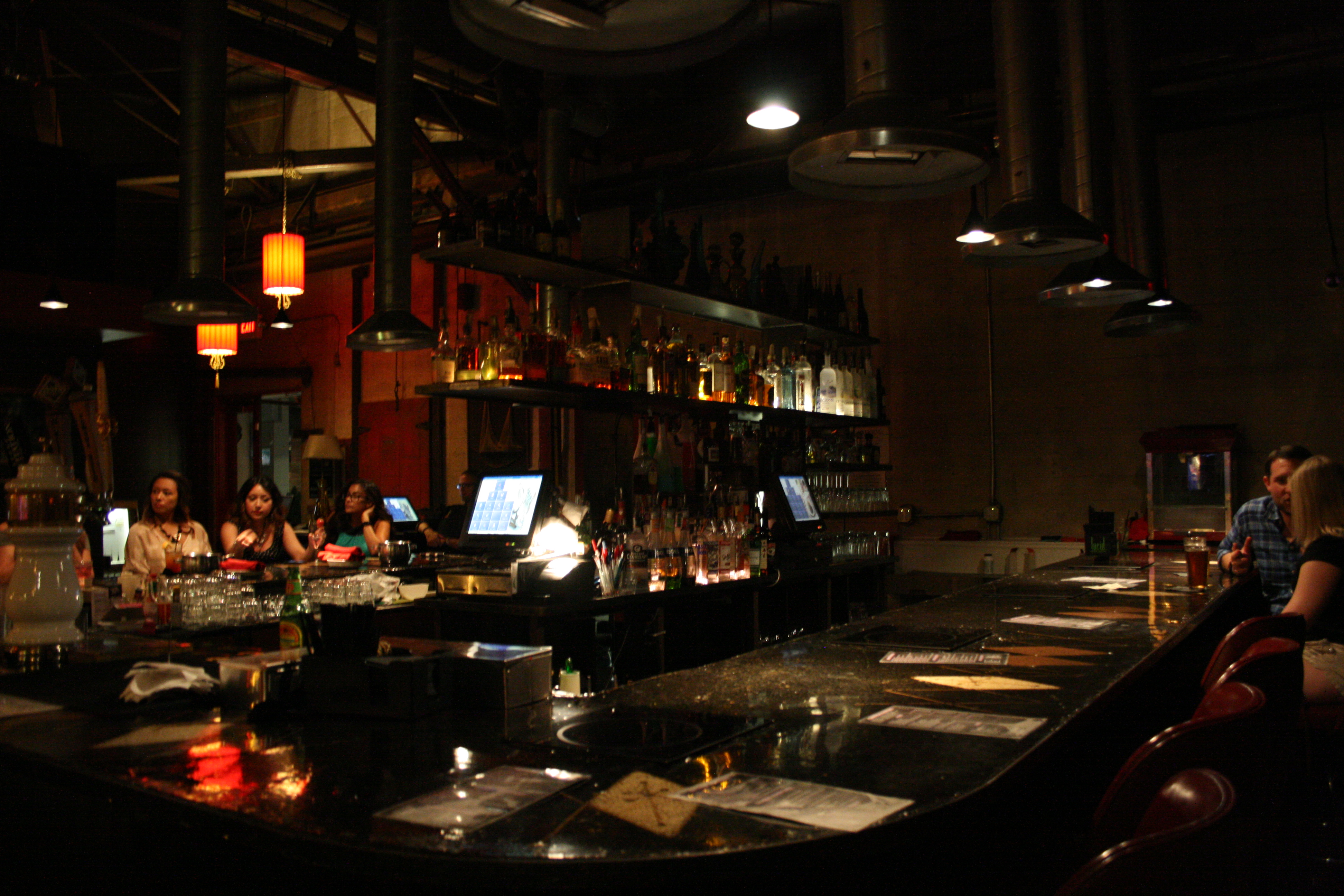 ---
The main bar of the Hip Kitty, features a wide array of drink options. Guests can take advantage of the weekly happy hour specials Tuesdays, Wednesdays and Thursdays from 6:30 p.m. to 9:30 p.m., which offers $4 well cocktails and $4 Pomona Queen and Black Beer. (Evan Solano/Citrus)
By Sylvia Aparicio | Online Editor
Tucked away in the corner of the Claremont Packing House is a hot spot for those who love nightlife. Look for the sign, you can't miss it: a giant neon cat around the name The Hip Kitty Jazz and Fondue.
While there are plenty of bars in the Claremont Village, The Hip Kitty offers a different atmosphere for those 21 and over. The club is open Tuesday through Sunday from 6:30 p.m. until 2 a.m. Please note: guests will be carded at the door.
The dimly lit interior and vintage decor compliments the live jazz.
The Hip Kitty, which opened in 2007, features a retro style. Front and center is a large stage, where six nights a week local musicians do their best to satisfy fans of big band music.
Those who wish to indulge in the fondue must make reservations in advance.
Those seeking solely to experience the vibes should arrive early. On Friday and Saturday nights guests should be prepared to pay a $5 cover charge.
Indoor seating is limited and goes quickly on a first-come first-serve basis. An outdoor patio features private cabanas and a fire pit. Those seated outdoors will miss out on seeing the performers, but they can still enjoy the music.
Drinks are reasonably priced.
Happy hour takes place Tuesday through Thursday from 6:30 p.m. until 9 p.m. and is available all day on Sundays with $4 well cocktails, $4 Pomona Queen and $4 Black Beer.
The Hip Kitty menu includes its signature salads like the crab and shrimp Louie consisting of blue crab meat, poached shrimp, hard boiled egg and sliced Roma tomatoes served on spring mix lettuce with traditional Louie dressing and lemon wedge for $12 or a simple caesar salad for $6.
Lounge food such as rustic tomato bisque, short rib and aged cheddar dip sandwiches and chicken wing lollipops are available for less than $20.
For high-energy swing bands, rockabilly, blues, and big swing bands interested in performing at The Hip Kitty, demos and a resume may be sent to scamera@ca.rr.com.
The Hip Kitty is located in the Claremont Village in the Packing House at 502 W. First St., Claremont, CA 91711. There is a parking structure adjacent to the Packing House.
The Hip Kitty is great for those wanting to have a romantic date or having a fun night out with friends. For a full menu and calendar of scheduled musical performances, visit www.hipkittyjazz.com.
Upcoming performers include Ginger and the Hoosier Daddies on August 29 from 8 p.m. to midnight and Boyz and the Beez on August 30 from 8 p.m. to midnight.
---
---