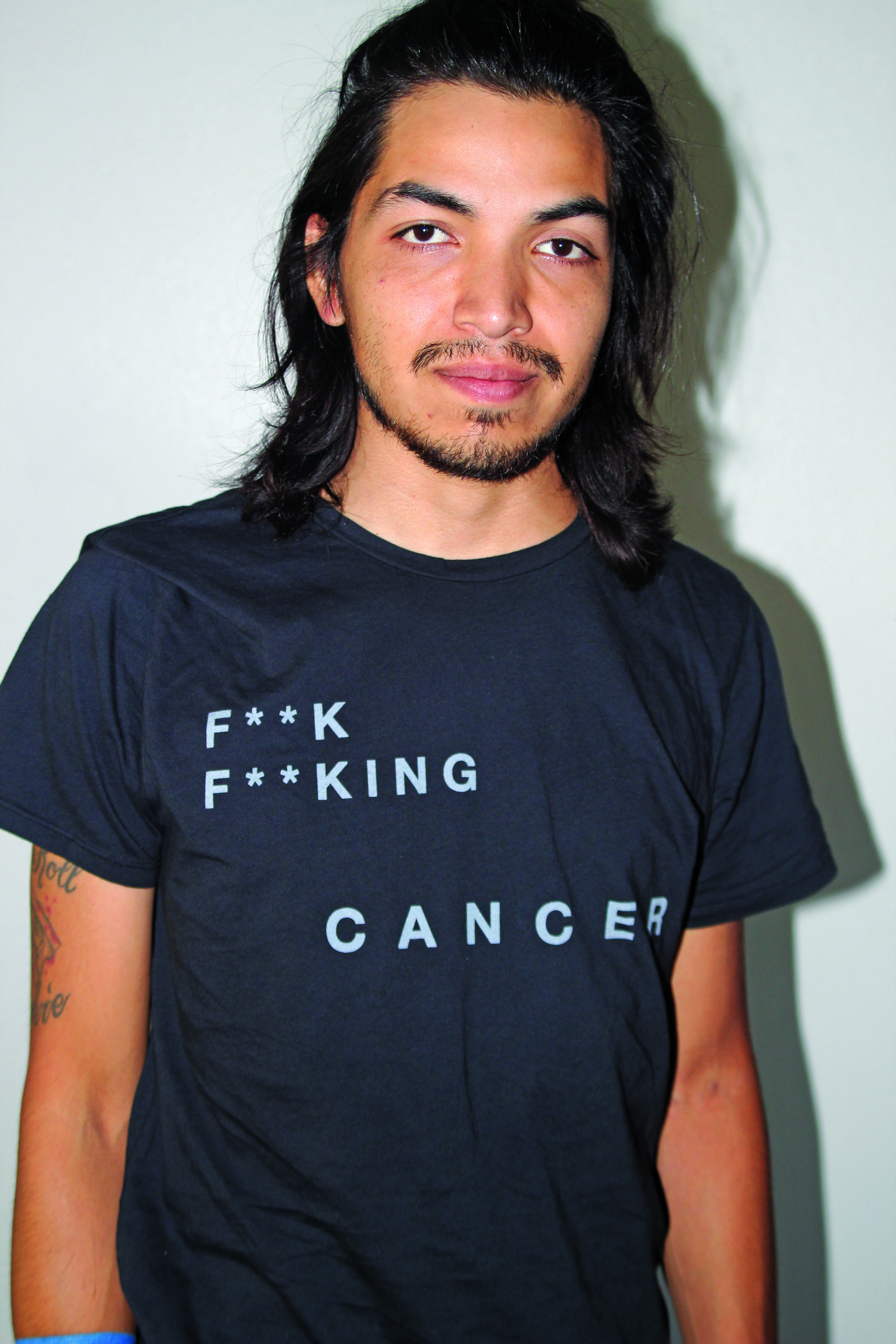 ---
By Careesa Campbell | News Editor
Tejada, 27, was diagnosed in August with Hodgkin's lymphoma, a cancer of the lymphatic system, which is usually curable.
"I knew it," he said. "Everyone was telling me [the tumor] was probably nothing, but…what else could it be? When [the doctor] said it was cancer, it was what I expected."
Tejada's younger brother Justin, 23, said since the diagnosis, he has seen a change in Michael.
"He's definitely shown me how to enjoy life a little bit more," Justin said. "He's there like an older brother should be."
Prior to the diagnosis Michael Tejada said he had been struggling with depression but now his priorities have changed.
"It's kind of weird to say, but I think the cancer has cured my depression," he said. "My perspective on life has changed dramatically."
Rather than finish school as a sociology major, Tejada has decided to start working. He said he wants to earn money so that he can enjoy doing all the things he wants to do with the people he loves.
"I don't know how much time I have left now," he said. "Instead of taking my chances or just waiting, I would rather get back to work so I can do what I want to do."
Tejada said he loves taking his six nieces and nephews on field trip adventures, but he hasn't been in a position to do so for a long time.
"I want to do that again," he said. "That makes me happy."
ASCC vice president Daniel Celebertti, 28, said his first impression of Tejada was that he was a go-getter with a positive spirit.
"There's just that vibe that you get from him where you can't be sad around him," Celebertti said. "He's just a great friend. I want him to know his ASCC family is always here for him and supports him 100 percent."
Celebertti described Michael as naturally reserved but outspoken when he needs to be.
"He's not afraid to say what's on his mind," Celebertti said.
Tejada's determination to complete student government projects for Citrus students has never wavered.
In spring 2014, he helped distribute about 1,000 bags with Scantrons, blue books and pencils to students in the run-up to finals.
"He heard a lot of no's from different people but he still kept at it and was able to pull it off," Celebertti said.
"He always had the students in mind."
In making treatment decisions, Tejada said that at first he wanted to take a holistic route because he has watched three family members die after chemotherapy treatments.
"For over a decade I was telling myself I would never do that to myself," he said.
"It was kind of hard to disassociate their treatment failures to what could happen to me."
However, despite his strong reluctance, Tejada said out of fear he eventually chose to undergo chemo for the next two to five months at City of Hope.
"I was scared," he said. "The doctor told me people who have taken the holistic route…come back five years later with tumors all over their body, and then it would be too late to have treatment as an option. It just scared me."
Tejada said that the biggest challenge he has had to overcome so far is letting go of personal beliefs and putting his life into the hands of doctors.
"I have to have faith that the treatment is going to make me better even though a month ago I didn't feel that way," he said. "Compromising my beliefs out of fear has been the hardest part."
When he is alone with his thoughts, things get harder, Tejada said, but his support team of friends and family keeps him going.
"I want to be there for them as much as they want to be here for me," he said. "I don't want them to see me feeling down and out about myself because I don't want people feeling sorry for me."
Tejada said that he keeps a positive attitude by refusing to feel sorry for himself.
"There's nothing to be angry about, and there is no one to blame," he said. "It's unfortunate, but I just have to roll with it."
Justin Tejada said he admires his older brother's will to survive. "He's willing to do anything to make sure he's going to stay here for as long as possible," he said.
Michael said the possibility of death doesn't frighten him.
"Death intrigues me," he said. "It's something that we know nothing about other than that it is inevitable.
"What's on the other side interests me. I'm in no rush to find out but I'm not scared of it," he said.
For those who have cancer or have loved ones who have been diagnosed with it, Tejada recommends embracing the cancer rather than being embarrassed by it. "It's not something you can control, so you shouldn't be ashamed of it," Tejada said. "Take it in stride. Embrace it for what it is."
As Tejada continues his journey, he said he hopes chemotherapy will cure him.
"I'm going to put up a fight," Tejada said. "That's all I can guarantee."
---
---