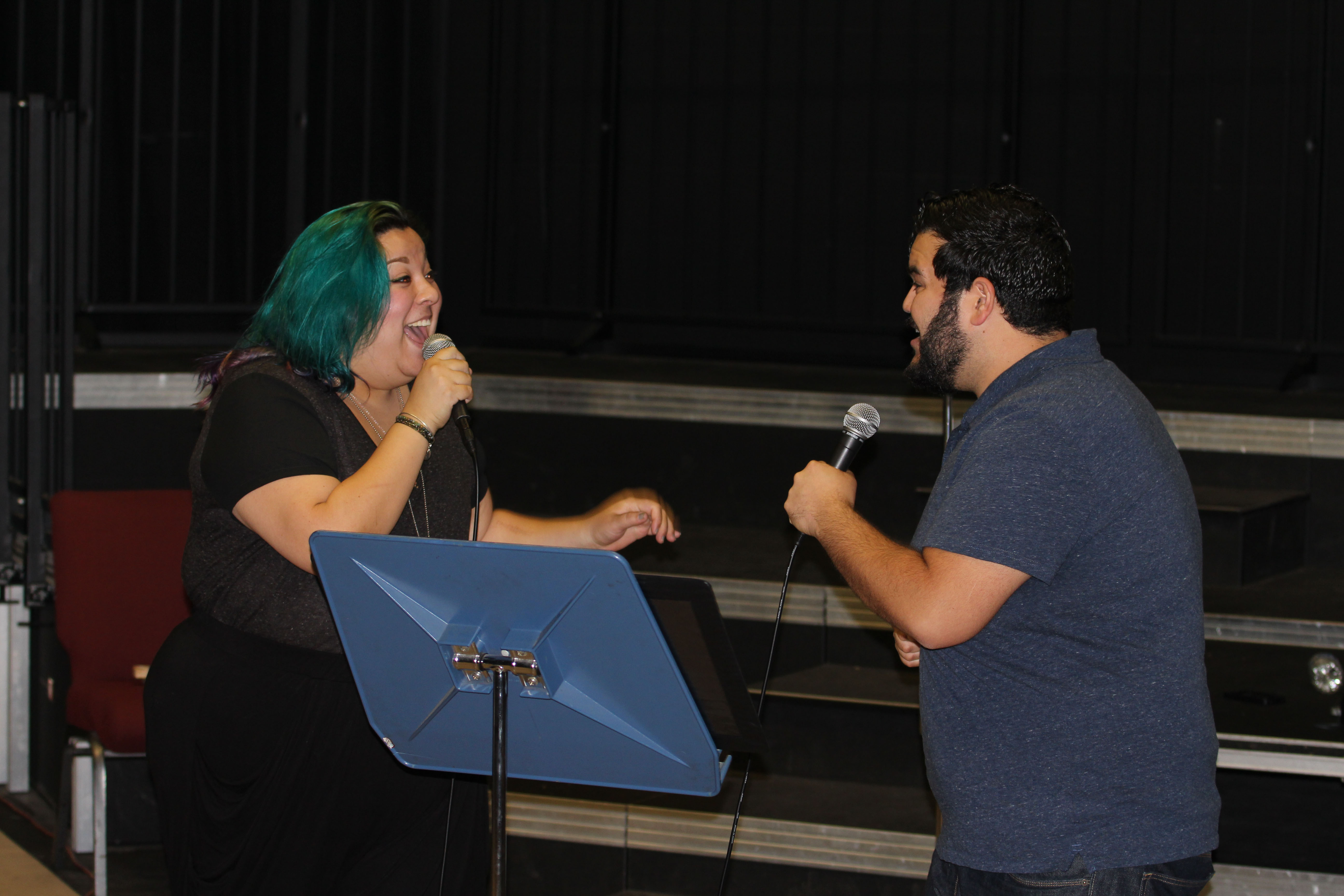 ---
Alumni Faith Carrion, 25, and Ray Barcelo, 25, sing their duet "Fine" from "Ordinary Days" in the cabaret show titled "A Way Back to Then." The performance highlighted their experiences during their tenure at Citrus College. (Pat Cordova/Clarion)
By Danielle Carlson | Staff Writer
A special alumni concert "A Way Back to Then" was performed to celebrate Citrus College's centennial year.
The intimate concert was only composed of three people; the two performers and Citrus College alumni Raymond Barcelo and Faith Carrion, accompanied by Andrew Orbison, a Los Angeles-based freelance musician.
Throughout the special benefit concert, the two actors shared personal experiences through song about their lives at Citrus College as well as life after graduation.
The stage was adorned with a wide variety of flowers and shrubs, which presented the set in a modest yet elegant manner.
The lead actress Carrion, 25, described her time as a performing arts student at Citrus and her endeavor to make it into the professional world through song.
During one performance Carrion described her personal connection to the song "A Quiet Night At Home," originally composed by Damon Intrabartolo and Jon Hartmere, as the first serious piece she had to complete. Her passion when singing was apparent throughout the production leaving the audience feeling as if they were accompanying her through different experiences.
Barcelo, 25, radiated a bright and colorful personality when he took the stage.
It shined through to all of his performances.
However, in the second act, the crowd experienced some irony in Barcelo's rendition of, "Way Ahead of My Time."
The song's main theme highlighted the idea of excelling in all aspects and being smarter than "the average caveman." But when Barcelo attempted to "excel" with his performance, he stumbled through the song resulting in him restarting a total of three times.
Luckily for Barcelo, his charm and humor made his mistakes seem like a part of the production, leaving the audience to see the comical side of the error.
Orbison's flawless piano performances helped capture the mood of Barcelo and Carrion's journey through life thus far. Despite a few minor hiccups, the show communicated an intimate feeling leaving the audience feeling like they read a part of Barcelo and Carrion's diary.
---
---