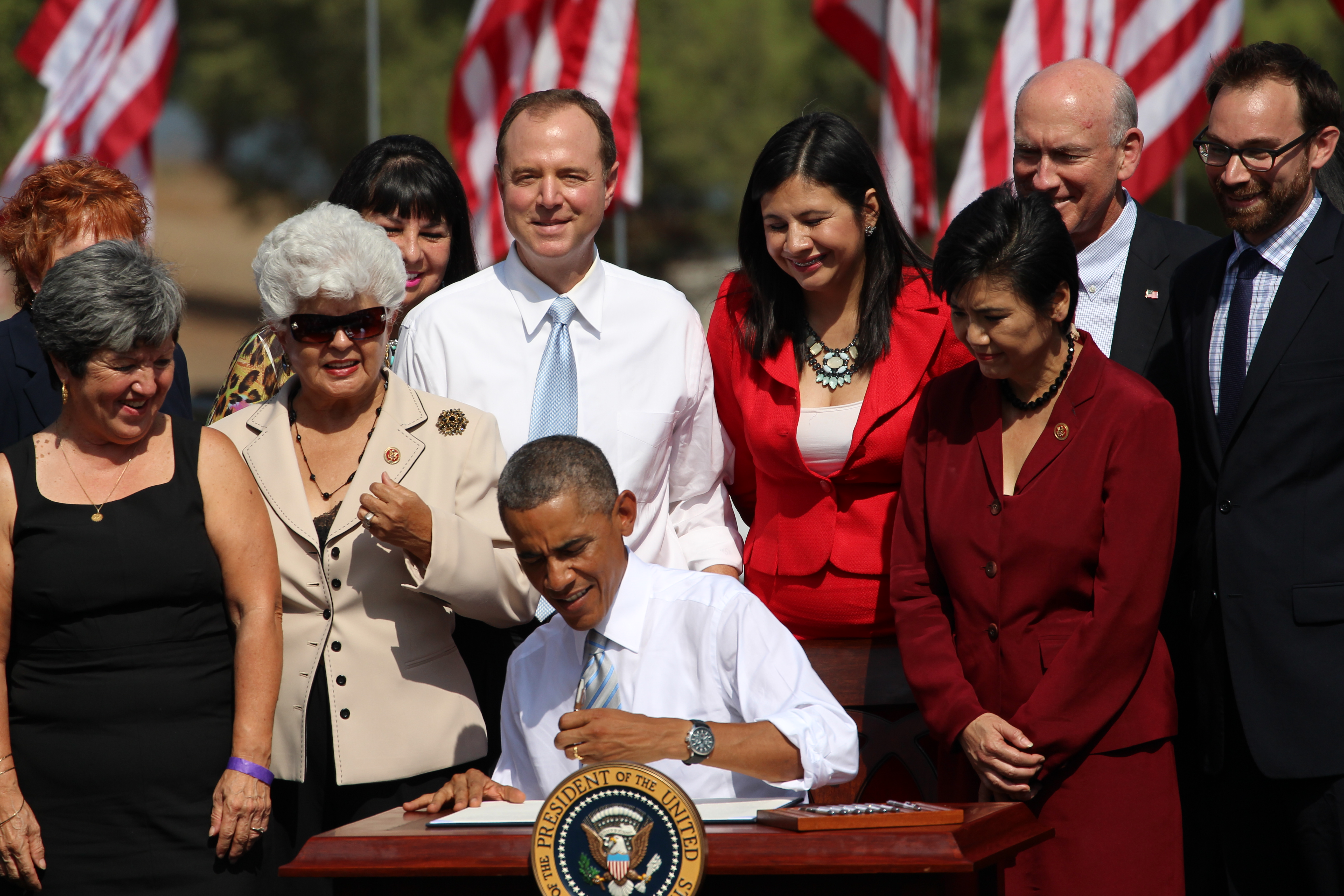 ---
The San Gabriel Mountains became the country's 110th national monument when President Obama signed a proclamation Oct. 10 designating 346,000 acres of the Angeles National Forest for federal protection.
But this executive action is fiercely controversial.
Dozens of protestors gathered outside the Frank G. Bonelli Park entrance where Obama spoke, waving American flags and holding signs with messages such as "Monumental mistake" and "Save Mt. Baldy."
Speaking as a private citizen, Glendora mayor Judy Nelson was one of the protestors standing along the freeway overpass.
Nelson said her biggest concern with the designation is what she describes as the lack of the democratic process in the decision.
"I would like the voice of the people to be heard," Nelson said. "There has been almost no public input on this. It was announced less than two months ago, and it's happening."
This action marks the 13th time the President has used his executive powers and bypassed Congressional approval to establish or expand national monuments.
Nelson, who said she frequents the mountains often to hike, said that the public has been left in the dark on this decision, including senators Dianne Feinstein and Barbara Boxer.
"We have no knowledge of what the legal language will be because nothing has been written," she said. "They [the senators] could not comment on it because there's no language. We don't know what it's going to be."
By protesting, Nelson said she hoped the legislators would realize that there is "a public voice that is not happy about this process."
Judy Chu, U.S. representative (D-Monterey Park) disagrees with Nelson.
Chu introduced a bill earlier this year that would designate 655,000 acres of the mountains as a national recreation area. She worked with the Obama administration to create this national monument.
Chu said that the protestors appear to be uninformed.
"They [the protestors] are saying that this is a land grab, but actually the monument can only be on federal land," Chu said. "They are saying 'Keep Mt. Baldy out of it'…Mt. Baldy is out of it."
In 2003 when former U.S. Secretary of Labor Hilda Solis was serving in the House of Representatives, introduced a bill that would authorize a national recreation area.
During the last decade, Chu said there have been 66 public stakeholder meetings and a public comment period that took in 16, 800 comments.
"This process is a result of 11 ½ years of public input," Chu said. "In every stage of this whole process we've had public input."
Citrus College student John Durden, 24, of San Dimas was also one of the protestors outside Bonelli Park.
He also said there was not enough opportunity for local residents to voice their concern.
Durden said he spends time in the mountains enjoying the scenery at Burrow Canyon and practicing shooting, and hanging out with friends.
"Once this becomes a national monument under the Antiquities Act, it would restrict access," Durden said.
However, Chief of the U.S. Forest Service Thomas Tidwell said the purpose of a national forest is to expand recreational opportunities, not prevent them.
"We see this as an opportunity to be able to honor the monument designation and to be able to enhance the recreational experience and increase the access to the population," he said. "One of the things we want to make sure is that we connect with the communities."
Nelson objected, saying that increasing access while increasing regulations can't work.
"A national monument allows for increased regulations and restrictions," she said. "If you are protecting and preserving, you are not allowing access to certain areas, and you are not allowing people to do certain activities. Those two things go hand-in-hand."
Those opposing the creation of a national monument are concerned that it may infringe on private property rights, emergency services, battling wildfires and flood control.
Chu countered that the public has been repeatedly assured that extra fees, existing private property claims, recreational opportunities and water rights would not be affected.
Tidwell also said that the response to wildfires will not change and that fees will not be implemented on places like camping grounds, unless the public approves.
"When there is an area that deserves to be recognized as a national monument, it indicates that the historical cultural significance of this area is something that needs a higher level of management," Tidwell said. "If you went up there today, you'll see there's more presence. We've already brought on additional crews to work on trails and clean up areas, especially in the San Gabriel River."
With 15 million people living within a 90-minute drive of the San Gabriels, Tidwell stressed the importance of community involvement.
"There are so many people that live up and down the mountain range here that either don't realize they can go up there or don't know how to do that," Tidwell said. "That's what we want to change. We want to increase the access so its easier for folks to get up there and use all of the monument."
---
---