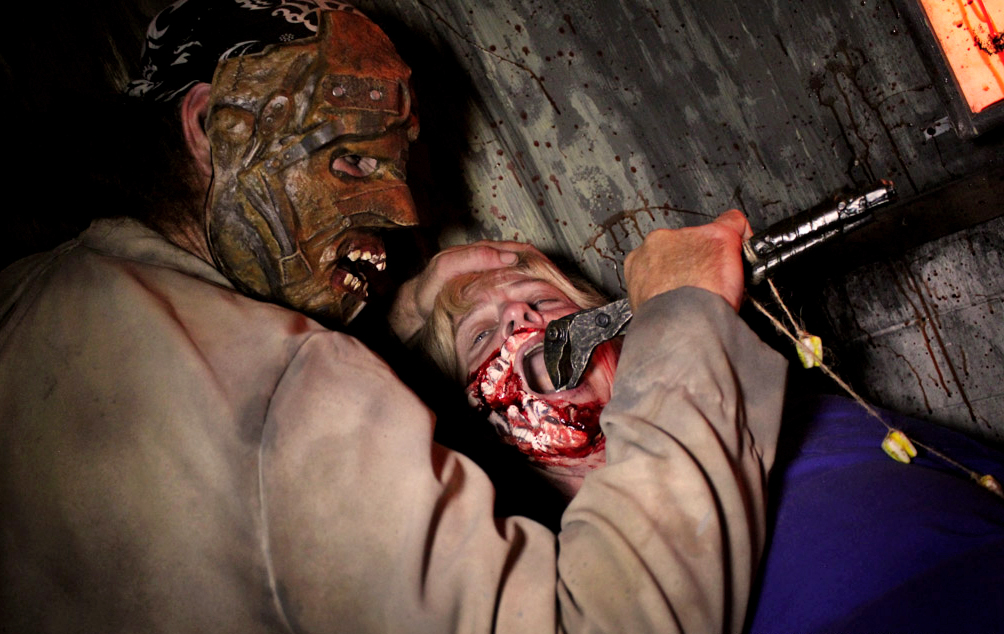 ---
In the Tooth Fairy maze, individuals are greeted by the Dentist that fills children's nightmares. Knott's Scary Farm is from 7 p.m. to 1 a.m. Monday through Sunday until Nov. 1. (Photo courtesy of ThemeParkAdventure.com)
By Danielle Carlson | Staff Writer
Demonic spirits, creatures witches and ghosts lurk out of the fog to revisit to the most anticipated horror experience this Halloween season: Knott's Scary Farm.
With the haunt industry growing exponentially, Knott's has stepped up its game to spook the competition. This year the haunted amusement park introduced two new mazes: "Tooth Fairy" and "Voodoo" bringing a scary total of 10 mazes.
"Tooth Fairy" casts a light on a harmless childhood fairytale by transforming it into a blood and gore fest. The story adaptation is that the real Tooth Fairy has been captured by a demented look-a-like who attacks anyone who places a tooth under his or her pillow.
The maze features gory scenes in which children are wounded by the Tooth Fairy. Dentist chairs are scattered throughout the attraction to give it a real "dental" feel. A creative twist on a classic tale, "Tooth Fairy" is definitely worth experiencing.
Striving for innovation, Knott's has created a second new maze: "Voodoo."
Unlike the other labyrinths within the park, Voodoo contains no walls or hallways, leaving visitors to roam where they please. Throughout the open attraction, visitors enter a Deep South area located in New Orleans where zombies roam and witchcraft is used to posess innocent souls.
This maze is unlike any other this Halloween season, causing Knott's to have a spooky edge on its competitors. However, with no walls or pathways and no signs pointing out the proper route, confused guests wander with no sense of direction. The result is awkward encounters with other equally lost groups.
Back by popular demand, the Scary Farm brings you the ever clever "Elvira: Mistress of the Dark."
In a circus-themed show titled "Elvira's Big Top," the mistress plays the part of a ringleader introducing acts that follow a carnival theme.
Queen Elvira enters the stage singing a parody of Iggy Azalea's hit single "Fancy" with lyrics such as, "I'm so freaky/ Welcome to my show," causing her fans to riot.
The first act features a patient from an insane asylum. His performance was a circus standard: a sword swallower. The entertainer would swallow up to three long swords at a time perplexing the audience with his technique.
The second act is a female contortionist. Although her act is amusing, nothing was more exciting to the onlookers that Elvira's witty, inappropriate jokes and her musical performances.
The mistress concludes her freakshow with a rendition of Jessie J's song, "Bang Bang," as the audience calls out for more.
Perhaps the best thing about the spine-chilling park this year is the overall feel. Zombies, ghosts and other horrifying creatures terrify visitors leaving them on edge while as they roam around the amusement park.
Dense fog released throughout the area and dark, gloomy lighting give the demonic monsters an easier time to hide. The result is hair-raising suspense for the spectators. Though it may lack the professionalism of Universal Studios' Halloween Horror Nights, Knott's Scary Farm has managed to maintain the overall fun atmosphere that makes thrill seekers return every year.
Knott's Scary Farm is from 7 p.m. to 1 a.m. Monday through Sunday until Nov. 1. General admission is $39 and the unlimited terror season pass costs $75. Parking is $20.
---
---