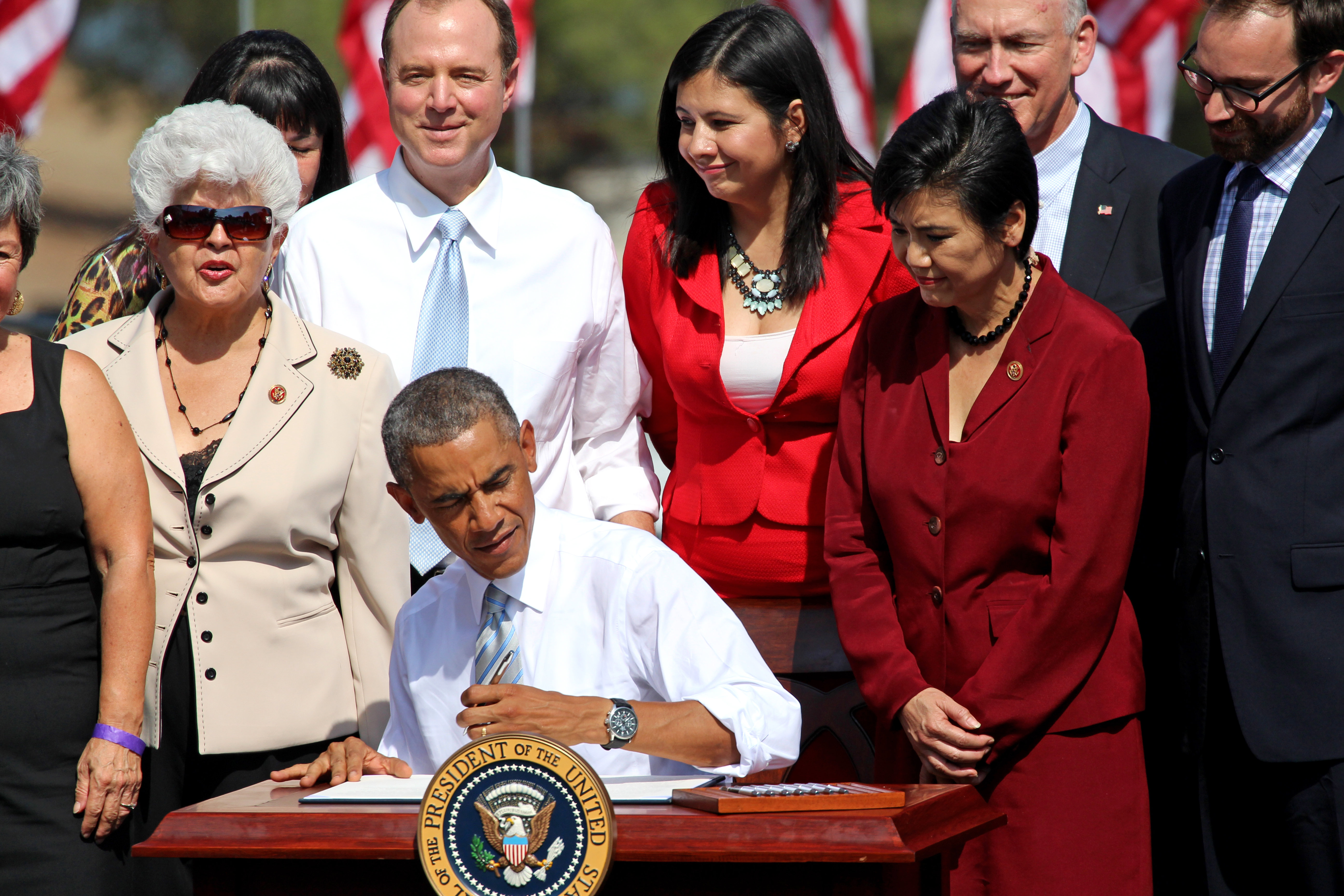 ---
President Barack Obama signed a proclamation dedicating 346,000 acres of the San Gabriel Mountains as a national monument Oct. 10 at Frank G. Bonelli Park in San Dimas. The San Gabriel Mountains National Monument is the country's 110th federally protected region. (Evan Solano/Clarion)
By Careesa Campbell | News Editor
President Barack Obama traveled to Frank G. Bonelli Park in San Dimas to sign a proclamation Oct. 10 designating 346,000 acres of the Angeles National Forest as the San Gabriel Mountains National Monument.
Stretching from Santa Clarita to San Bernardino, this region will be federally protected as the country's 110th national monument.
"It is not just the natural beauty of the San Gabriels that makes it invaluable," Obama said. "Just as this region teaches us about our past, it has always offered us a window into the future…I can think of no better way to honor our past and protect our future than by preserving the San Gabriel Mountains."
Obama compared the journey of designating the region as a national monument to the nation's enduring past.
"The story of the San Gabriel Mountains is in many ways the story of America," he said. "It is the story of communities exploring the Great West, of Native Americans, Spanish missionaries, colonialists and rancheros, merchants and landowners, the story of prospectors in search of gold, of settlers in search of a new life."
During his administration Obama has bypassed congressional approval and used his executive powers to establish or expand 13 national monuments, preserving more than 3 million acres of land. On Oct. 10, he said he is "not finished."
Obama said he would continue to preserve the nation's lands, especially where communities are speaking up.
"That's what makes this particular destination so important," he said. "We heard from the community that for a lot of urban families, this is their only big outdoor space.
"Too many children in L.A. County, especially children of color, don't have access to parks where they can run free, breathe fresh air, experience nature and enjoy their environment," Obama said.
"We see this as an opportunity to be able to honor the monument designation and to be able to enhance
the recreational experience and increase the access to the population."

-Thomas Tidwell
Chief of the U.S. Forest Service
The president continued saying his commitment to conserving land is not to "lock up" America's natural wonders, but to open up the opportunity for the world to see.
"It's not enough to have this awesome natural wonder within your sight, you have to be able to access it," Obama said. "We'll keep working with you to make sure that everybody in this diverse community, no matter where they come from or what language they speak, can enjoy all that this monument has to offer."
Obama said that preserving these mountains is the first step in a broader effort to address the laundry list of maintenance issues affecting the region.
Due to lack of funding, officials from the U.S. Forest service are unable to provide constant surveillance over the vast range and the mountains are bombarded with trash, wildfires, graffiti and crime.
Advocates say the 3 million annual visitors to the range pose a risk to the mountains and themselves by littering, building illegal fires and injuring or killing themselves on dangerous hiking trails.
Thomas Tidwell, chief of the U.S. Forest Service said the purpose of a national forest is to expand recreational opportunities, not prevent them.
As a national monument, the U.S. Forest Service will have the means to protect the mountain's natural resources and wildlife, prevent the pollution and crowding problems and improve the ranges by installing new parking lots, restrooms and educational signs and trails, federal officials said.
"We see this as an opportunity to be able to honor the monument designation and to be able to enhance the recreational experience and increase the access to the population," Tidwell said. "One of the things we want to make sure is that we connect with the communities."
Obama said that the 15 million people who live within a 90-minute drive of the mountains will be able to observe, explore and enjoy the natural beauty of the range for generations to come.
"We are blessed to have the most beautiful landscapes in the world," Obama said. "We have the responsibility to be good stewards of those landscapes for future generations."
The president called the San Gabriel Mountains National Monument a "geography of hope that is the birthright of all Americans."
"The notion of a national monument is interesting," he said. "It reminds us that America belongs to all of us, not just some of us."
---
---