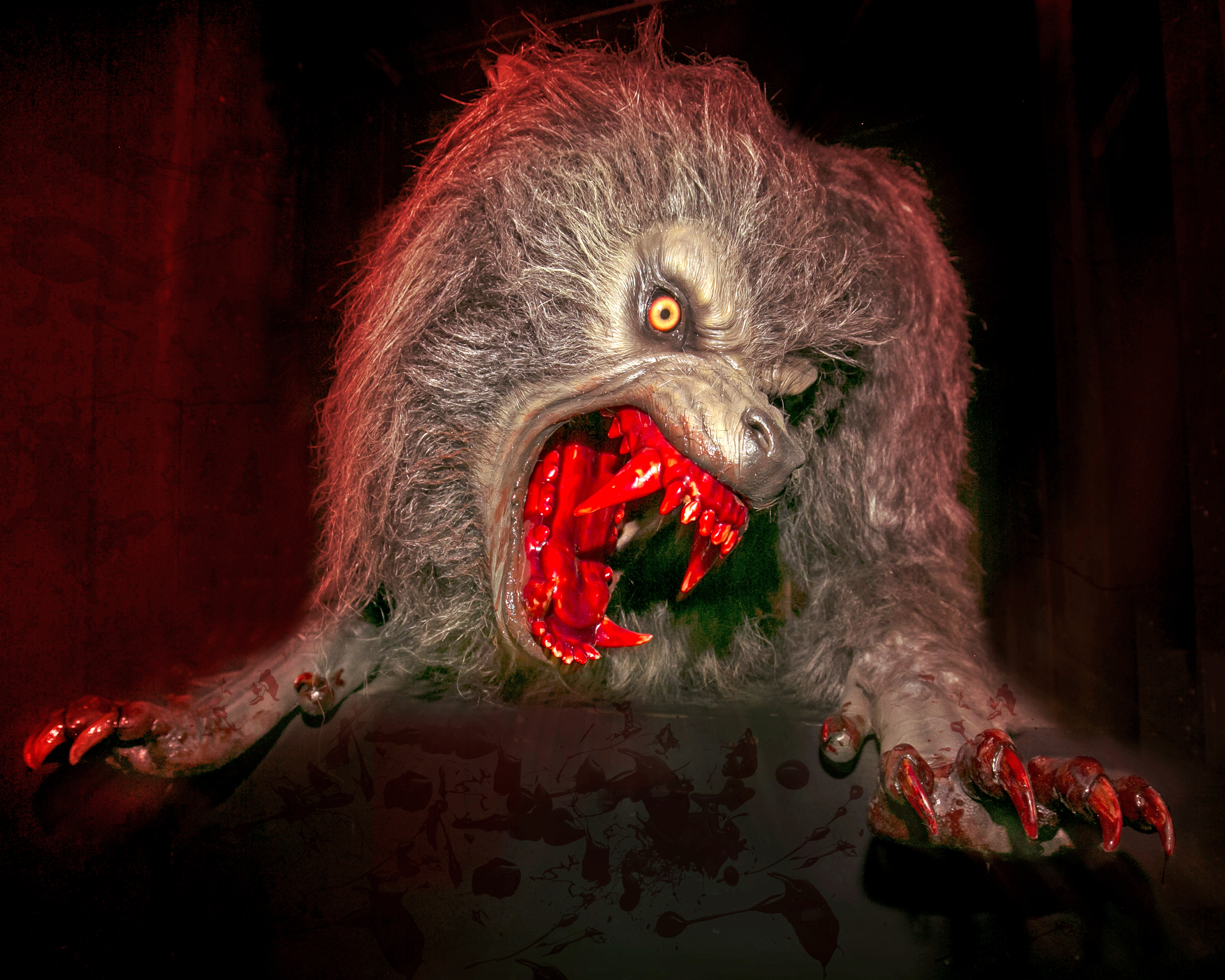 ---
Come face to face with werewolves on the "American Werewolf in London" maze at Universal Studios Halloween Horror Nights (Photo courtesy of Universal Studios)
Universal Studios of Hollywood presents the anticipated Halloween Horror Nights event, filled of frightening monsters, adventurous rides, and satisfying food.
By Pat Cordova-Goff | Staff Writer
From the "Walking Dead" "terrifyingly apocalyptic" maze to the "Despicable Me" Minion Mayhem ride, Universal Studios annual Halloween Horror Nights doesn't disappoint.
Like Citrus College, Universal Studios is celebrating its own centennial year, having been established as a movie studio on March 14, 1915. This time of the year, Universal opens Thursday through Sunday from 7 p.m. to 2 a.m. to thousands of visitors anticipating the scare of a lifetime.
As visitors enter through gates draped in webs and blood, they see a petite woman auctioning off a close-to-death victim, and thus begins this spine-chilling experience. With a witty tongue and blood-curdling laugh, similar to Effie Trinket of "The Hunger Games," she sets the mood for a night full of fear and fun.
As crowds wander from attractions to mazes, costumed zombies explode from dark corners with blaring chainsaws shocking the under- prepared. As if the scene could not be more intense, smoke machines generate dense fog in the walkways, limiting visitors' ability to see even a few feet ahead.
The maniacal laughter and screams continue throughout the park's seven frightening mazes. The "From Dusk Til Dawn" maze features an ancient temple, set under a nightclub scene, where snake-like "culebras" drink human blood to satisfy their thirst.
The six other mazes are spin-offs of popular shows and movies, including "The Walking Dead", "Alien vs. Predator", "Dracula", "Face Off", "Clowns 3D", and "An American Werewolf in London".
The "American Werewolf in London" maze, a continuous sequence of petrifying turns and surprises, proved to be particularly effective. Although visitors brace themselves in anticipation of the next creature who will leap at them, the maze's blood-drenched werewolves and corpses provided a horrifying adventure.
Across the park, thrill-seeking visitors can ride Halloween Horror's various attractions, including "Despicable Me" Minion Mayhem; "Transformers: The Ride- 3D"; "Jurassic Park- In The Dark"; and "The Simpsons" Ride.
"Revenge of the Mummy": The Ride, in particular, is worth the wait.
Riders find themselves shot through the dark as ancient artifacts and frightening creatures are hurtling their way. After soaring at what seems to be perilous speeds, riders come to an abrupt halt only to encounter the creepiest of sensations as what feels like spiders crawl over their feet.
Once visitors take a break from bone-chilling mazes and adrenaline-rush rides, what is left of their stomachs can easily be satisfied at the park's restaurants and snack stands. For $10 to $15, enormous turkey legs and slices of chocolate cake, as well as countless more options, can kill your hunger pangs.
Universal Studios provides visitors with a sensational horror movie Halloween experience.
Visitors fear for their lives only to wish for a second runthrough once they leave the park.
Universal Studios Halloween Horror Nights continues through Nov. 2. Prices are listed on the Universal Studios website, www.halloweenhorrornights.com.
Citrus College students with ASCC sticker, are eligible for discounted student tickets available in the Cashier's Office located on the first floor of Student Services.
---
---