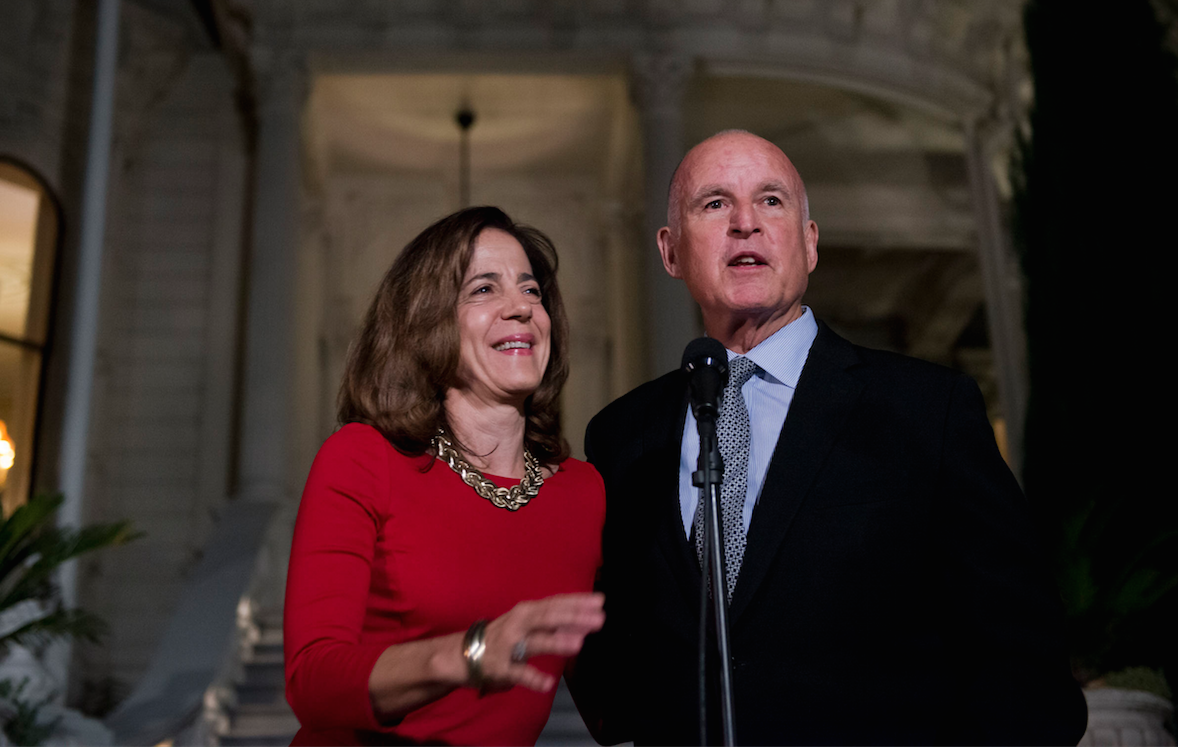 ---
California Gov. Jerry Brown, along with Anne Gust, left, speaks in front of the California Governor's Mansion after Brown was re-elected to a fourth term in Sacramento, Calif., on Tuesday, Nov. 4, 2014. (Manny Crisostomo/Sacramento Bee/MCT)
By Careesa Campbell | News Editor
As midterm election results roll in, California voters choose a familiar face.
The 2014 California general election results came in Nov. 4, and as of press time, here is how it all shook out.
Incumbent Jerry Brown, 76, democrat, and challenger Neel Kashkari, 41, republican, were vying for the governor's seat.
Brown beat Kashkari for a historic fourth term in office with a 56.2 percent vote with 1,281,553 votes.
Gavin Newsom, democrat, won against Ron Nehring, republican, for lieutenant governor with a 53.5 percent vote.
Republican Pete Peterson, candidate for secretary of state beat challenger Alex Padilla, democrat, in a close vote with 50.9 percent against Padilla's 49.1 percent.
Democrat John Chiang defeated republican Greg Conlon with a 55.3 percent vote for treasurer.
Candidates for attorney general included Kamala D. Harris, democrat, and Ronald Gold, republican. Harris brought in 51.1 percent of votes against Gold's 48.9 percent.
Dave Jones, democrat, and Ted Gaines, republican, ran against each other to be the state's insurance commissioner. Jones was voted insurance commissioner with a 51.3 percent vote against Gaines's 48.7 percent.
Marshall Tuck and Tom Torlakson were the candidates for superintendent of public instruction. Torlakson beat Tuck with a 53.8 percent vote against 46.2 percent.
There were also six propositions up for vote.
Proposition 1, which passed with a 68.2 percent vote yes, would allow California to use $425 million in approved bonds and sell an additional $7.1 billion in bonds to pay for local and state projects for the improvement of state water systems.
In order for the state to repay the bonds, it would cost about $360 million a year for 40 years.
Those opposing the bill said taxpayers' money would be shifted from local projects and education, whereas those supporting the bill said it was the best way for the state to pay for overdue water management and supply projects.
Proposition 2, which was passed with a 71.2 percent vote, would allow the state to change the constitution's rules on the amount of money that can be placed into California's budget reserve and how much of that money can be used.
For the initial 15 years, there would be less money to spend in the state budget, but in the long run, there would be less money spent on the state's debt. Those supporting the bill said the government would be forced to save money in good years and allow debts to be paid off faster, but some argued that new rules would make it difficult for schools to receive adequate funding.
Proposition 45, a bill regarding health insurance rates, was defeated with a 60.7 percent vote no. Prop 45 would have require health insurers to have the Insurance Commissioner's approval before changing rates or other charges associated with health insurance. Campaigns in favor of the bill said that healthcare insurance costs would be controlled, but those against the bill said that the elected commissioner would have too much power and complicate state rules.
Also defeated was proposition 46, which would have increased the limit of non-economic damages that a patient can receive from $250,000 to $1.1 million. It would also have subjected doctors to drug and alcohol testing and health care workers would be required to check a database so patients could not get multiple prescriptions. Supporters of the bill said if passed, doctors would be held accountable for malpractice.
On the other hand, those opposing the prop said that drug testing and checking databases are an invasion of privacy. There was a 68 percent vote no for prop 46. On the other hand, Proposition 47 passed with a 57.5 percent vote yes.
Proposition 47 will reduce the penalty for nonviolent felonies to misdemeanors unless the offender has prior convictions for violent and serious crimes. It would also mean that a convicted felon could get a reduced sentenced if the crime is reclassified as a misdemeanor. Campaigns in favor of the bill said it would allow law enforcement agencies to refocus their attention on serious and violent crime, while also spending less money on lower level, nonviolent crimes.
However, campaigns against 47 said jails will overcrowd and the courts would jam with resentencing hearings. Proposition 48, which was defeated with a 58 percent vote, would have allowed the North Folk Rancheria tribe to build a casino on property not connected to their reservation, but on the Wiyot tribe's reservation.
The casino would have created 4,000 jobs and had local support, but those opposing the bill said that the agreement would change laws about where tribes can operate casinos and could ultimately open up the door for more gambling.
---
---