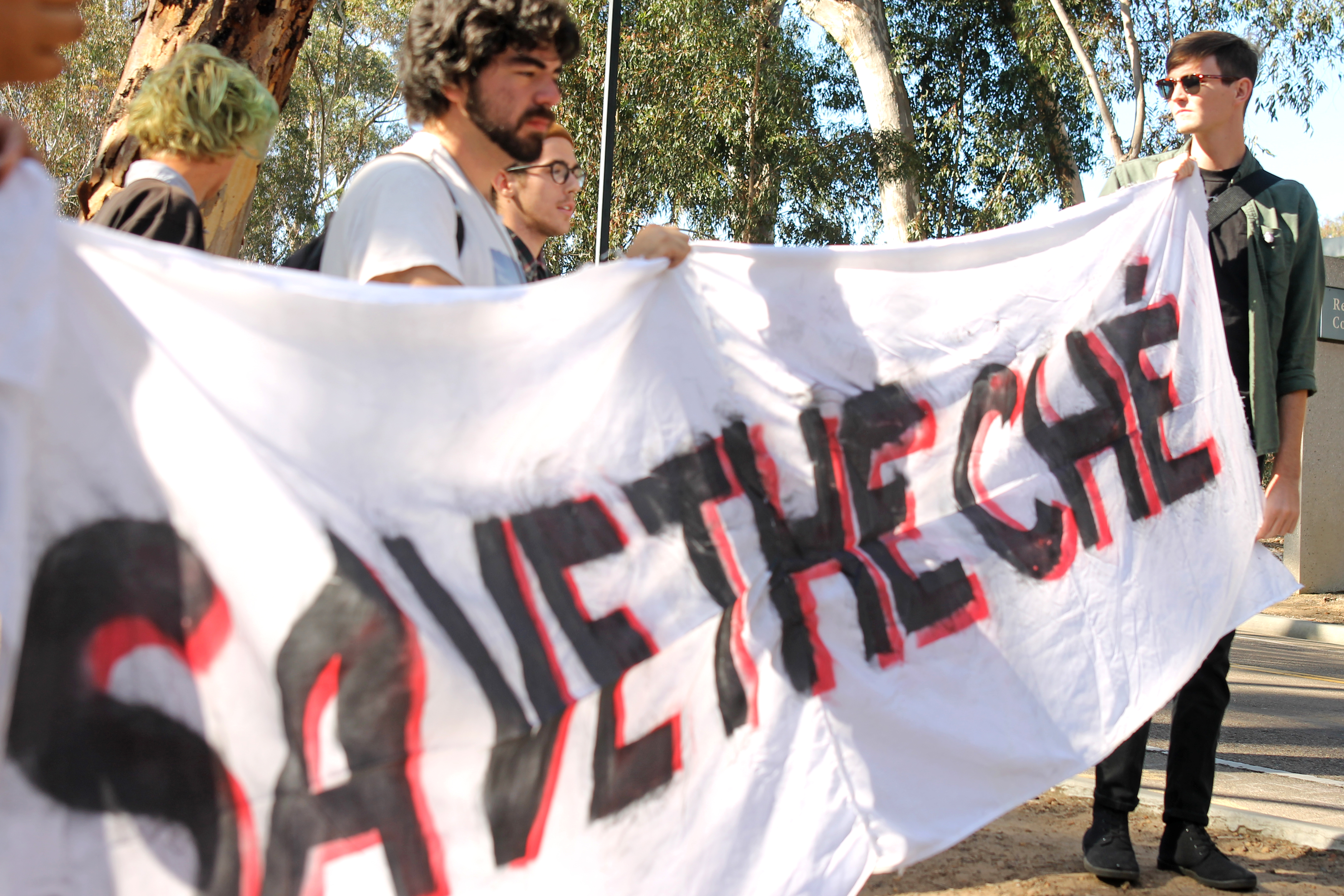 ---
Citrus student Cameron Hughes, pictured on the far left, rallies along with hundreds of other protesters who are trying to save The Ché Café from closing down. The student-run venue is one of the most popular locations for touring bands to frequent in Southern California, other than the La Puente based Bridgetown DIY collective which Hughes co-founded. (Macy Olivas/Clarion)
Citrus students travel to San Diego to rally in support of a popular university music venue in peril.
More than 100 participants rallied at the University of California San Diego to protest the eviction of the underground venue and collective The Ché Café.
On Oct. 28, students and community members marched around campus, finalizing their walk at Chancellor Pradeep Khosla's office to deliver a petition of more than 14,000 signatures in support of the venue.
Marchers chanted "Save The Ché, The Ché will stay," carried signs that read "No eviction," "DIY or die," and "Expect Resistance," and drummed on paint buckets as students and passers-by watched.
On Oct. 21, Judge Katherine Bacal issued a ruling in favor of the UCSD administration eviction lawsuit.
A Space Agreement was issued in 2006 between UCSD and the student/worker cooperatives that included The Ché Café. Although the agreement was supposed to last until 2016, UCSD administration argues that it should be ignored. A flawed resolution attempting to decertify the venue was passed in May by UCSD administration and the UCSD Graduate Student Association, just one of the many attempts by the administration to shut down Ché.
Judge Bacal rejected the administration's claim that the dispute resolution provisions of the lease did not apply to the termination. However she also found that there was insufficient evidence that a formal request for dispute resolution was ever made by the Collective.
It was stated that Ché Café did not have enough student support to keep it up and running, however supporters partaking the protest stretched all the way to Citrus College. "We're hoping that with this it puts pressure on them [the university administration] to back off the eviction on Ché Café," said Rene Vera, student at UCSD and commissioner of the event.
"Knowing that The Ché has had a lot of history of community and support, I thought it was something worth spending time to go help with."

-Joshua Prentice
philosophy major"
"I highly doubt that the university has seen an action like this in recent history," he said. "We're all in our own way making history right now.
"When we win, this will be the kind of action that other students will take to secure their spaces," Vera said.
For Citrus student Cameron Hughes, The Ché Café was a place to grow and experience music in a non-profit environment. "It was a really weird experience to go from having your parents pay 30 dollars to go to a concert and then being able to go to a place where they charged five dollars at the door," Hughes said. "If you couldn't pay the full amount [at Ché] you could just pay what you could afford."
Most underground music venues follow the "NOTAFLOF" rule, which translates "no one turned away for lack of funds." With this, live music becomes completely accessible even if you can't afford it.
The Ché Café is important to Hughes because it is a space that is intrinsically linked to Bridgetown DIY-a music, art and social center established in 2011. He is a member and co-founder of the space located in La Puente. "We founded Bridgetown mainly because of inspiration from The Ché," Hughes said.
We've seen how they're organized collectively and democratically, we've seen the DIY ethic that influences how they operate the space, and we've seen the community that has been fostered in this area," he said. "We wanted to bring something like that into the San Gabriel Valley because we felt it was severely lacking."
The rally showed the strength of the community and the bonds of the collectives all around Southern California. Hughes, along with other Bridgetown members, protested at the rally to show support for their fellow collective members and friends.
"When one of us is in a time of need the other stands behind them and does whatever they can do to support them," he said.
"That's why we were present at the rally for Ché. We were present at their court hearings and we will continue to be present at whatever the future holds for The Ché."
"We stand in full solidarity with them."
Joshua Prentice, a philosophy major at Citrus, supported the community and sense of togetherness that comes with Ché. "I've been strongly influenced by that sort of organic, spontaneous, communal spirit and ideology," he said. "It has a really nice vibe."
"Knowing that The Ché has had a lot of history of community and support, I thought it was something worth spending time to go help with."
The problem with Ché isn't just about saving the space. "It's about ongoing cutbacks that are taking place in public universities. Not only do we see it at UC levels, we also see it at the community college levels," Hughes said.
According to Hughes, cutbacks like these can directly affect community college students that plan on transferring.
Not only is The Ché important because of the music and art, but it is one of four remaining student-run organizations on campus. "It's a hub for student activism," Hughes said. "To see something like this possibly being ripped away is really upsetting."
---
---