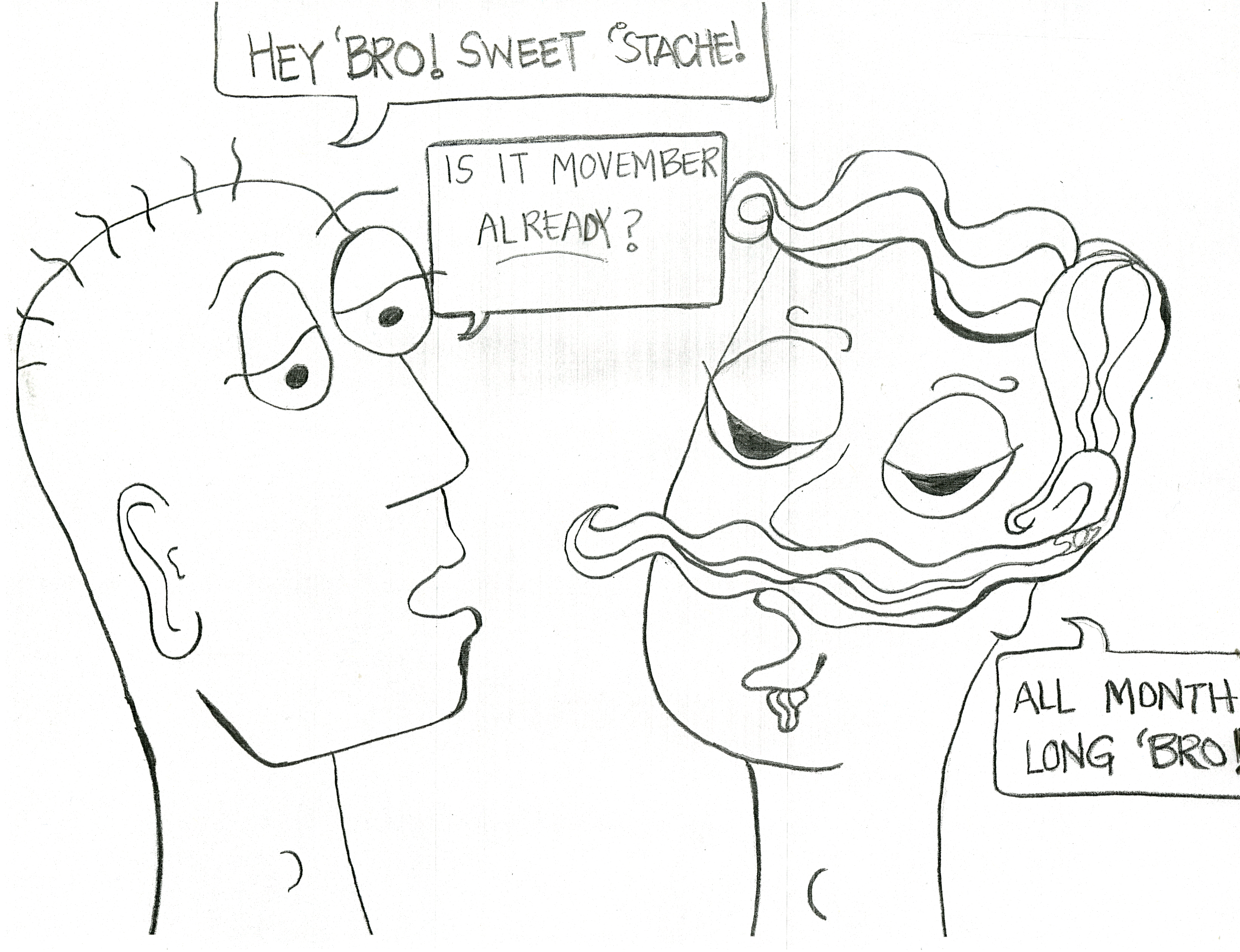 ---
(Artwork by: Stacy Slaughter / Clarion)
By Stacy Slaughter| Staff Writer
Growing out a beard or mustache during the month of November can be a fashionable or trendy thing to do. Yet, there is so much more meaning behind the facial hair that most people are completely unaware of.
Movember (a combination of the words moustache and November) was launched in 2003. It began as an idea between two friends in Australia who were trying to figure out a way to raise awareness of men's health issues.
Their vision was to approach this topic on multiple levels, from early detection of prostate cancer to mental health.
From a conversation their concept spread quickly to become the world-wide phenomenon today known as Movember.
Advocates for other causes typically sponsor a run or walk to raise funds. Supporters of Movember grow facial hair. They become a walking, talking billboard bringing awareness to their cause. For every bit of hair grown, sponsors donate funds through the website us.movember.com.
The official rules are simple: Start by signing up on the website and officially committing to the cause. Then shave. The guys growing their moustaches, known as 'Mo Bros,' shave off their facial hair Nov. 1 and let the growing begin.
Women, or 'Mo Sistas,' can help as well. By spreading the word, encouraging the men in their lives to self-examine or make a doctor's appointment, they are supporting their 'Mo Bros.'
The website guides participants throughout the 30-day process of asking for donations, growing your 'Mo' and bringing overall awareness to men's health. Some supporters even have a shaving party at the end of the month to celebrate. To date the growth of facial hair through Movember has raised $559 million.
As a daughter of a cancer survivor, I know how important early detection is. My father has had cancer twice in the last decade. His life was saved thanks to early detection and making sure that he went to every appointment after his cancer was discovered.
This Movember my father is letting his moustache grow. I encourage everyone that I know to do the same. Every October we encourage women to perform a self-examination for early detection of breast cancer. Yet, as a community we have been neglecting the men in our lives. Let's make a change.
Spread the word and stash your shaving kit in the medicine cabinet until December. Support men's health this Movember.
---
---