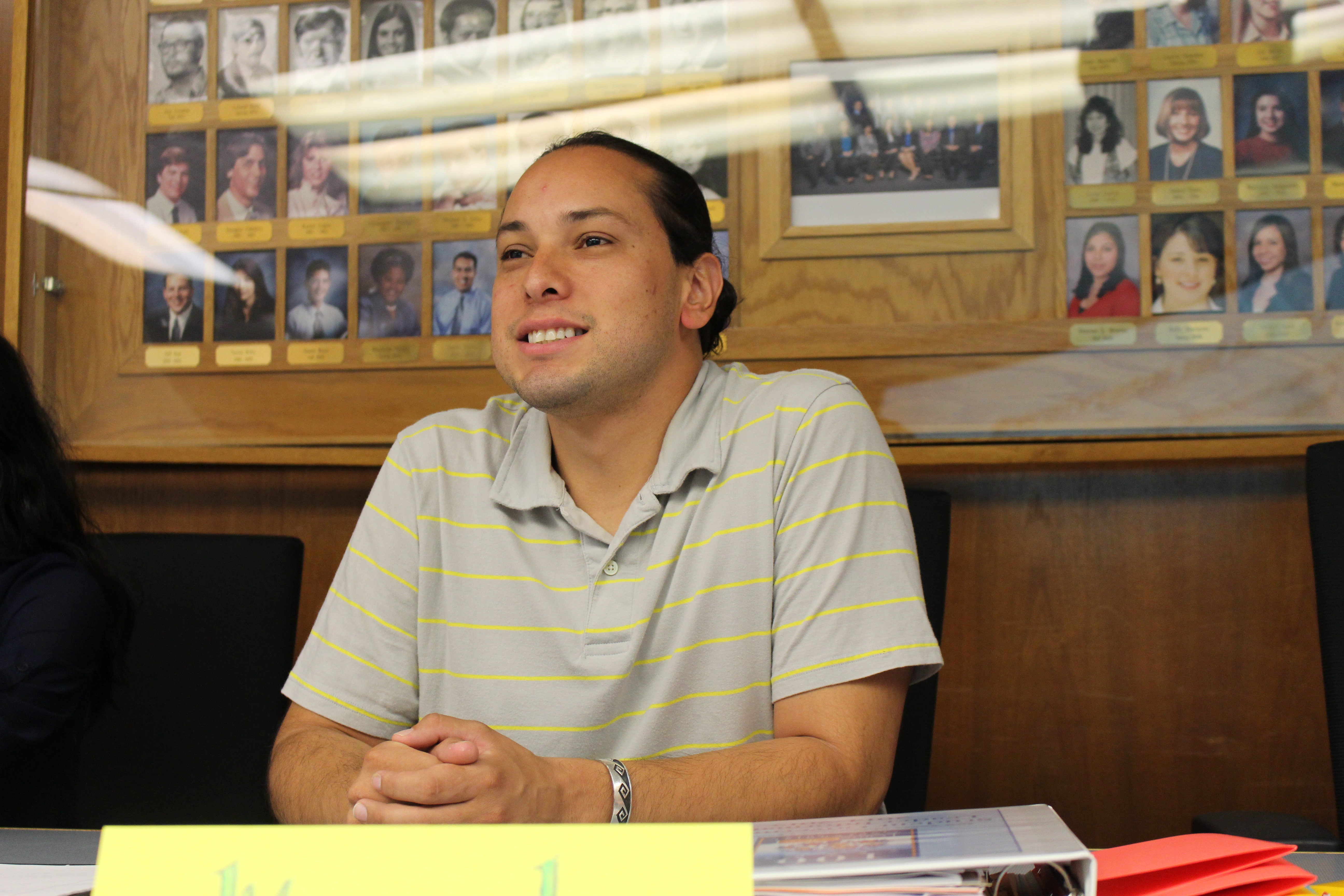 ---
ASCC President Manuel Ramirez sitting in on an ASCC meeting earlier in the semester. Ramirez will be joined by a new Vice President, Student Trustee and Senators for the Spring 2015 semester. (Evan Solano/Clarion)
By Careesa Campbell | News Editor
Applications to run for student government are available in the Office of Student Life in the Campus Center and are due Nov. 21 at 2 p.m.
The spring 2015 elections of executive board officers of the Associated Students of Citrus College are scheduled for Dec. 3-4 in the Campus Center from 9:30 a.m. – 8 p.m.
Citrus students who vote will select a vice president, student trustee-elect and seven senator positions.
Adrienne Thompson, supervisor of student life, said the most exciting part of the election is to see new students get involved.
"We have a good board right now, they're pretty cohesive, but I'm looking forward to having new people with new perspectives, and more people to carry the burden of the workload," Thompson said.
In order to run for a position, students must have a GPA of at least 2.5, be currently enrolled in six or more units and have a current ASCC sticker. Once candidates are vetted and deemed eligible they may begin campaigning by making posters, using social media and promoting themselves to fellow peers.
Daniel Celebertti, ASCC vice president, 28, said of the three means of campaigning, the most effective is talking to peers face-to-face, though it is also the most difficult because some candidates fear rejection.
"Sometimes students just think that putting up a poster is enough, but you really need that human touch," he said.
ASCC president Manuel Ramirez, 31, said campaigning provides the candidates the opportunity to get to know other students and encourage them to participate. "Persuading people to vote for you in particular is the most difficult part of campaigning," he said. "It is the fear of the unknown."
Students will have the opportunity to listen to the candidates Tuesday at 1 p.m. at the Candidates' Forum in the Campus Center.
Ramirez said the forum provides the opportunity for students to meet and evaluate each candidate.
The candidates will explain their motivations for running, their background and qualifications for the position.
Thompson said the Candidates' Forum is crucial to the election process because students will have the opportunity to ask questions of those who will be representing them on campus committees and events.
The vice president position requires that the individual elected to serve as ex-officio member of all ASCC committees and act as parliamentarian of the Executive Board, as well as assume responsibilities of the president if absent.
The student trustee-elect is a three-semester commitment in which the elected individual shadows the student trustee for one semester before taking that job the following year.
The student trustee is a non-voting member of the Citrus Community College District Board of Trustees and the ASCC Executive Board. This student officer represents all students and their interests in the BOT decision-making process and then reports the board's actions.
ASCC senators each represent specific areas on campus and serve as liaisons between all academic departments and the ASCC Executive Board. These students also serve as members of college standing committees and special committees.
Celebertti said that he looks forward to adding new members to the ASCC Executive Board because each one brings fresh ideas.
"It's just exciting to see what everyone can bring to the board," he said. "They always bring a new dynamic and new strengths."
The vice president and student trustee positions are determined by a majority vote, whereas the candidates for senator are elected by plurality and must receive at least 50 votes.
Within three days of the election, the results will be posted in the Student Affairs Office. The votes are tabulated via Scantron, where students will mark the names of each candidate they wish to elect.
In the spring 2014 election, 113 ballots were cast, which Thompson describes as very low but very typical for a community college that does not have online voting.
"I think part of it has to do with candidates not promoting themselves and not encouraging people," she said. "There's also a certain element of students who don't believe voting matters, but it really does. You can't complain if you don't vote."
Celebertti agreed. He said more effort is needed to make students realize that taking the time to vote does matter.
"It takes less than a minute," he said. "They don't realize the impact their vote can make."
The ASCC Executive Board meets Tuesday at 2:40 p.m. in the Campus Center.
---
---