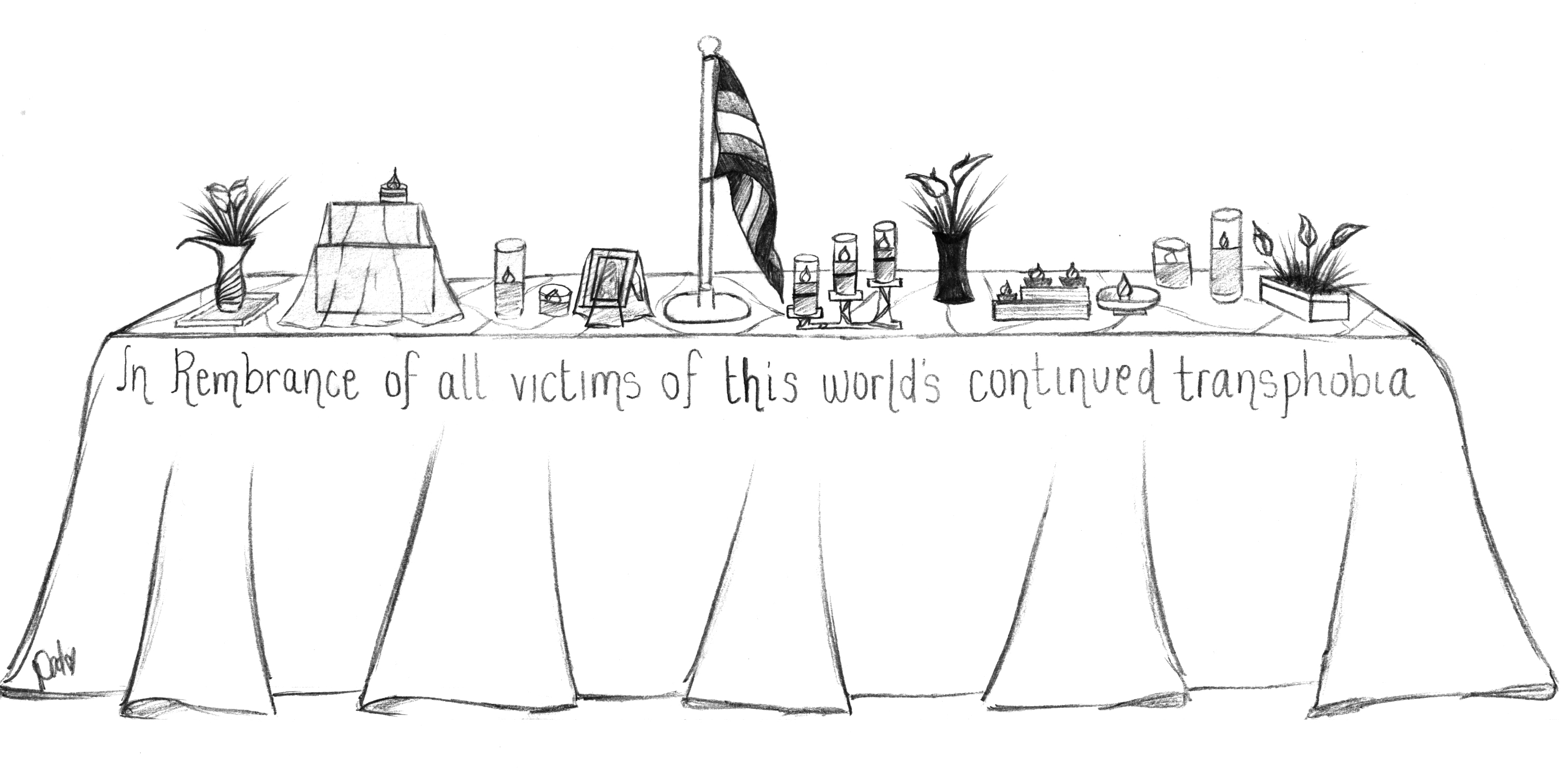 ---
(Illustration courtesy of Pat Cordova-Goff)
By Pat Cordova-Goff | Staff Writer
The murder of Rita Hester, an African American transgender woman, on Nov. 28, 1998 inspired a call to action. Now, 16 years later, many transgender individuals and allies plan to continue to take part in a day of remembrance. Transgender Day of Remembrance, or TDoR, held annually on Nov. 20, memorializes victims of transphobia who died, by either murder or suicide. TDoR also acts to focus attention on the continuing violence faced by the transgender community.
"Transgender" is a term that describes an individual whose gender identity is different from the sex they were assigned at birth. This term also serves as an umbrella term, including many gender identities of individuals who do not fit within society's gender binary, or boxes. Initiated in 1998 by Gwendolyn Ann Smith, a transgender woman and activist, TDoR is now observed in more than 185 cities in 20 countries.
Memorial activities vary, but they usually include reading names of all the victims that died in the previous year. Candlelight vigils, as well as trans-related movie screenings, open-forum discussions, and marches are often included. Transphobia is defined as the "range of antagonistic attitudes and feelings against… transgender people, based on the expression of their internal gender identity" according to the "Handbook of Gender Research in Psychology, Volume 2." Derald Wing Sue, researcher of "Microaggressions and Marginality: Manifestation, Dynamics, and Impact," claims that although transphobia is similar to other forms of oppression such as homophobia, sexism, and racism, the latter attitudes are gradually becoming unacceptable in American society. However, many people continue to express transphobic views without fear of criticism.
Meanwhile, the origins of this form of oppression continue to be debated.
Julia Serano, a transfeminist and author of "Whipping Girl," explains that transphobia, as well as homophobia, is a direct result of what she calls "oppositional sexism."
Throughout her book, Serano explained that male-female labels are "rigid, mutually exclusive categories, each possessing a unique and nonoverlapping set of attributes, aptitudes, abilities, and desires."
Serano argues that society's refusal to accept the flexibility of male-female roles assists the existence of transphobia. As a result, society views transgender people as breaking gender norms that the majority have been raised to believe are not to be broken. Today, as social queer justice movements continue to work against the defamation of LGBTQ+ people, statistics continue to demonstrate the unfortunate results of transphobia.
According to the Trans* Violence Tracking Portal, in the first four months of 2014 alone, there were a reported 102 acts of violence against transgender people worldwide. Ten percent of the victims were transgender youth.  One victim in this research included an 8-year-old child who was murdered by his father, a direct result of transphobia.
In recognition of the 2013 TDoR, a list that included only publicly documented cases, reported 238 transgender people who were killed worldwide from Nov. 2012 through Nov. 2013. Brazil with 95 and Mexico with 40 lead the list. The United States reported 16 deaths.
In America, headlines continue to reflect the violence against transgender people.
In Oct. 2014, U.S. Marine Joseph Pemberton was held in detention in the Philippines for the murder of a Filipina transgender woman just outside a former U.S. Navy base.
During summer 2014, multiple women were reported victims around the country, including Zoraida Reyes of California.
A July 2014 study update by the Massachusetts Transgender Political Coalition revealed startling, but expected, statistics.
Of the transgender people who responded to the study, 65 percent had experienced discrimination in one or more public accommodation settings within the last 12 months. The most common five settings included transportation, retail, dining, public gathering location and health care. 
Among those who reported discrimination, there was an 84 percent increase in risk of adverse physical symptoms, and a 99 percent chance of emotional symptoms.
One in five respondents claimed to have avoided seeking health care in the past 12 months because of prior mistreatment within health facilities. Of those who had received health care, 29 percent reported having to teach their healthcare provider about transgender health issues.
Like other kinds of oppression, transphobia puts lives at risk, and claims the lives of many. Consequently, the transgender community needs allies and advocates to work against the harsh reality.
Organizations such as the National Center for Transgender Equality and the Gay and Lesbian Alliance Against Defamation offer resources online. They outline the first steps needed to take toward being a transgender ally.
The Citrus College Gay-Straight Alliance offers a safe and supportive weekly gathering for queer people of all identities, along with straight allies, to discuss the support needed for the transgender community.
Take a moment tomorrow, Transgender Day of Remembrance 2014, to understand the continuous dangers that trans-people live through because of their gender identities. Pause for  a moment of silence in honor of the victims of transphobia.
The Citrus GSA is sponsoring a booth in the Campus Center Mall, with the list of names of this past year's victims, along with transgender resources and information.
---
---