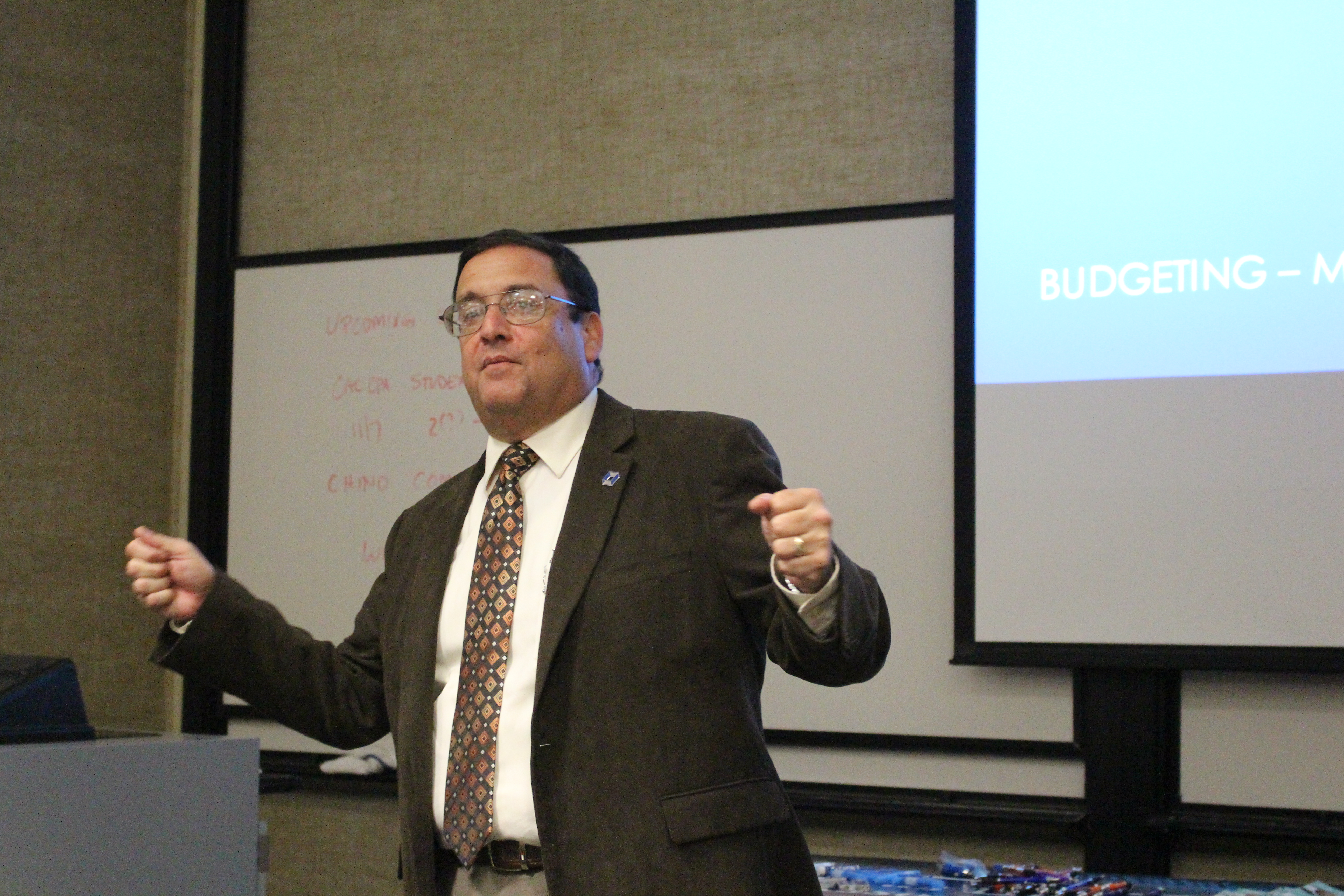 ---
Bruce A. Gray, CPA, conducted a presentation pertaining to financial literacy on behalf of the Citrus Business Association Oct. 23. Gray's discussion was one of three presentations hosted by CBA in fall 2014. (Evan Solano/Clarion)
 The Citrus Business Association spark students' interests in finance and careers in business.
By Vanessa Maldonado | Staff Writer
The Citrus Business Association has hosted three presentations 2014 by speakers of unique backgrounds to give students insight into the business and financial world.
The first was conducted by entrepreneur David Byerly, spoke about the starting an online business.
Byerly and his wife Arlene left their office jobs to start an eBay business selling affordable gifts and personal items. The duo emphasized that individuals interested in starting an online business of their own can do so with very little overhead costs to start out.
"Thanks to the Internet there are so many invaluable and affordable resources available to online merchants," Byerly said.
He also discussed the benefits of becoming a young entrepreneur.
"Running your own business also gives you the flexibility to determine where you want to work and how you will go about doing that," Byerly said.
Bruce A. Gray, CPA, gave his presentation to an at-capacity lecture hall packed with club members and interested students. He addressed the dangers and benefits of credit cards, building a credit score and budgeting skills.
A financial adviser from Gray, Salt & Associates, Gray is also a professor who teaches income tax preparation at Chaffey College
"Lenders really want [students] to have a credit card… they make a lot of money off you," Gray said. "They're betting that you're going to get a nice job when you get out of school."
He introduced the concept of "time value of money." For example, responsible saving and investing now has the potential to be highly beneficial later.
Gray's motto was "save early, save often" for big ticket items such as buying a home and establishing a comfortable lifestyle.
"Banks are not extending loans as readily, and they're expecting you to put some skin in the game," Gray said. "On home purchases, typically they want 20 percent down."
"Budgeting plays a big part in controlling and organizing finances. Without budgeting your money, you can get lost very quickly," Gray said. "Having a plan provides security and assurance in case problems arise."
For the final presentation of the semester, CBA invited Rudy Loera from defense contractor Northrup Grumman to discuss careers in the defense industry.
The former manager of systems engineering and program integration gave a presentation that was bookmarked with videos. They featured some of the contractor's more famous creations in action, including F-35 lightning aircraft expected to debut in the US military within the next two years.
Loera highlighted the urgent need for STEM majors in business.
"We have a need for people in just about every engineering background there is, and even more so for the ones that may not exist yet," Loera said.
Loera also urged students to get involved on campus and become leaders in their extra-curricular activities.
CBA adviser Robert K. Smolin, an accounting professor at Citrus, stresses the importance of networking.
"The main focus of the club is to prepare students to participate in similar organizations at the university level," Smolin said. "That's where the real networking opportunities are to be had."
CBA meets every third week during the fall and spring semester, students interested in joining the club can contact Robert Smolin in LB 205. Flyers are regularly posted with meeting times and locations throughout the semester.
---
---