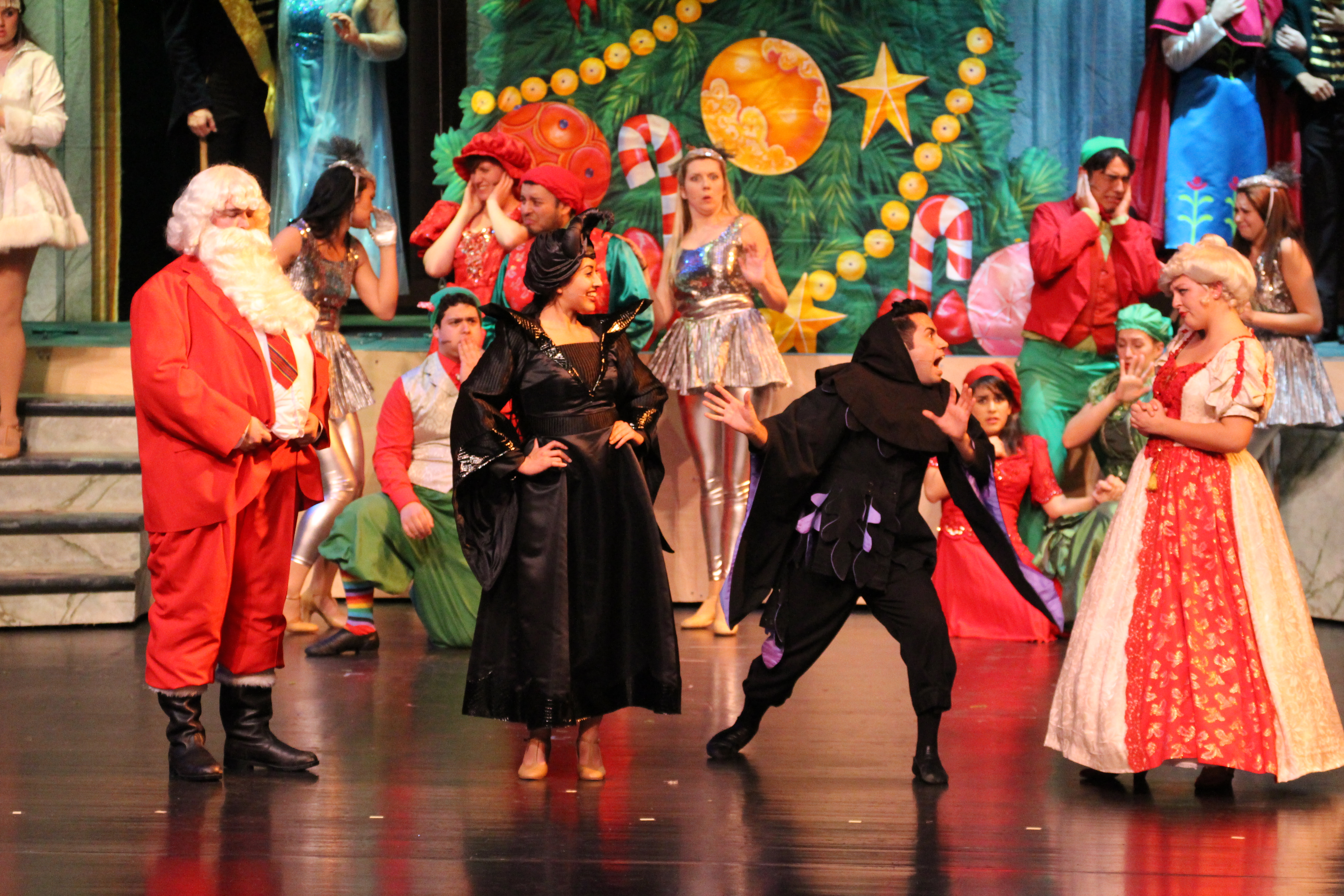 ---
The student cast of this year's "Christmas Is" production takes the audience on an holiday journey through the Kingdom of Sweets. (Pat Cordova-Goff/Clarion)
By Vanessa Maldonado & Pat Cordova-Goff | Staff Writers
This year's "Christmas Is…" play begins in the North Pole with Mr. and Mrs. Claus welcoming guests from all over the world, including Queen Elsa and her sister Anna from the frozen Kingdom of Arendelle.
Every fall, the Citrus College theater art students present the holiday production framed as a musical play for all ages.
At the start of this year's production is the women's ensemble directed by Vonetta Mixson, followed by the concert choir under Martin Green's direction, and then the Citrus Singers with a live orchestra.
Set in the holiday season, the audience is introduced to a character that seems to have lost her Christmas spirit.
The story develops as a surprise guest therapist shows her flashbacks of her childhood in Candy Land where she recaptures the joyous spirit of Christmas time that had been forgotten.
"The story is very touching for children to remember what Christmas is, but also, this year, for adults as well. It reminds us what Christmas is supposed to be," said music professor Doug Austin, director of the play.
Austin said that the production staff began working on the play in January of this year and continued throughout the year discussing new concepts and stories.
The choir and orchestra started rehearsing months prior to opening day. The student cast and singers rehearsed heavily during the summer, he said.
"It's just a very large project giving the community what they want to see. If there is a challenge, it is always meeting that deadline," Austin said.
As the "Christmas Is…" production staff knows it, a Christmas play would not be complete without Santa Claus and Mrs. Claus.
Micah Tangermann, 20, musical theater major is playing the role of Santa Claus and Madison Lefebvre, 20, musical performance major stars as his loving wife, Mrs. Claus.
The pair said they work comfortably together because they were dance partners before beginning this production.
"You never know what kind of an impact you can have on a kid's life, when they come to see the show," Tangermann said.
The entire cast sings and dances to musical numbers that remind the audience "Christmas time is here!"
Karyn DeAndrade, 20, plays a Double Mint Twin # 1 who is the daughter of Mayor Mint in Candy Land City.
"It brings out your inner child [which] is the theme this year…always [keeping] it in you," DeAndrade said.
"Christmas Is…" is expected to dazzle audiences with colorful sets depicting a luscious candy city, as well as multiple dancers balancing on top of wobbly gumballs which are special effects that are new to the set this year.
The show debuts on Dec. 6, and runs through Dec. 21, which showings at 2 and 8 p.m. in the Haugh Performing Arts Center. Tickets can be purchased online at $24 for students and $15 anyone under 16 years of age.
---
---