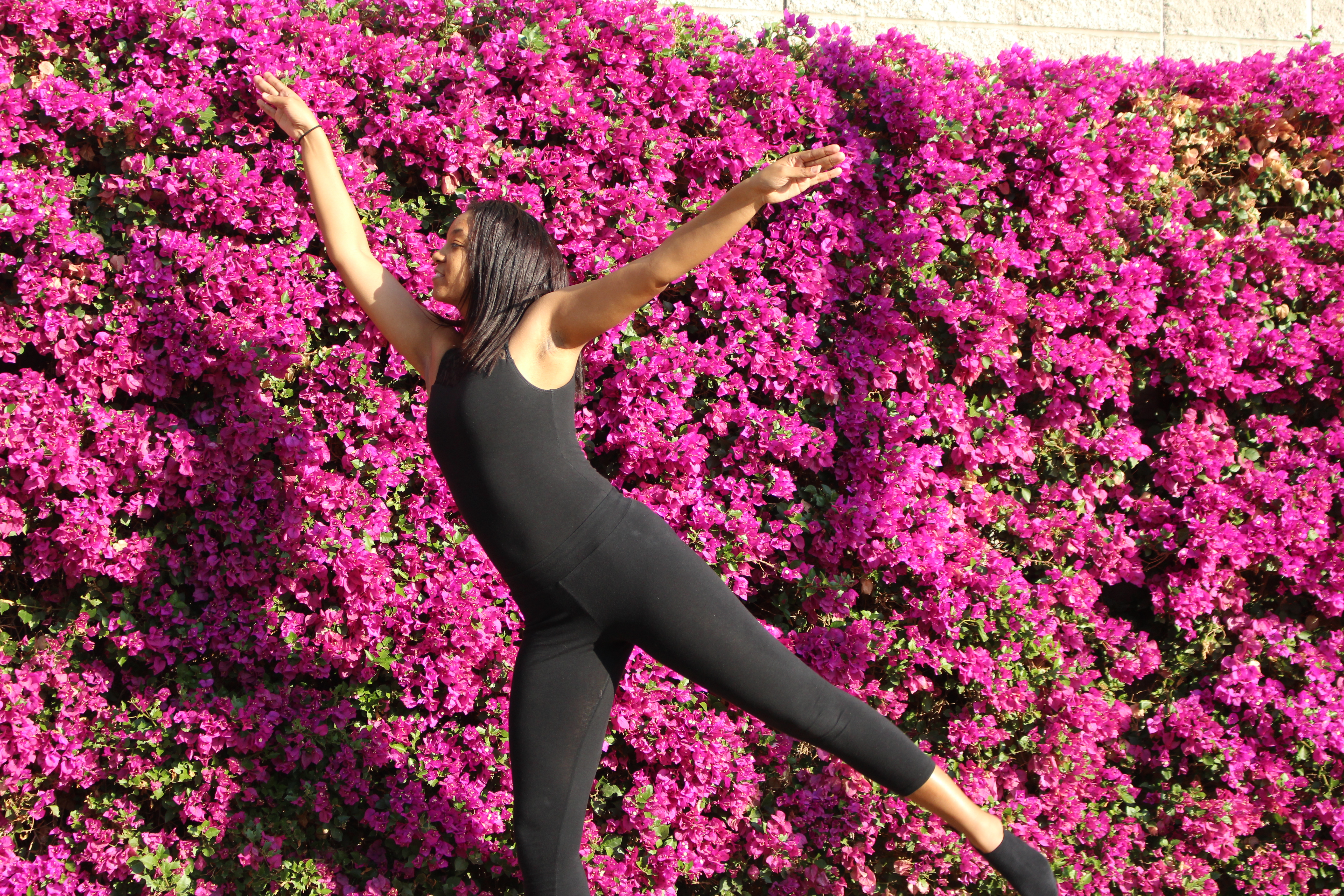 ---
Sophmore student and dancer/choreographer Vitelsia Dedeaux is one of the dancer to choreograph a piece in the Haugh performing Arts Center's annual production of "Holidance". (La'Mesha Simpson/Clarion)
Q: I really would love to know the story behind such a unique name.
Dedeaux: My name came from my grandmother on my dad's side. I have no idea what it means, I have yet to find out. When I try to search a meaning for it, nothing comes up.
Q: How and when did dance debut into your life?
Dedeaux: I was 3 years old. My mom and dad always went to see Alvin Ailey Dance Company performances when they came to town. I had never been to a theater performance, so they were prepped with a plan to trade off stepping out of the theater with me, anticipating me crying through the production.
As soon as the show began, I was mesmerized. I leaned on the wall of the balcony, completely taken over by the beauty of how the dancers moved. I didn't move, and my parents were shocked that I didn't cry at all.
That is when I fell in love with dance. That's when my mother realized she had a dancer on her hands.
I began to study and learn ballet, jazz, tap and pointe under the direction of Dee Dee Kaplan. Later on in high school I started exploring contemporary, lyrical and theatre jazz. Now in college here at Citrus, I've really gotten into hip-hop and have continued in jazz.
Q: What are you focused on achieving in the present with dance and what do you see in the future for you in dance?
Dedeaux: I'm working on my AA in dance here at Citrus, and I plan to transfer out to a university to get a bachelor's in dance.
I would love to be a member of Alvin Ailey Dance Company. That would be a dream come true. I see myself getting into doing background dance work for music artists, doing some traveling, performing around the world. I want to be recognized as a great dancer/choreographer and inspire people through dance, especially the youth. It's what I really enjoy doing.
Q: What universities are you interested in transferring to?
Dedeaux: I'm looking at San Diego State because they have a really good dance team. I'm also looking at Cal State Long Beach, Fullerton, and Cal Poly Pomona. Although I want to stay local, I really have a heart to go to New York and try to get into Alvin Ailey Dance Company.
Q: Speaking of New York, have you ever traveled with dance?
Dedeaux: At this point the furthest I've been is Las Vegas.
Q: So it's that time of year. The holiday season is here, and there are always lots of performances gearing up to showcase, amazing productions from hard-working performers such as yourself. What can we expect to see from you?
Dedeaux: I branched out and started choreographing this year. On Dec. 11th and 12th of we are having "Holidance," a yearly production put on by the dance department. I choreographed one of the numbers in the production. Look out for "Carol of the Bells" by Pentatonix, I choreographed the entire song. In addition to Holidance, I'm also playing a maid in Nutcracker 2014.
Q: How much do you dedicate to dance?
Dedeaux: I dedicate a lot. I sacrifice most of my time for dance. I'm 20 years old, and I don't go out much, as crazy as that may sound. Between practice, rehearsals, and other classes there's no time for a social life. I'm in a dance crew outside of my dance responsibilities at school so it can be very time consuming. It gets repetitive and definitely takes a strong passion and lots of hard work. It pays off on performance days, when you complete a performance and feel great about all the work you put in.
Q: What is your favorite style of dance?
Dedeaux: My favorite styles to perform are jazz and ballet. To watch, modern and jazz.
Q: What is the best experience you've had with dance?
Dedeaux: I was given the opportunity to audition for a dance crew called Nu Nations. Nu Nations is a traveling hip-hop dance crew formed in 2013 under the direction of choreographer Brandon Burciaga, and, remember I'm new to this style of dance. It was a major accomplishment to make the team. It showed me that I can be a well-rounded dancer. It showed me that I can get funky with it.
Q: Is there a particular instructor that you feel has really inspired you?
Dedeaux: I would have to say Dee Dee Kaplan who has worked with me since I was 3 years old. She is like a second mother to me. She has consistently supported me in dance and has taught me so much. Dance is her passion, and she is able to teach it very well.
Q: Which dancers/choreographers do you study?
Dedeaux: I just got into a contemporary dancer by the name of Travis Wall. He just started his own dance company called Shaping Sound, and I really would love to see them perform. Brian Puspos is another one I really like. Two of my friends, Anthony Clinton and Lisa Renee, really help me to believe in myself as a dancer. I shy away from compliments and they always tell me to accept the good feedback and to take notice of my growth as a dancer. I look up to them.
Q: I would like to wrap with allowing you to give any advice you'd like to the dancers out there, who are pursuing dance or thinking of pursuing dance.
Dedeaux: Go for it! If you love it, do it. Don't focus on the money, don't let that be your driving force. Stay focused on the craft. Take classes, study, and perform. It is hard work, so be ready for the challenge. Take care of your body making sure to stretch. When one door closes another one opens. Always be ready to walk through the door and onto the stage.
Be sure to support the performing arts dancers in the Citrus College Holidance production Dec. 11th and 12th. Both shows begin at 8:00 p.m. in the Haugh Performing Arts Center. Tickets are $15 at the door and also available for presale to students for $12 and $10 for seniors.
---
---