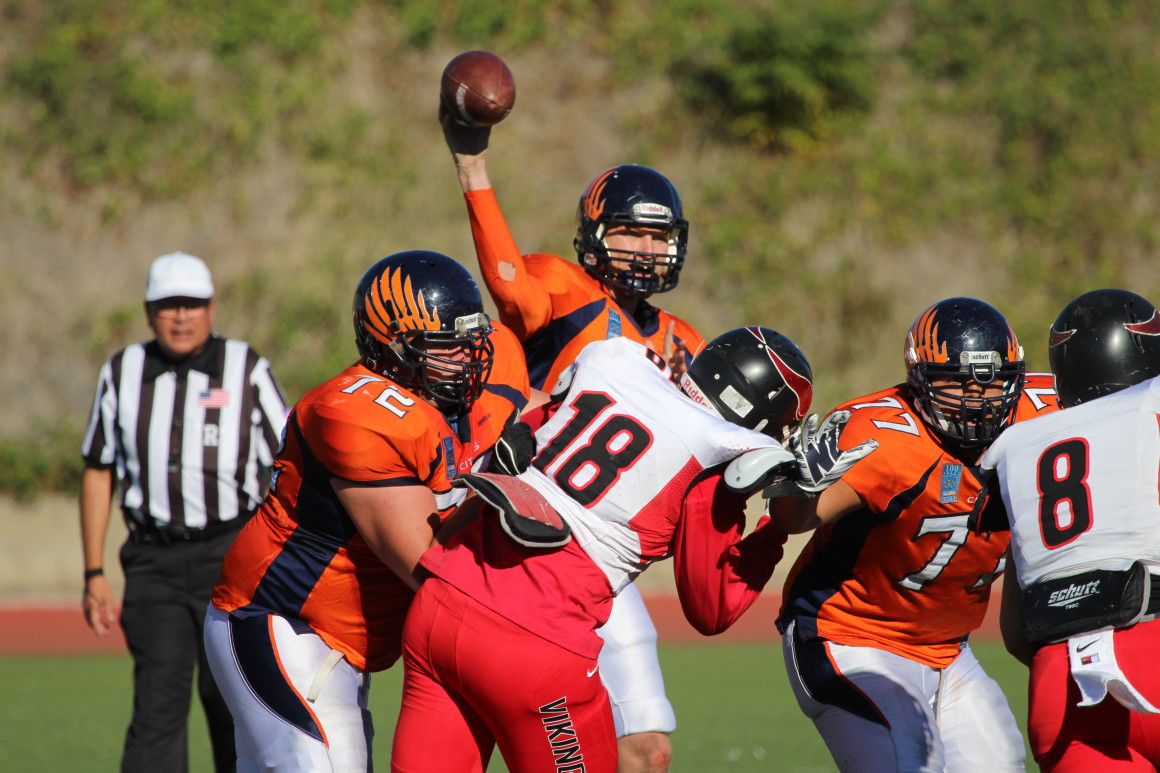 ---
Citrus quarterback Larry Cutbirth, #6, led the league with 251 passing yards per game. (Mickey Romero/Clarion)
By Mickey Romero | Staff Writer
The Owl's football team finished their 2014 season at 3-7 and in fifth place in the Central league.
Citrus came into the season looking to improve on their 8-3 record from last year.
The season got off the a rocky start with two losses in their first three games of the year but Citrus was able to pick up back to back wins immediately afterwards against El Camino and L.A. Harbor.
Unfortunately, those two wins would prove to be their last as the Owls would end their season on a five game losing streak included losses to the top four teams in the Central League.
Out of the seven losses of the season, the Owls lost six of them by a margin of 7 points or less.
The only other loss would come in the form of a 41-17 blowout at the hands of eventual SCFA champion, Mt. San Antonio.
Citrus had the opportunity to either tie the game or take the lead  but ultimately turned the ball over with an interception or a fumble in five of their seven losses.
The lack of a rushing attack limited the Owl's offense as their 796 rushing yards of the season was their lowest since the 2009 season when they finished with 896 yards. They averaged 76.9 rushing yards per game as a team, the lowest in the league.
However, led by quarterback Larry Cutbirth, the Owls passing offense flourished.
Cutbirth led the league in average passing yards per game with 251 yards and was second in touchdown passes with 18 behind only Mt. San Antonio's  Justin Alo.
He finished the season with 2513 yards on 218 of 381 attempts with 18 touchdowns to 13 interceptions, the highest interception total in the league.
With such a high octane passing offense, Citrus receivers Patrick Smith and Errol Romney were the biggest recipients of Cutbirth's targets. The two Owl receivers placed in the top five in the league in receiving yards per game with 75.7 average yards for Smith and 69.2 for Romney.
They would combine for a total of 1,380 yards, 757 yards for Smith and 623 yards for Romney, which accounted for just over half of Cutbirth's total yards.
---
---