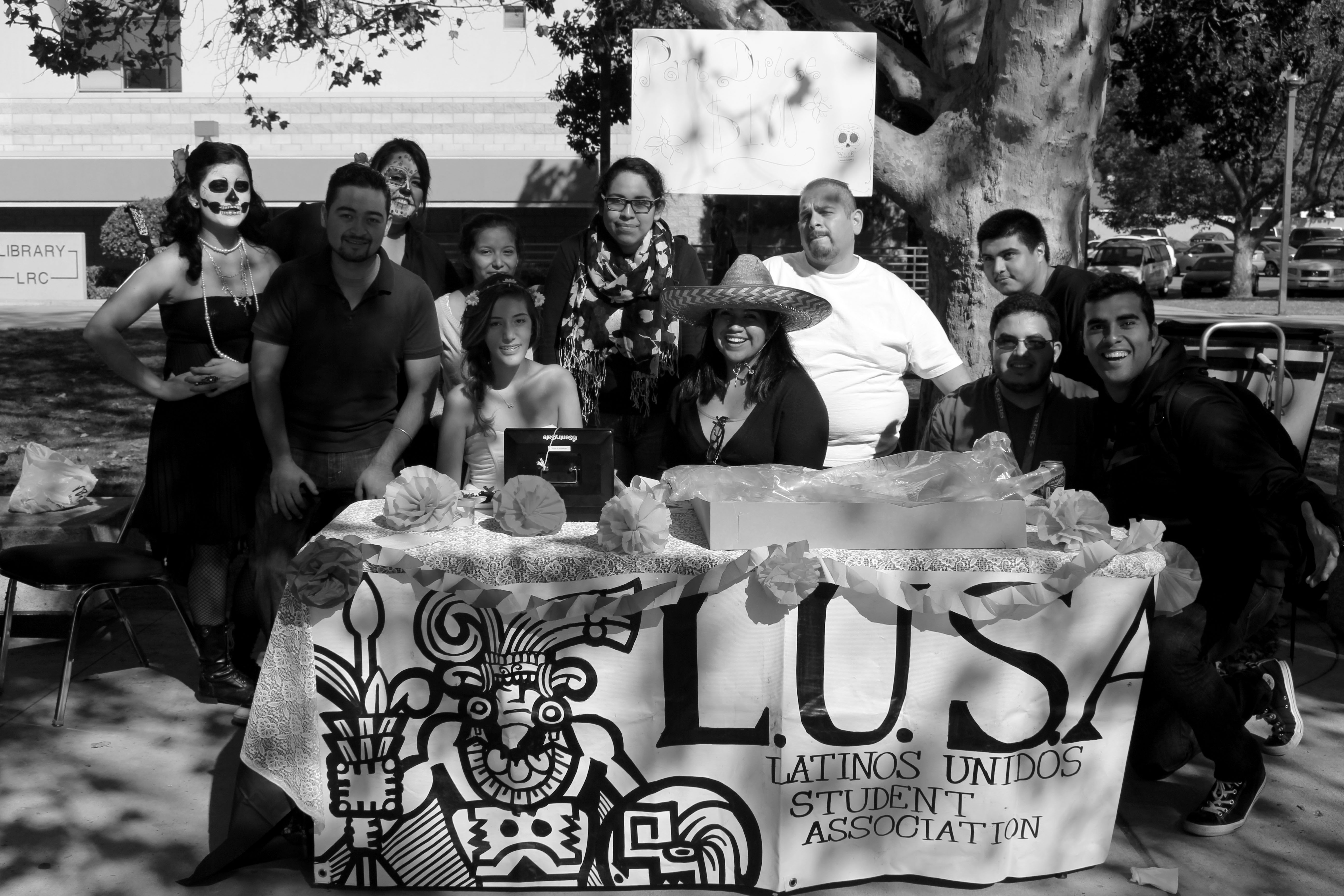 ---
Latino Unidos Student Association club members host their annual event "Dia de Los Muertos." This is one of three major events LUSA organzies to celebrate Latino students and the Latino culture. (Vanessa Maldonado/Clarion)
By Pat Cordova-Goff | Staff Writer
Most college campuses are the epitome of diversity. From race and religion, to sexual orientation and gender identity, students are exposed to countless perspectives allowing them to broaden their own perspective on the world in which they live.
College is also a time that presents numerous opportunities to connect with others that share similar experiences and backgrounds. Connecting with like-minded individuals while at school permits time to develop one's identity, as well as successfully completing one's education. This is exactly what Citrus College's Latinos Unidos Student Association strives to do.
"The purpose of LUSA is to promote a higher education within the Latino community," said Erick Rodriguez, 20, LUSA president. "We understand that the transition from high school to college can be tough and our parents may not be able to be there to help us since they [may have not completed their education themselves.]
We try to make the transition as smooth as possible by creating a friendly atmosphere where students can feel free to ask questions and interact with fellow [Latino] Citrus students."
Rodriguez continued to explain that LUSA's other primary goal is to promote "Latino traditions, customs and heritage through various events on [and off] campus."
During the fall semester, LUSA hosts a Dia De Los Muertos celebration held in honor of family and friends who have passed away.
Understanding that this day is often confused with Halloween, Rodriguez explained that LUSA does its best to "educate fellow students" on the differences between the two holidays and the sentiment of Dia De Los Muertos.
The spring semester is also busy for LUSA as it hosts "Noche de Cultura," where the club invites students to perform their various talents on stage, from music and poetry to dancing.
The semester ends with "La Raza" which is a ceremony that welcomes all graduating Citrus students to participate. Families of the graduates are invited to a dinner with live Mariachi entertainment, along with various guest speakers.
Aside from the events held throughout the year, LUSA serves as a social club as well. Members are exposed to a "family atmosphere" that allows them to explore who they are and who they want to be.
"[LUSA is where I] found my best friends and, most importantly, where I found myself," said Neftali Perez, 23. "[Our club] has helped me grow from an extremely shy girl to the leader I am today."
Perez described the student-run club as a "safe haven" that teaches students it is always okay to ask for help in school. She explained that many Latino individuals are first generation college students, encouraged to attend by their parents, but in need of guidance through the higher educational system.
"That's why it is important for Latino students to join LUSA," Perez added. "[Many] members have gone through [not knowing of all the available resources] and we can help new members ease into the college life.
"Add the fact that we have two amazing advisers who are always willing to help students with any questions they might have and are always letting us know about new opportunities, events, or workshops being offered in Citrus."
LUSA member Christian Garcia, 20, expressed that the positive atmosphere of the club "provides a place where [Citrus students] know they are not alone and can be themselves."
Garcia also addressed the fact that being Latino/a is not always considered a positive characteristic.
He attributed this common belief to the mentality that being a person of color automatically places one in a lower social position.
"I actually consider [being a person of color as] a positive [characteristic]," said Garcia, "because I have always thought of this as a challenge; one [in] which myself and countless others have and will conquer."
Perez agreed that being of Latin descent has had a positive effect on her life, in particular having the advantage of understanding two separate cultures -American and Mexican.
Perez said this part of her life has allowed her to grow into a "strong, empathetic and open-minded woman."
Recent events in Mexico however, have brought somber discussion to LUSA's attention.
The abduction, and alleged execution, of 43 Ayotzinapa students on Sept. 26 has unveiled the corruption of over half of Mexico's states that are run by organized crime.
Although the cases of the students have not been closed, months of protests have continued throughout Latin nations and in countries that support.
With the 43 students being Latino, LUSA members are "heartbroken" to realize the tragic encounters fellow students faced because they exercised their right to free speech under the sixth article of the Mexican constitution.
Alongside the mission of LUSA, however, members continue working to encourage Latino students to continue to have pride within their identities, despite unfortunate events like this.
"I feel like this event should be used as even more of a motivation for the Latino [community] to pursue education and help build a society in which this never occurs again," said Garcia.
---
---