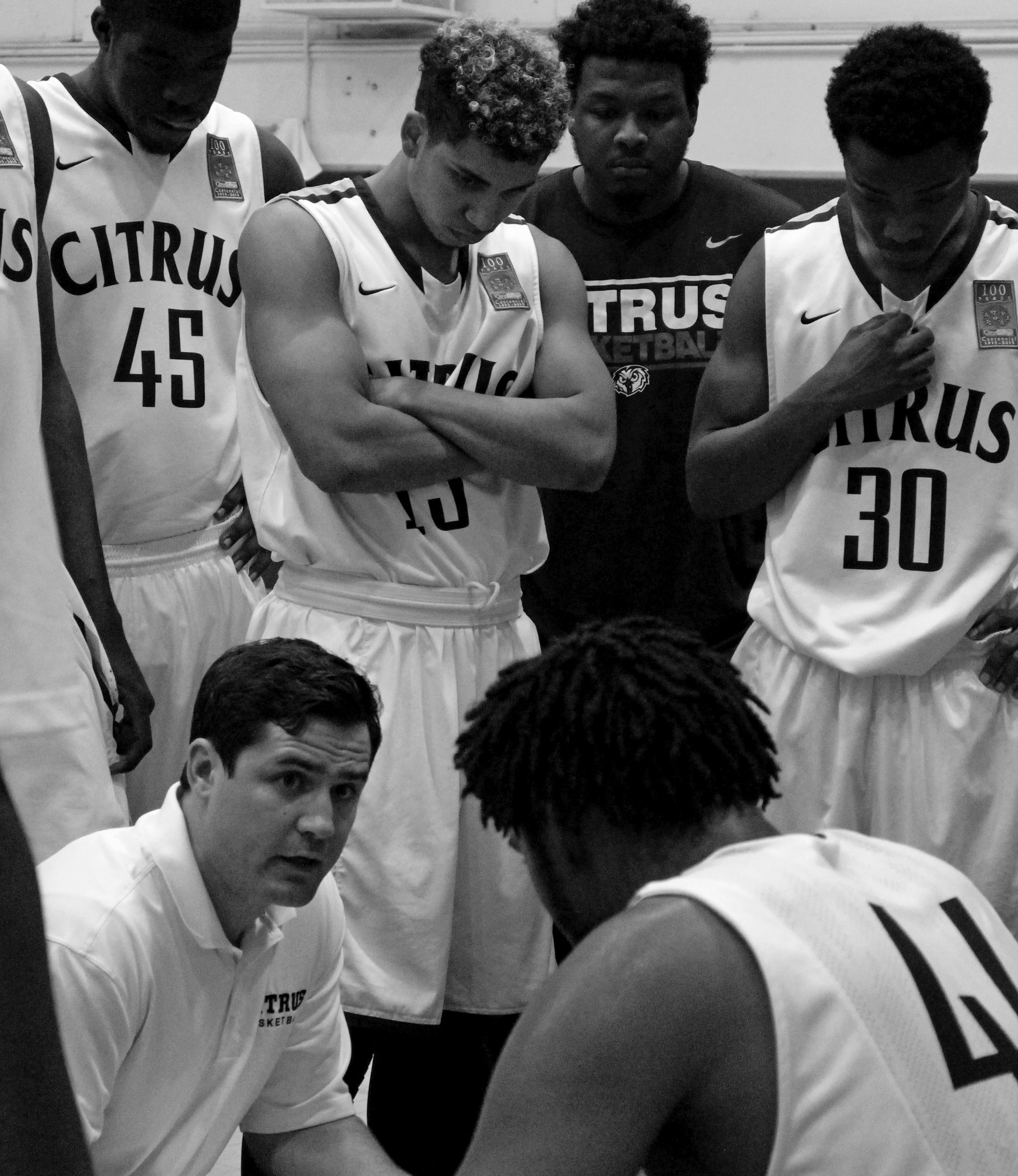 ---
Owls coach Chris Victor urges his team to make a stop during a timeout in the first match of the Neil Edwards Classic. Victor and the veteran players hope a strong team chemistry can propel the squad to the top of the WSC. (La'Mesha Simpson/Clarion)
The Citrus men's basketball squad aims to score playoff success this season, but an internal search for clutch leadership as well as a highly competitive conference schedule still stand in their way.
By Cameron Wisdom & Mercedes Del Real | Staff Writers
The Owls finished with a conference record of 16-9 last season, ending with a blowout loss in the final four round of the CCCAA SoCal playoffs.
Head coach Chris Victor is entering his 5th season at the helm of the men's basketball squad.
According to Victor, the difference between this year's team and the squad that experienced the brutal 92-61 defeat to Mt. San Jacinto last season is the improved depth of veteran players on the roster. The Owls have 8 returning sophomores looking to play this season.
"One of our strengths this year is going to be our experience," Victor said.
Despite the presence of veteran players, the Owls are still looking for their mojo on the court. The team stumbled out to a 2-4 record in their neutral games so far, showing signs of promise on the both ends of the court but failing to finish strong in close matches.
"Every team develops their own personality and their own strengths as the season goes on," Victor said. "There's so much turnover here that you don't really find your teams identity until a few weekends into the season."
The coach is still confident his team can find their rhythm before the games start to count.
"We weren't great our first few weekends but I still think we can be," Victor said.
According to Victor, the Owls wanted to focus on being a great defensive team entering the season. On offense, the squad wants to play at an up-tempo pace looking for options in transition before settling into motion sets in the half-court.
Point guard Dominique Walker, 20, brings a veteran presence to the starting lineup. Walker played for the Owls last season, and hopes to amp up the teams competitiveness going forward.
"Coach Vic keeps pointing out that we need to find a leader," Walker said. "I'm trying to fill the role but its tough."
Walker said that the team's energy starts with the veteran players, and the younger players follow suit.
"It starts with me and the rest of the sophomores," Walker said. "We have to be more competitive and bring more energy, that's it."
Last season there were only two sophomores on the team, leaving the freshman to help pull the team to victory. The coaches and sophomores believe the experience gained from being in those situations last season will benefit them this year.
The Owls are going to need all the experience they can get, as they will have to survive a gauntlet of standout teams to reach the playoffs.
The Citrus men's basketball team competes in the Western State Conference, which features highly-ranked community college basketball teams like Antelope Valley, Santa Monica and West LA.
"We're trying to get prepared for our conference schedule, which is going to be a tough slate," Victor said. "I think it's going to be the best conference in Southern California this year."
When it comes to playing a tough schedule, a team cannot rely on experience alone, they also need to rely on strong chemistry to persevere through difficult matches against strong opponents.
Freshman forward Mark Williams, 18, attributed a family-like atmosphere for leading him to commit to playing for Citrus.
"We have no cliques. We're all just like a family. In this short period of time we've all become really close and I've never really had that on a team," Williams said.
After meeting the coaches and players, Williams couldn't say no to playing for a team like the Owls.
Citrus will next play Santa Rosa in their first match of the 43rd annual Riverside Holiday Tournament at Riverside Community College on Dec. 10. The team will begin its conference schedule at Santa Monica on Jan. 7.
"I think it's going to be a fun team to watch. These guys play hard and they've been competing and they're ready. They're hungry," Victor said.
---
---