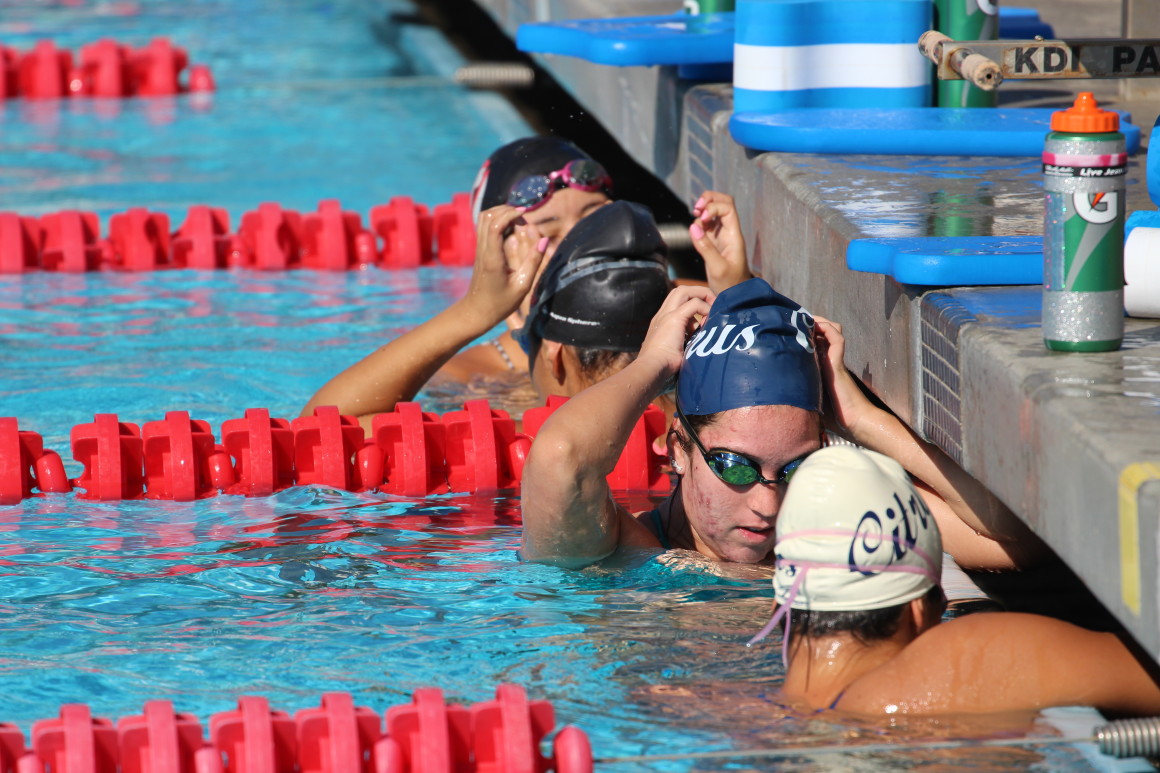 ---
Women's swim team practicing in the Citrus Aquatic Center on Feb. 10. The team is looking to build on the strengths of last year.(Mickey Romero/Clarion)
Women's swimming may be an individual sport, but head coach Andrew Silva and his team strives towards developing a strong and competitive swimming program at Citrus College.
Spring semester typically begins on the first day of school; however, spring season began for women's swimming in January.
"A jump on an early season allows the team to get the yardage and high intensity practice they need", said Silva.
Silva is excited to have the largest team of swimmers, since he took over the program three years ago.
Crossover, athletes playing on both teams, typically occurs between players from women's water polo and women's swim. This year the seventeen water polo girls and seventeen freshman swim recruits have doubled the team's size.
With a balance between new and returning swimmers, the team is expected to perform at a high level.
"I see improvement week after week, whether it's in the weight room or yardage in the pool" said sophomore Christina Tereszczuk.
Silva sees the girls' grow individually and bond together during their practices sessions.
"First season girls bring a new energy and excitement, while the returning swimmers have the experience and knowledge they bring to practices," said Silva.
The practices may be intense, but the team always finds time to keep a light atmosphere.
"Even though they have their heads 90 percent of the time underwater, they can joke around and have fun at the same time" said Sarah Zandihn, assistant women's swim coach.
Two weeks before the team's first competition, they participated in a yoga session. Yoga is not a typical part of the team's conditioning, but the coaches felt this would help mentally and physically de-stress the team before they start competing.
"We were able to stretch out and enjoy some team bonding," said returning sophomore swimmer Kimberly Torres. She went on to emphasize that little gestures, like a team yoga day, makes her feel valued and cared for by her coaches and teammates.
"On this team I am not just another number. I would rather be coached by [Silva] because he cares about us" said Torres.
Tereszczuk sees how both of her coaches really know each girl.
"Coach Silva can read his team, he goes out of his way to ensure they are cared for like his own kids," said Tereszczuk.
"Coach Zandihn helped a lot and pushed us to do 6,000 yards at practice. She encouraged us by saying [she] wouldn't do anything [she] knew [we] couldn't do," said Tereszczuk.
Coach Zandihn led the off-season practices, finding the best training and techniques for the team.
"I want to see everyone making the goals they had set at the beginning of season. We make you suffer, but there is a reason to why we make you suffer," said coach Zandihn.
With their next competitions taking place this upcoming weekend, Feb. 20-21 at Mt. San Antonio College, Silva anticipates seeing the team's times and identifying their areas of strength and improvement.
While the teams' big goal is to qualify for state, the main focus is still on building up the swimming program.
With the reality of student-athletes playing within a two-year rotation, Silva wants alumni and current athletes to stay connected and always be a part of the program's success.
"[Even though] we're not a team, from season to season, we're [still] trying to make a [lasting] program" said Torres.
---
---