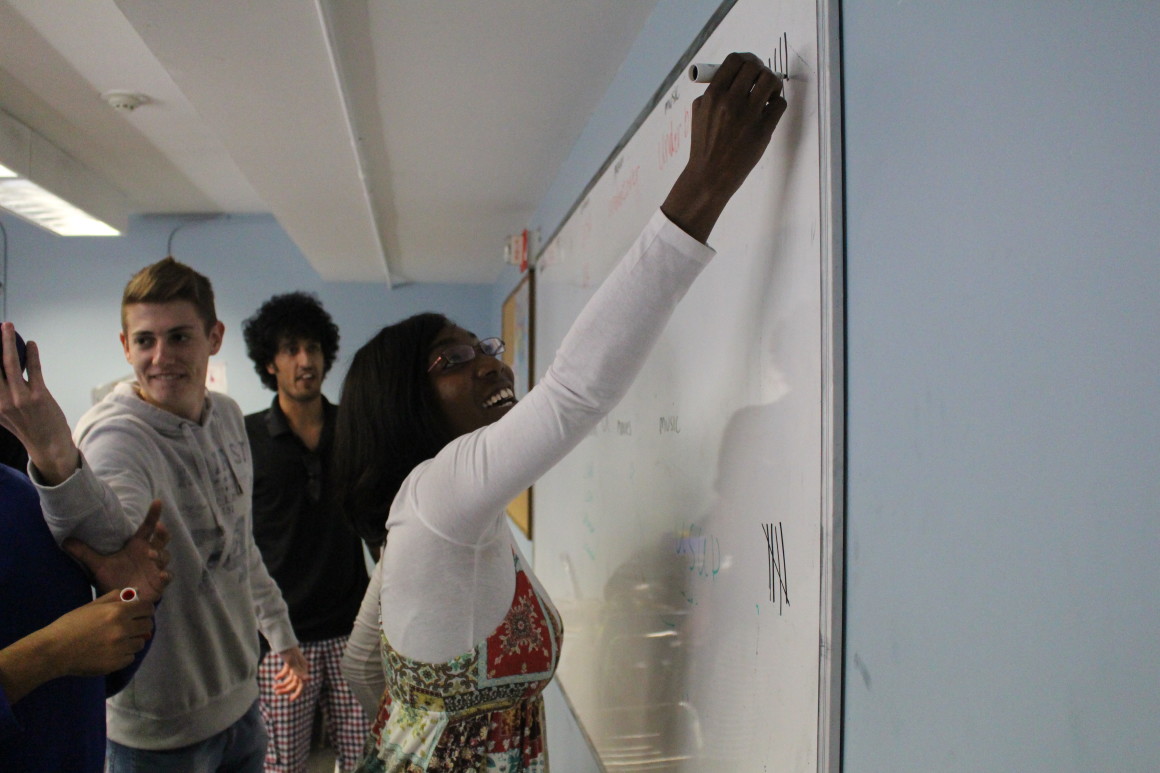 ---
FLS English Teacher Erin Fair uses a word game to teach her level three students on Feb. 3. (Evan Solano/Clarion)
Located between the Campus Center and the Physical Science Building is a portable office. It serves as the Citrus College campus site for Foreign Language Schools International, the mission of which is to help international students learn English.
"When students come out here we are the only people they rely on as far as who they trust and want to talk to," said Eddie Mejia, the Citrus director for FLS International. Mejia has been with FLS for over a year making strong connections with visiting students.
FLS caters to students from all around the world; Mejia had 200 Brazilian students pass through recently and is expecting 100 Taiwanese and Japanese students in the near future.
The company brings in groups of 100 to 300 international students, both short-term and long-term to learn and improve their English skills.
"Instead of having all the students from one country in one class, we have mixtures of different students from all countries," Mejia said. "The only language they would be able to connect through would be English and that really helps them out."
FLS is a for-profit program that rents facilities from Citrus College. It has eight locations in the U.S including Las Vegas, Massachusetts, New Jersey, Tennessee and Pennsylvania.
All the students enrolled with FLS agree that learning English is important to their studies as well as to themselves. Some have made new friends at Citrus.
FLS features nine levels of English speaking, ranging from low beginner to high advanced in which a mix of students from all nationalities must use English to communicate effectively.
Yousef Ghulam, 18, and Ahmad Alqurashi, 19, are both students from Saudi Arabia. They did not know each other before they enrolled in FLS International.
Ghulam likes to practice English with Alqurashi and his other friends.
"Sometimes we will listen to English songs and watch movies with subtitles," he said.
"English is the major language in the world. If you do not have English, you cannot study, you will not complete your education," Alqurashi said.
Alqurashi who has been with FLS International for a year wants to study industrial engineering. He is currently at an English-speaking level of eight
He is unsure if he will attend Citrus after he completes his FLS studies, which students may do after completing seven levels of courses.
The school serves as a stepping-stone for international students looking to transfer to other colleges or to enroll at Citrus College once they have completed seven levels of study.
The Citrus College FLS site provides homestay opportunities or apartments near campus so the students can enjoy being close by.
FLS offers custom programs that are based on the time period you wish to spend in any one country, offering vacation programs and extracurricular activities in the area such as Disneyland, the beach or community sports.
"We had a student come from Russia who was a huge soccer fanatic, so we talked to other students and got him participating in the soccer team those students had," Mejia said.
The curriculum is offered to students as young as 15. It is often attended by students straight out of high school looking to learn English and to experience college.
Erin Fair, who has been teaching at FLS Citrus for four months, contributes to their experience by engaging her students in lively activities.
Fair teaches classes with an average size of 13 students and is with them anywhere from four to six hours a day.
Although the level varies per term, Fair's classes include two level three classes, academic workshops, and two elective classes: beginning and advanced public speaking.
"I really enjoy the energy of my students," Fair said. "There are trying days, but the students are wonderful, the staff and my coworkers are wonderful, and everything just comes together."
Mejia makes sure he reaches out to the students as well, making sure to offer help and provide them with a positive experience outside of their English studies.
"Instead of having all the students from one country in one class, we have mixtures of different students from all countries,"
-Eddie Mejia
"Some students are here on their own arrangements, and for the first month or so it's a little weird for them meeting new people. All it takes is a little bit of extra time and work to make sure the students are happy outside of their studies," Mejia said.
Mejia believes having the FLS International site on campus provides these students with a positive college experience before they decide where to study.
"Often times they decide to transfer straight to Citrus," he said.
"The international students get to interact with the students here," Mejia said.
"Having them be on campus and seeing how a normal day of college is like is one of the advantages of this location. They have access to a lot of the benefits that the local students have."
The Citrus location, which was established in 1986, is the longest standing site for FLS International.
FLS International is America's largest family-owned and operated network of language schools and extends their family bond to their students.
"We have students that are here for short term periods, from two weeks to a month. We have some instances where students are saying goodbye to us and they start breaking down crying saying they are going to miss you," Mejia said. "It's a very touching moment since we've only seen them so many times, but since we were the ones they met on the first day, we have that connection with them."
---
---