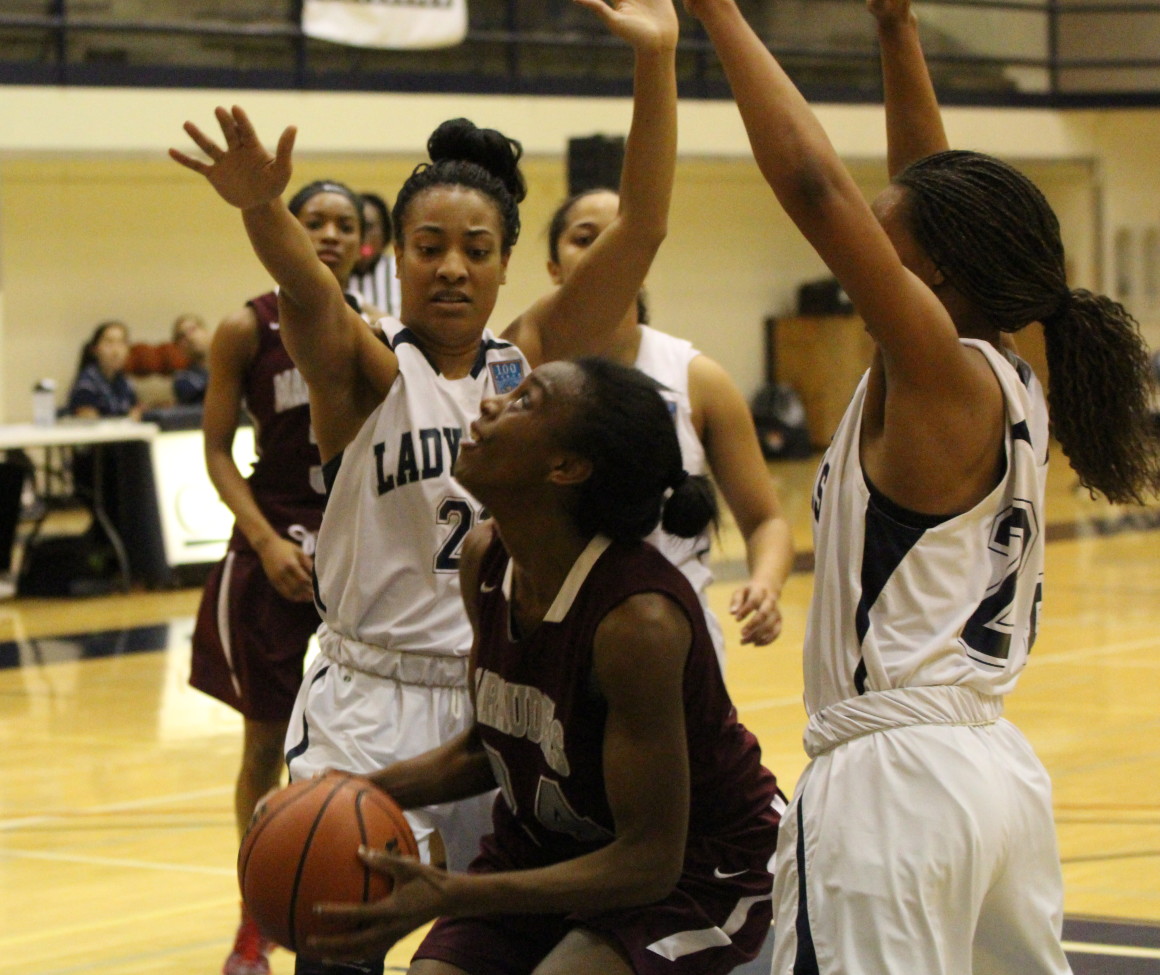 ---
Citrus guard Bobbie Johnson helps guard Antelope Valley's Savannah Johnson, 24, during their Feb.11 matchup. The Owls held on to win 55-52 (Mickey Romero/Clarion)
President Obama says he will propose a plan to make the first two years of community college free to students nationwide.
A losing streak and a long season didn't stop the Owls from playing the role of spoiler to playoff-hopeful Antelope Valley College. Citrus came up with a huge win to upset the Marauders 55-52 on Feb.11
Both teams came out strong and kept it close early in the first half before the Lady Owls began to pull away late for a 27-20 halftime lead.
Citrus guards Vanessa Garcia and Janae Chamois both lead the team with nine points in the first half.
Defensive trouble allowed the Marauders back into the game as they outscored the Owls 8-2 early in the second half.
"During the season, we lost our center. So we have to play very small and in playing very small, we're playing a zone that we don't typically have to play," said Tamara McDonald, Citrus head coach.
However, the Owls were able to hold on in the end for the 55-52 win over then second place Antelope Valley.
Chanois added 14 points in the second half to finish with 23 points, 5 rebounds and 2 assists.
"We were relentless, we were hungry for it and there was no way we were going to leave with a loss," said Citrus forward Bobbie Johnson. " We had to redeem ourselves, we knew we were better than the last game we played."
Shooting only 34.1 percent as compared to 43.4 percent for the Marauders, the Owls outscored them at the free throw line by a margin of 20-to-6 with the stripe turning out to be the difference.
Even though the Owls are out of playoff contention, the game was a good experience for a young team featuring eight freshman players and five sophomores, who are seeing a large amount of minutes for the first time.
"Our team is extremely young, even my sophomores are very young and they're experiencing the game," said McDonald. "A few games later, you're a little bit more mature, and you know what you have to do. Now it's just putting those things together into a completely 40-minute game."
The Owls came into the game on a three-game losing streak and on a 3-7 stretch of games dating back to early January.
The Marauders were in 2nd place and are currently sitting in 3rd place in the South division of the Western State Conference
After a 50-46 loss against L.A. Valley on Feb. 14, the Owls have two games remaining beginning with a trip to West L.A. College tonight.
---
---