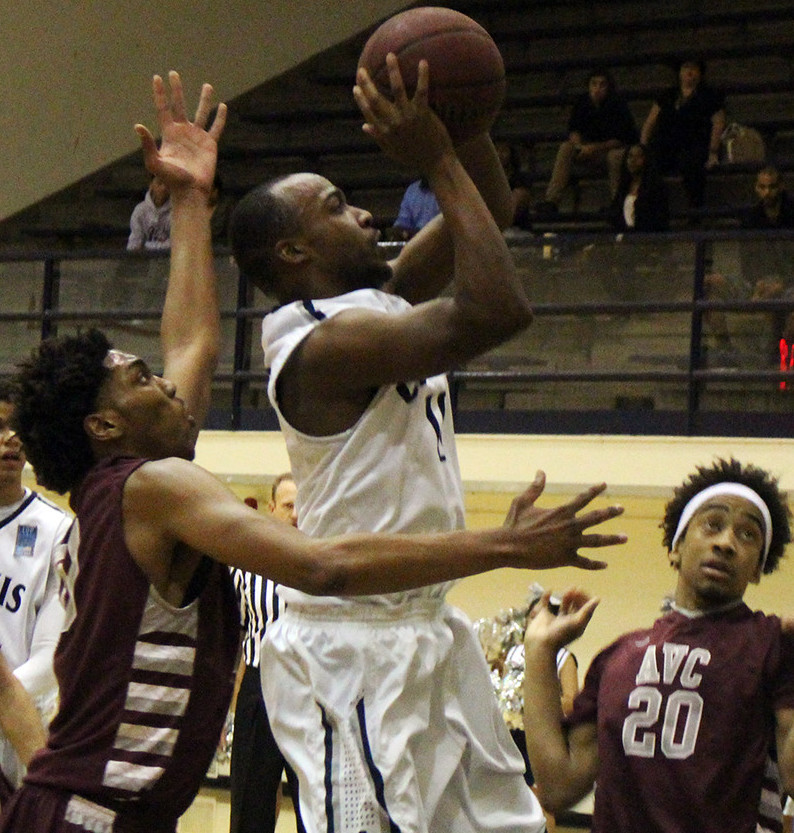 ---
Dominique Walker, Citrus guard, goes up for a shot against Antelope Valley. Citrus pulled off the 86-83 upset of the #7 state ranked Marauders.(Mickey Romero/Clarion)
The men's basketball team has begun to pile up the wins after a slow start to the season. The Fighting Owls (16-8, 9-3) picked up a big one on Feb.11 when they defeated Antelope Valley (23-5, 11-1) in a matchup of the top two teams in the Western State Conference South Division by a score of 86-83. Citrus seems to be fine tuning their game just in time for a late playoff push.
Citrus' resurgent defense was evident during the come-from-behind win against 1st place Antelope Valley College.
The Owls found themselves behind from the tipoff with some lackluster defense and offensive troubles, including nine turnovers. Citrus shot 27.3 percent (9-for 33) in the first half.
"To be honest, from the start I thought we were going to be ready to go," said Citrus guard Dominique Walker who finished with 12 points, 6 assists and 3 rebounds. "We got down by that much and it kind of just shocked all of us. We had too many turnovers and just played soft with the ball in the first half," he said.
Down 43-23 at halftime, the Owls seemed like a whole new team in the second part of the game. They outscored Antelope Valley 63-40 in the second half on 61.3 percent shooting (19-of-31) for the 86-83 win.
Citrus forced the Marauders to commit 11 turnovers in the second half and committed only four turnovers themselves.
"We went into the locker room after the first half and decided we needed to come out in the second half with a lot more intensity, have the bench talk more, and pick up our communication." said Ryan Wiley, Citrus guard, who finished with 24 points and 15 rebounds.
"Ryan Wiley had a great game. He played well, he rebounded the ball, he was tough and he was finishing his shots," said Chris Victor, Citrus head coach.
Citrus started out the 2014-15 season losing four of their first six games in November but have been on a 14-4 streak since early December.
"Hopefully we can keep the momentum, keep our attitude and effort at the same level," said Victor. "You play that well together , and that hard, and you can live with the result."
Defense seems to be the key to this recent surge.
The Owls are now averaging 73.8 points per game, down slightly from the 74.8 points they were averaging in November, but allowing only 68.05 points, a significant drop from the 76.1 points from early in the season.
After their 85-74 win against L.A. Valley on Feb 14, the Owls have two games left in the regular season but they are likely to be playoff contenders in the 2015 CCCAA Men's Southern California Regionals.
They have picked up big wins against state ranked #9 Southwestern (Dec.19, 88-87), #5 Mt. San Antonio (Dec. 21, 62-57), and #7 Antelope Valley while narrowly losing against #14 San Diego City (Nov. 30, 66-64) and #9 Southwestern (Nov.15, 78-70).
The CCCAA Southern California Regionals will take place between Feb 25 and March 7 with the Final Four playing in the State Championships at Cerritos College on March 13 and March 15.
The Owls play at West Los Angeles College (15-8, 6-6) today.
---
---