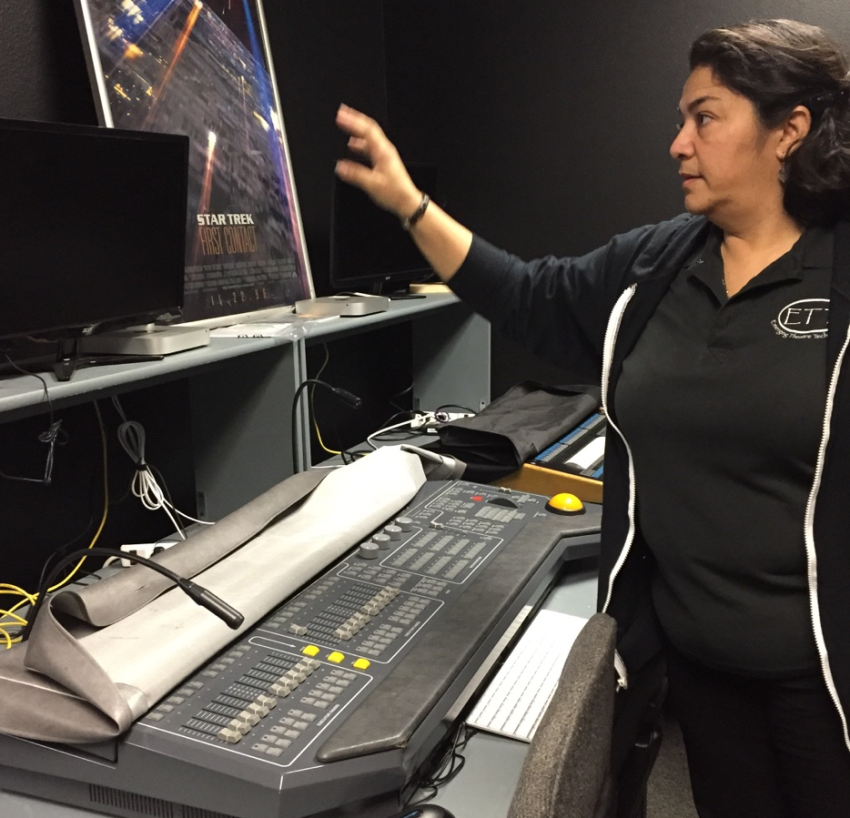 ---
When it was first launched, the Emerging Theatre Technologies program offered a handful of classes, a meager collection of equipment, and a newly appointed staff member with high hopes. Today, it boasts participation in more than 75 annual events, an arsenal of up-to-date equipment, and students whose training has lead them into jobs as impressive as the Super Bowl XLIX halftime show.
Erick Lopez, 24, a former Citrus College student, enrolled in the program when he was 20. His resume now includes Broadway shows, a Superbowl pre-show party for Rihanna, and the concert staging for Katy Perry's Superbowl halftime show. He "absolutely" plans to return to ETT finish his training.
Lopez, who exemplifies what Emerging Theatre Technologies can afford students, describes the program's evolution as "phenomenal."
"I get a little jealous sometimes when I look at the students and what they get to play with," Lopez said. "… 'You're so lucky!' I didn't have any of that. I had to venture out into the real world to learn all this stuff.'"
Dan Volonte, professor of technical theatre, reached out to entertainment companies, asking what they needed from students entering the field. Their answer? The ability to use the evolving advanced equipment.
Production Resource Group, one of the largest technical equipment companies in the world and the lighting supplier for events like the Super Bowl, has donated multiple pieces to ETT, including the Virtuoso DX2 stage lighting console.
This piece, which even used can sell for more than $18,000, was donated in the interest of training students who can compete, get hired and go to work.
"The students, they go out into what they call the 'real world,' they see all this equipment, and they've already played with it all," Lopez said. "So the program has really evolved nicely for them."
According to the official ETT brochure, graduates of the two-year program will be well-trained candidates for entry-level and high positions in one or more areas of specialty.
Areas of employment include but are not limited to jobs such as theatre technician, stage lighting programmer, audio technician, concert lighting and sound technician, production coordinator, stage electrician, stage manager, assistant stage manager and assistant lighting director.
Another bragging point for ETT is its hands-on nature. The fourth semester of the program includes interning at real companies and events.
"These internships give students an enormous advantage in the freelance job market. About 75 percent of students who go out on ETT internships stay on with their companies full-time," Volonte said.
According to Payscale.com, entry-level theatre technician salaries can range anywhere from $10 to $25 hourly.
Alicia Robles, nicknamed "Mama" by students and clients, is the program's production coordinator. A former student of Volonte, she handles the communication between the college and shows in which Citrus students are involved.
"We are the only school on the west coast where this is so hands-on," Robles said.
"We try to train everybody to do everything. It's no longer a world where you can just be in a specialized field. Now, when you go out, you have to do everything. The more you know, the more valuable you are to a company," she said.
Indeed, ETT offers multiple classes that help shape "valuable" employees. Theatre technicians in this program branch out farther than the typical stage.
"It's lighting, it's sound, it's technical direction, it's automated rigging, it's everything," Volonte said. "Everything we learn in the classroom, we are physically applying to live shows."
"About 75 percent of students who go out on ETT scholarships stay on with their companies full-time."
-Dan Volonte, Professor of technical theatre
Volonte described an average day of live event work as meeting up at 7 am, going out to a location, unloading the equipment, setting it up, running all the power, doing the show, getting done around 11 p.m. or midnight, driving back, unloading the truck, and possibly not getting home until 4 am.
One perk of the heavy travel is the yearly trip to Hawaii.
Volonte takes a handful of promising students in the program with him for two weeks, where they run various concerts on Waikiki Beach.
Tuition is approximately $2,250 for California residents, with a $400 expected textbook cost.
Students with little to no experience are welcomed. Erick Lopez himself first joined with zero theatre experience.
Now he finds himself working at sets like the Pac-Man maze for the Bud Light Superbowl commercial.
"A lot of the people who become the really good students don't know they are. They think that they're the screw-ups, the outcasts," Robles said. "They wander into the program by accident, and it just clicks with them… and they become the best people to have around."
---
---