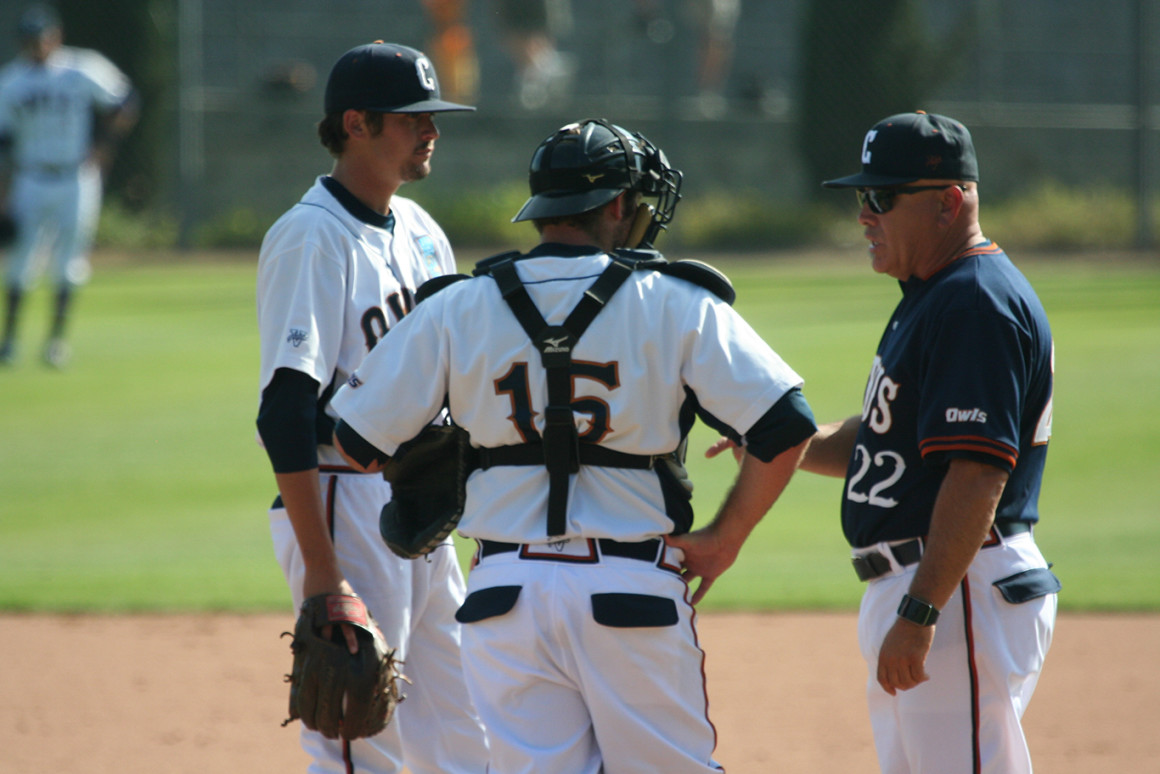 ---
With conference play starting yesterday, head coach Steve Gomez and his Owls are hoping to stay on the steady climb that they started last season.
In 2013, the Owls ended the season with a 14-21, 8-16 record.  2014 saw improvements in both overall and conference record with the Owls going 20-16, 13-8.
Heading into conference play, the Owls are 7-6-1.  Sporting a 6-1-1 record at home, their play on campus has been terrific.  Their only home loss coming against Mt. San Jacinto with a final score of 7-4 on Feb. 5.
At home, the Owls are averaging just over seven runs a game while giving up just over five.
Out of their seven wins, the Owls have found themselves trailing at one point in six of them, a couple including a few eight inning comebacks.
Nicholas Sergi and Sean Patton, last season's leaders in innings pitched and earned run average are back this season and will carry the load for the Owls as they begin conference play.
Sergi credits his dominating pitching performances to his defense.
"I don't strike a lot of guys out," Sergi said.  "I know I have a good defense behind me so I try not to do anything extra.  I just try to get outs any way I can."
Gomez is expecting another good season from his sophomore pitcher and it is expected Sergi will get a majority of the calls.
Pitcher Ryan Ponder got his first start of the season against Pasadena in the last game before conference play starts.  Ponder went 2.2 innings and gave up one earned run in the 7-1 victory.
Gomez went into the game against Pasadena with the idea that his team will need a sixth starter in the rotation with the long season ahead.
While Ponder has seen a majority of his appearances from the bullpen, he'll be ready when Gomez gives him the starting nod.
"I won't prepare any different whether I start or not," said Ponder.  "I'll treat every game the same."
Sophomore Taylor Grace paces the Owls' offense with a .407 batting average and hits with 24.
Grace led last season's Owls in at bats, batting average, runs, hits, doubles, home runs, runs batted in and slugging percentage.
A freshman stepping up in the box this season so far has been third baseman Jonathan Ayala.
Ayala is batting .333 in 45 at bats and has eight RBIs.
While coach Gomez described the Owls' offense as "anemic" during the Pasadena game, the Owls put the ball in play and forced the defense to make plays, which they did not.
With seven of nine pitchers being sophomores, the Owls will need to rely on their experienced pitching staff to carry the load if they hope to find any success this season and improve on their 20-16, 13-8 record from last year.
---
---