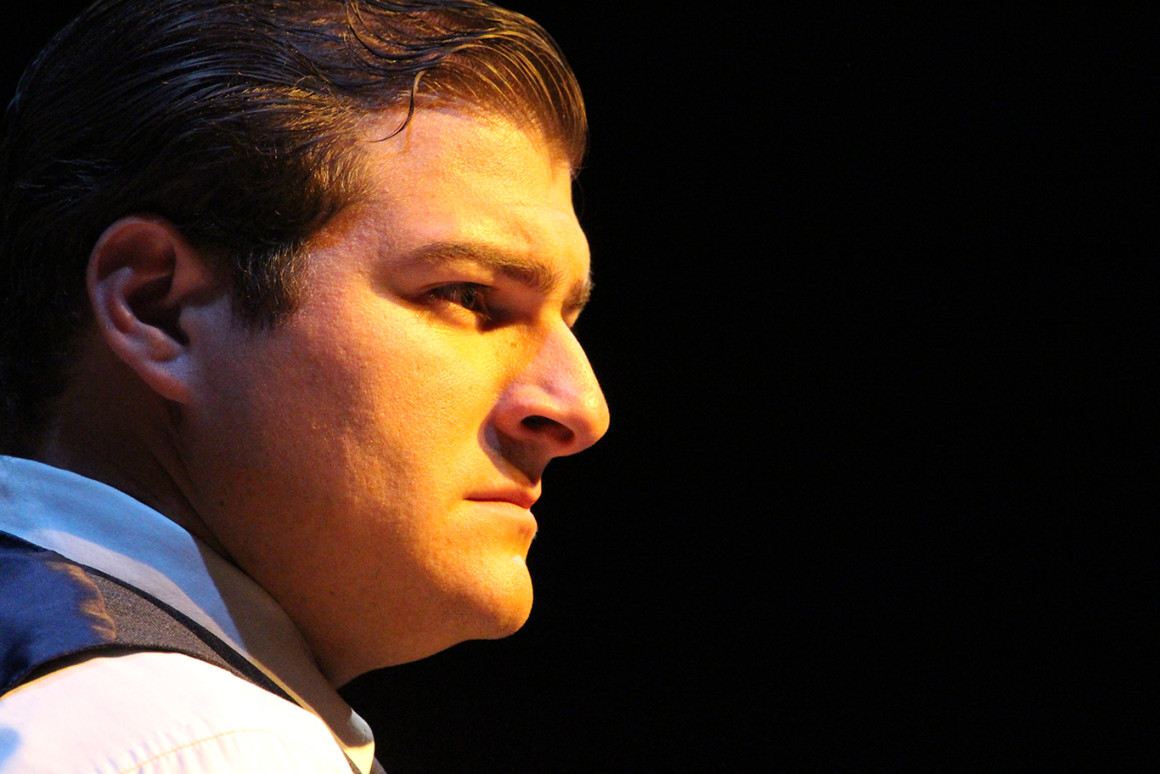 ---
Sunday afternoon, 2 p.m. Voices are wafting out of the stained glass windows of the International Full Gospel Fellowship Church, but one voice is missing. A student cast member––fashionably late––rushes over the church steps in his typical dress shirt and tie, already beginning to harmonize with the others before he's even reached the top.
Such is the typical routine for Ryan J. Lyle, 21, of La Puente, California. A Citrus College student artist struggling to balance his hobbies, education, and obligations, he was still able to make time for a role that seemed a dream come true: Feuilly, a French rebel from the play "Les Misérables."
"I've been through a lot of auditions. With "Les Miz", I lucked out. I was given a role I don't think I would have ever been given in a college setting," Lyle said regarding his casting.
On stage in rehearsals, Lyle is abuzz with energy. As he stands on the wooden box that places him at the top of the heap, you can see the enthusiasm in his body language.
"I am standing tall in the center as I sing and lead the company into the final part of the song. I am so excited," Lyle said about his solo in "Do You Hear The People Sing?", the song that rallies the French rebels together.
Keely Milliken, both the director and musical director of the IFGF's production of "Les Misérables", is coincidentally also a former Citrus College student. Now the current voice and music professor, Milliken was once a Citrus Singer from 1992 to 1995.
"We had our Jean Valjean, so this happened," she said, referring to the lead role of the play, which will be played by a priest at the church. "We had our musical."
An infamous musical, this production of "Les Misérables", produced by the International Full Gospel Fellowship (IFGF), is proving to be a well-needed outlet for creative expression in Lyle's self-proclaimed paycheck-to-paycheck routine. When he's not in class or working at Disneyland as the Jungle Cruise tour guide, his meager free time is spent on acting wherever he can, planning a film project, and of course, homework.
He takes all this stress with a lighthearted attitude, explaining with a smile that he is often at his wit's end juggling school life, work life, home life, and a social life.
Lyle's cast mate, Justin Senneff, knows these struggles all too well. "Theatre really teaches you how to balance money, time, and commitment," he said. "It's all about doing your part to become a stitch in the quilt of the show." Senneff, 20, plays the roles of Monte Parnasse and the Foreman.
Nevertheless, Lyle always makes time for his passions. Last fall, he played the role of Fred Izumi in Citrus College's production of "Museum" by Tina Howe, directed by Craig Tyrl. Scheduling was a major battle. Monday through Thursday, he would be at school from 7 a.m. to 4 p.m. If he had rehearsals, he wouldn't get home until 10 p.m. Any day he wasn't at school, he was working.
Despite these past problems, "He's doing a great job in "Les Misérables," says Daniel Escoto, a former Citrus College student and Lyle's friend. Escoto, 22, is also an actor in the play, taking on the roles of Babet and Combferre. Lyle and Escoto met during their years at Citrus College.
Looking towards his future, Lyle has dreams of filmmaking and pursuing a side interest in history and politics. He knows he can persevere through the challenging balance of time and money, aware of the tumultuous nature of the entertainment business. His passion for what he does will keep him moving.
"I feel like there's something more for me," he said.
As of right now, however, he is part of a whopping 65 member cast. After numerous failed auditions, Lyle is just grateful for his chance to stand upon that wooden crate and contribute his voice.
"To be given this opportunity… It just shows that I'm finally being taken seriously. It proves that the more I try, the more I'll have a chance," he said.
"Les Misérables" is playing March 28 to April 4 at the IFGF Church in Monrovia.
---
---