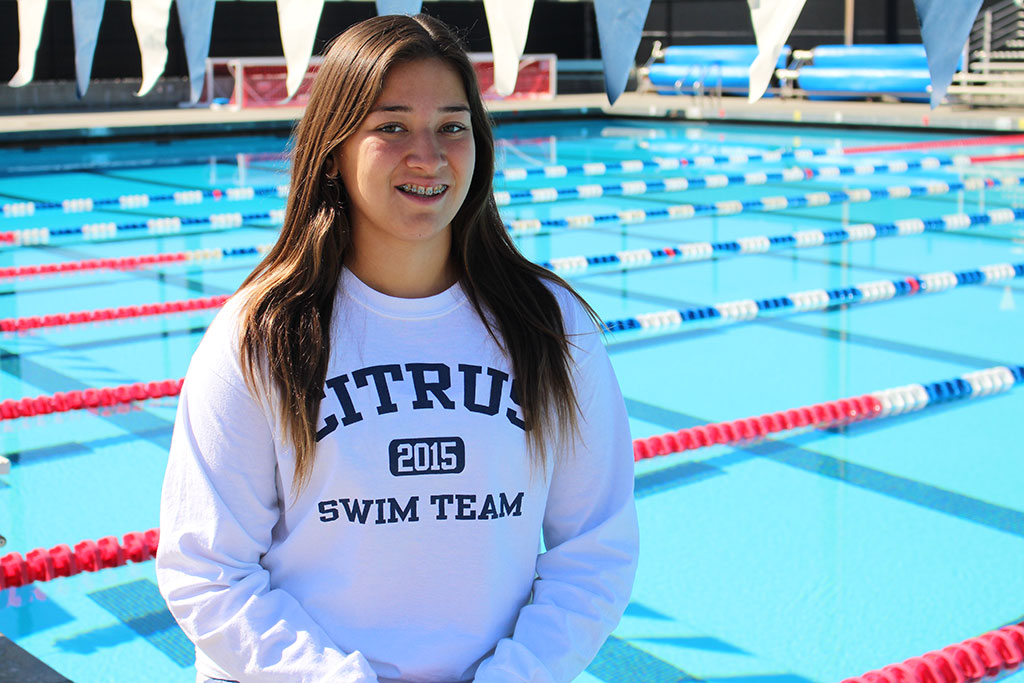 ---
Natasha Martinez is a new addition to the swim team at Citrus. She manages to balance swimming with also being an intern for Grace F. Napolitano, U.S. Representative for California's 32nd congressional district.(Mickey Romero/Clarion)
It takes a certain type of person to be an athlete, be involved in school activities, and have a full-time college schedule while keeping a smile on your face.
Natasha Martinez manages to live the crazy life of a student, intern, Associated Students of Citrus College senator and now swimmer all while maintaining a positive attitude.   
Martinez, 18, started swimming at the age of 9. Though she was not the best to start, she always had the support and enthusiasm to eventually be great. Most of her support comes from her family.
Natasha's mother, Erika Martinez, always pushed her to do better, "Even when I would get second place she would say 'I know you can get first,'" Martinez said. Her mother is the root of all her support followed by her younger brother and sister. Her family tries to go to all her meets, "They're my little cheer section," Martinez said.
Her mother's inspiring words reflect how she motivates herself today, "when I lose a race, the next time I have to do better," said Martinez.
Martinez now cheers on her two younger siblings the way her mother did for her. "They're always there for each other, I always push them to be there for their sister or brother," said Erika.
She is a very positive influence on her teammates as well, "We motivate each other," Martinez said. With a teammate like Natasha the swim team is bound for great things this season.
"She comes in smiling and ready to work out," said Anahit Markosian, a fellow swimmer, "Natasha brings such a positive vibe to the swim team".
Besides having a successful season, Martinez also hopes to break out of her 'new girl' label and become closer with her teammates. "I really hope to grow a bond with the team and to become more like a family," Martinez said.
Martinez's winning attitude is what makes her an excellent student athlete in and outside of the water. When she's not in the pool Martinez is an intern at the office of Grace F. Napolitano, the U.S. Representative for California's 32nd congressional district. "They only interview 6 of 100 plus applicants, I was their top candidate," Martinez said.
Aside from her internship, Martinez is a senator for ASCC here on campus. This is her second semester being a part of ASCC.
Martinez is majoring in political science and hopes to transfer to UC Santa Cruz. Martinez's long term goals include one day working for the government and organizations to help families that have children with disabilities find help and resources they need. 
Martinez works hard and dedicates herself to everything she does. "Time management is a big factor in being successful," Martinez said.
The Owls' swim team will have their only home meet of the season on March 20 at 2:30 p.m.
Come out and support the Owls in the pool which is located near student parking lot 8.
---
---