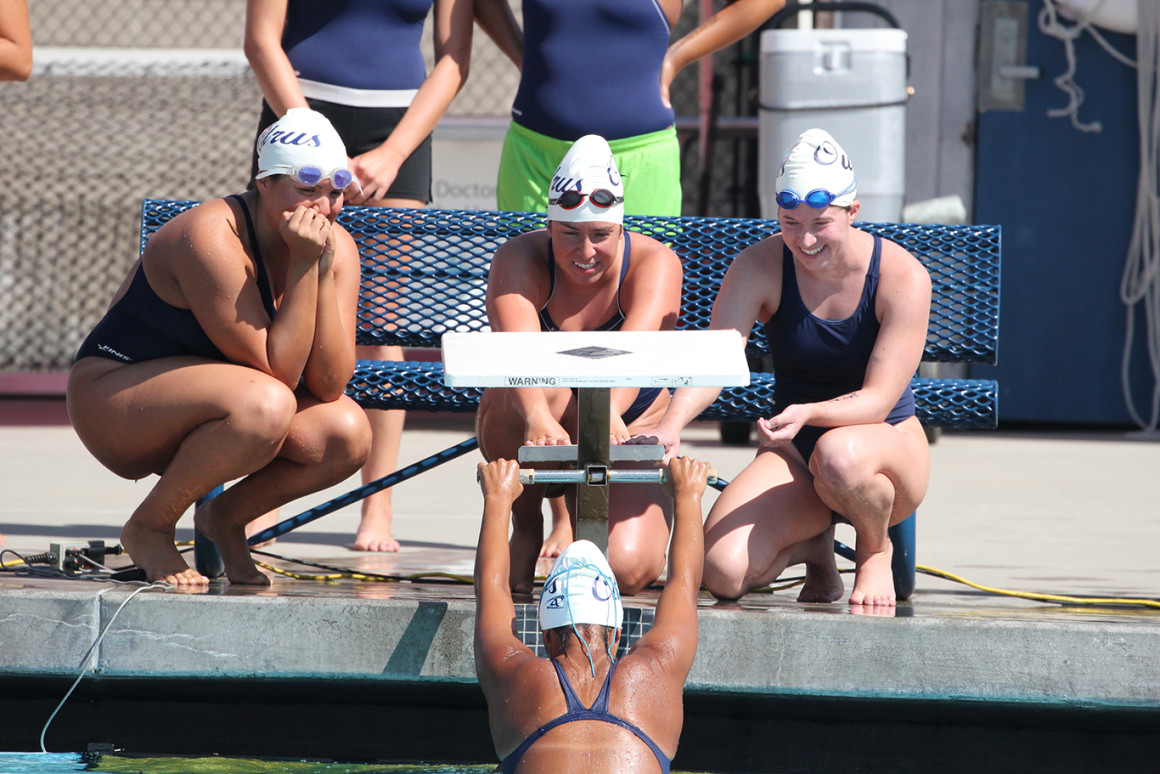 ---
Members of the Citrus College swim team support each other throughout each meet. The Owls went 3-1 on the day which was good enough for second place. (Dillon Cooper/Clarion)
Citrus College played host to four other community colleges in the second Western State Conference meet of the season. The team defeated three of the four competing community colleges and lost first place by one match to Los Angeles Pierce Community College.
On Friday many swimmers dropped seconds off their best times. "The entire roster from top to bottom…everyone swam well," said head coach Andrew Silva. Carly Casillas, 18, dropped six seconds off her previous 500 Free. Her time of 6:22:23 placed fifth.
Despite some swimmers having to swim events they haven't competed in this season the ladies did very well. The team was able to adjust and ready to race.
Enthusiasm ran high throughout the entire meet. Anahit Markosian, 19, said the motivation from her teammates drives her to do better. "I'm not swimming for myself I'm doing it for my team," said Markosian.
Preparations for the WSC Championships are well under way. The ladies train at very high level swimming everyday throughout the day. Silva expects the swimmers to continue doing well if they continue to train hard. "We're going to see time drop just by working on the details," said Silva.
Aside from training, Silva is convinced that the support the ladies have for each other will show positively in their swimming. "The culture they've developed translates over to their positive performance and in the races as well," said Silva.
The ladies head to the third Western State Conference meet meet Friday Mar. 27 and then onto WSC Championships starting Apr. 16 at the Ventura Aquatic Center.
---
---