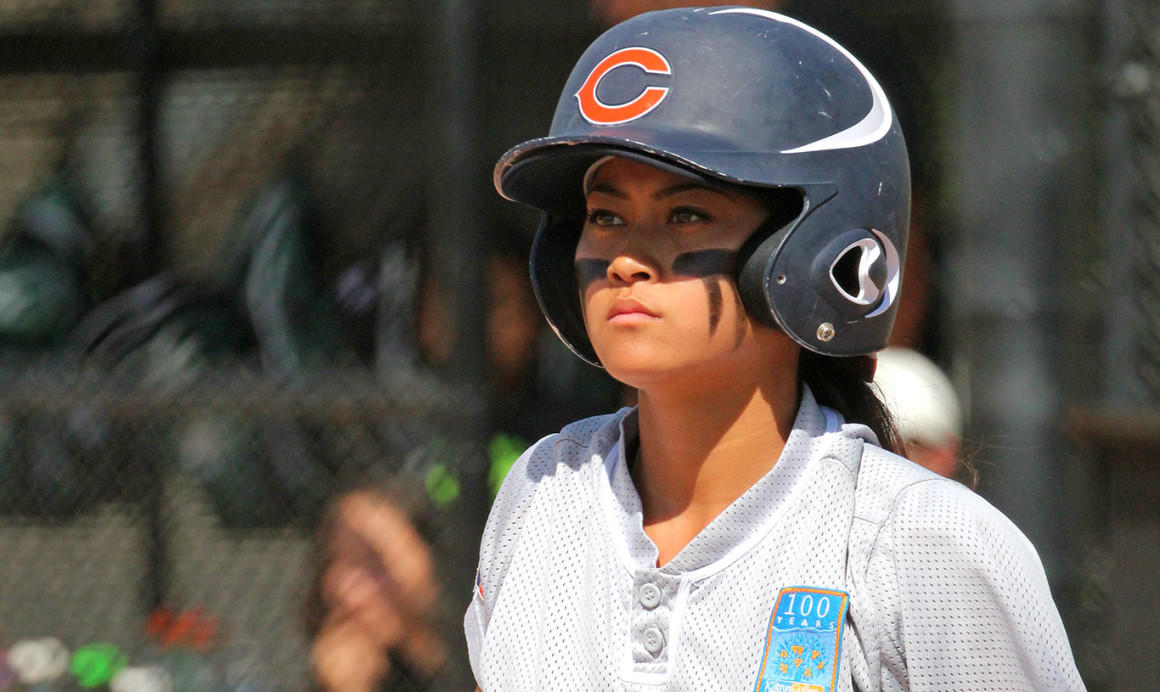 ---
Kalei Guillermo, #12, approaches the plate against Los Angeles Valley College on March 25, 2015. Guillermo went 3-5 in the doubleheader against LA Valley as the Owls won both games. (Dillon Cooper/Clarion)
The Citrus College softball team lost a big bat this season when veteran first baseman Sara Moore moved on after playing her two years for head coach Jackie Boxley and the Owls.
The hits and runs had to be made up somewhere else in the lineup. Someone else had to provide that spark if the Owls were to repeat as conference champions.
Enter outfielder Kalei Guillermo.
Guillermo, 20, ended last season with 34 plate appearances, five hits (.192 average), three RBIs and one stolen base.
The 5-foot-1 Hawaiian seemed like the least possible source for the needed production, but this season she has come up big.
Guillermo had originally intended to attend the University of Tampa, but decided not to go after Hurricane Sandy hit.
Coming from the island of Oahu in the spring of 2013, Guillermo chose Citrus not only for the softball program, but for the school's tutoring services and programs to help athletes transfer and move on to the next level.
"When I first got here, I had a really rough start," said Guillermo. "Boxley just kept pushing me and pushing me. I am so grateful. Life would be pretty rough for me without softball."
Guillermo was eligible to play in the 2014 season after spending 2013 red-shirted, but found her chances to be limited.
"I knew at the time, other people were getting hot," said Guillermo. "If my part was to go sit on the bench and cheer on the other person, I was fine with that."
Coming off of the bench can provide extra pressure for players who have a minimal role but are expected to produce. Their chances off the bench can shape their future with the team, in a negative or positive way.
Unfortunately for Guillermo, things didn't fall her way immediately.
"At the time, Boxley would throw me in at the most inopportune times, when I felt like I was super pressured and I wouldn't perform well," said Guillermo. "I would kick myself after because that was my chance and I didn't perform."
"Looking back on it, I see why she would put me in. You only get so many opportunities," said Guillermo. "To me, that made me a better person"
While the Owls were crowned conference champions in the 2014 season, Guillermo was still yearning for chances to prove herself. The offseason was the perfect place to start.
"When I go back home, all I do is go to the gym in preparation for the coming season," Guillermo said.
Coming back for the 2015 season, Guillermo impressed coach Boxley right off the bat with the work she did over the offseason.
"She understands that she's in that little body, so she hit the weight room this offseason and she showed up and just started crushing things," said Boxley.
The beginning of the 2015 season started out just like the 2014 season for Guillermo, on the bench.
With Guillermo not in the starting lineup, the Owls dropped their first two games of the season.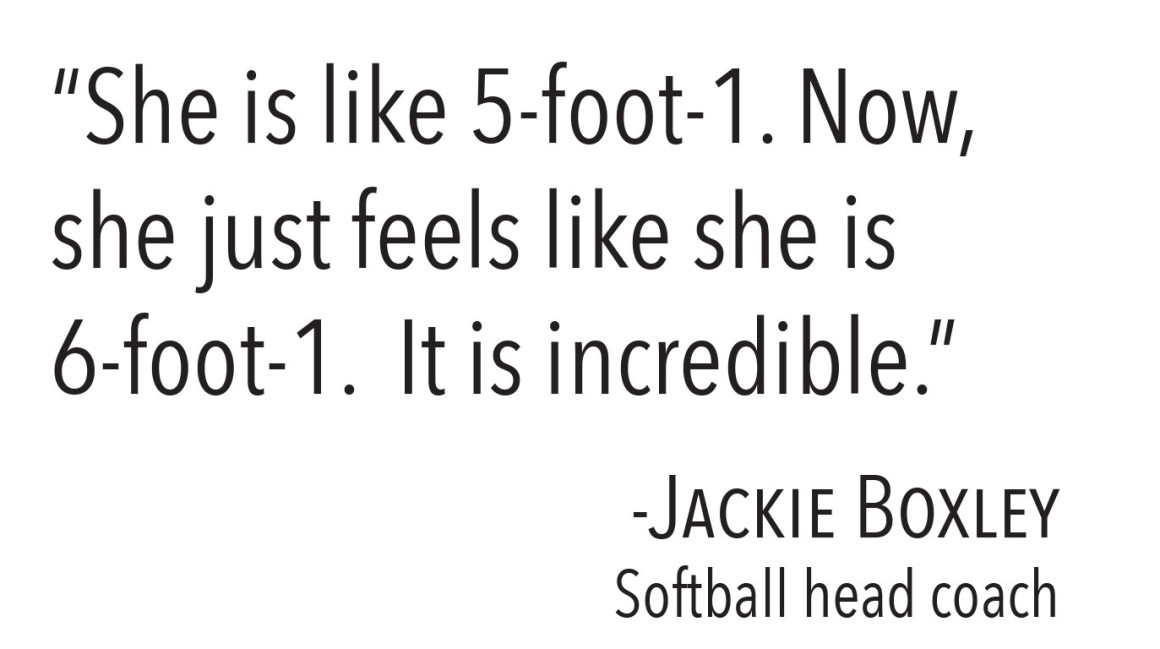 Alongside coach Boxley, assistant coach Terry Paredez has been there every step of the way with Guillermo.
Paredez challenged Guillermo to get out of her head and demonstrate in a game environment what she could do.
"'I push you and I push you because I know you're a better player than what you're putting out,' he'd say to me," said Guillermo. "He told me 'If you just cut your head off, you could be the great player I know you are."
"I took that as him wanting me to be better and I took that challenge, I wanted to be one of those nine people on the field," said Guillermo.
In the Owls' third game of the season, Guillermo was inserted in the starting lineup and went 2-2 with two RBIs.
Since that game, the Owls would utilize Guillermo as the every-day starter in right field. A place she was working toward her entire time at Citrus College.
"Kalei is a workhorse," said Paredez. "She's started from that day on. She's a spark plug and everyone can tell that she wants it."
The Owls are currently 20-7, 9-1 and Guillermo is third on the team in batting average (.367) and has knocked in 15 runs this season including a walk-off homerun in the eighth inning against Mt. SAC. She also leads the teams in stolen bases with three.
"I was really frustrated at the beginning of the season," said Guillermo. "The coaches are really proud of me that I didn't give up and I'm proud of myself I didn't give up."
"She's like 5-foot-1," said Boxley. "Now, she just feels like she's 6-foot-1. It's incredible."
Guillermo's spark and personality has made her a favorite among the players and coaching staff. Often leading cheers and the first one to pump up her teammates, Guillermo is enjoying her time on the Citrus softball team.
"I've been on teams where they just hate each other and they bring that onto the field," said Guillermo. "But I love these girls, they never take a day off and they put 100 percent in every day. I'm proud to be a part of this team."
"She's honestly grown into one of the players that has come through that we really latched onto," said Boxley. "She bought into us and we bought into her. We're stuck with each other, she's just a good kid."
Hard work and patience has finally paid off for Guillermo as she is looking to continue her education at Whittier College to pursue a career in chemical engineering.
Entering the second half of the season, there's still much to expect from Guillermo and the rest of the Owls as they look to continue their streak of playoff appearances and try and advance deeper into the state tournament.
"I want to leave everything all out on the field. I don't want to look back and think 'I shoulda, coulda, woulda,' I don't want to do that."
You can catch Guillermo and the Owls at their next home game on April 7 as they host College of the Canyons as part of a doubleheader starting at 1 p.m.
---
---