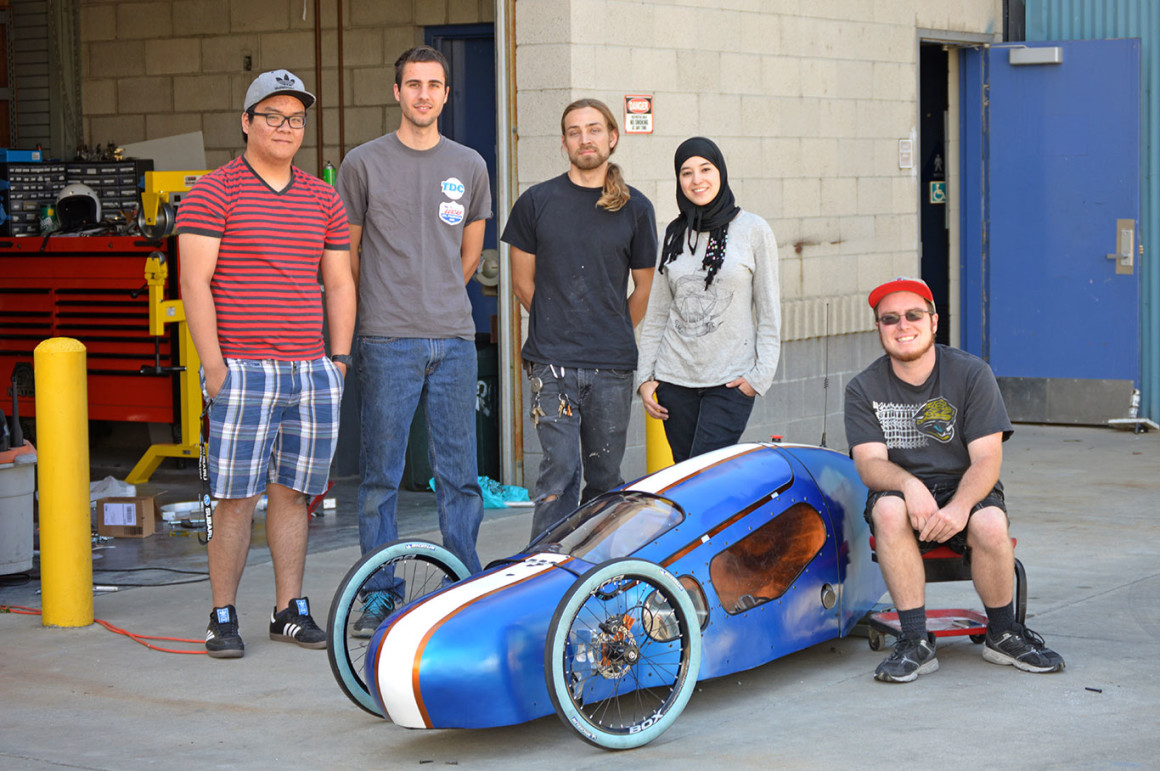 ---
The Cape Owls (left to right): Jimmy Lam, James Couch, Alec Nystrom, Oumnia Maaouni and Casey Rudd. The team is making final adjustments to their vehicle which will be included in this years Shell Eco-Marathon in Detroit, Michigan.
(Jaclyn Spencer/Clarion)
This past Sunday marked the members of the Citrus College Automotive Physics Eco-Marathon Owl members final shop day.
Every weekend for the past five months, this dedicated student group designed and constructed an ultra-energy efficient car.
CAPE Owls will be submitting their car in the 30th annual global event, Shell Eco-Marathon.
More than 120 teams will be meeting and driving their own car designs at Cobo Center in downtown Detroit on April 9-12.
The competition is open to high school and college students. The participants' vehicles are split into two mileage classes: prototype, a class focusing on ultimate energy efficient, and Urban Concept, the class encouraging particle vehicle designs. 
The competition tests the mileage capabilities of these vehicles. The fuel categories used between the prototype and Urban Concept vehicles range from petrol, diesel, biofuels, and fuels made with solar energy, electricity or natural gases such as hydrogen.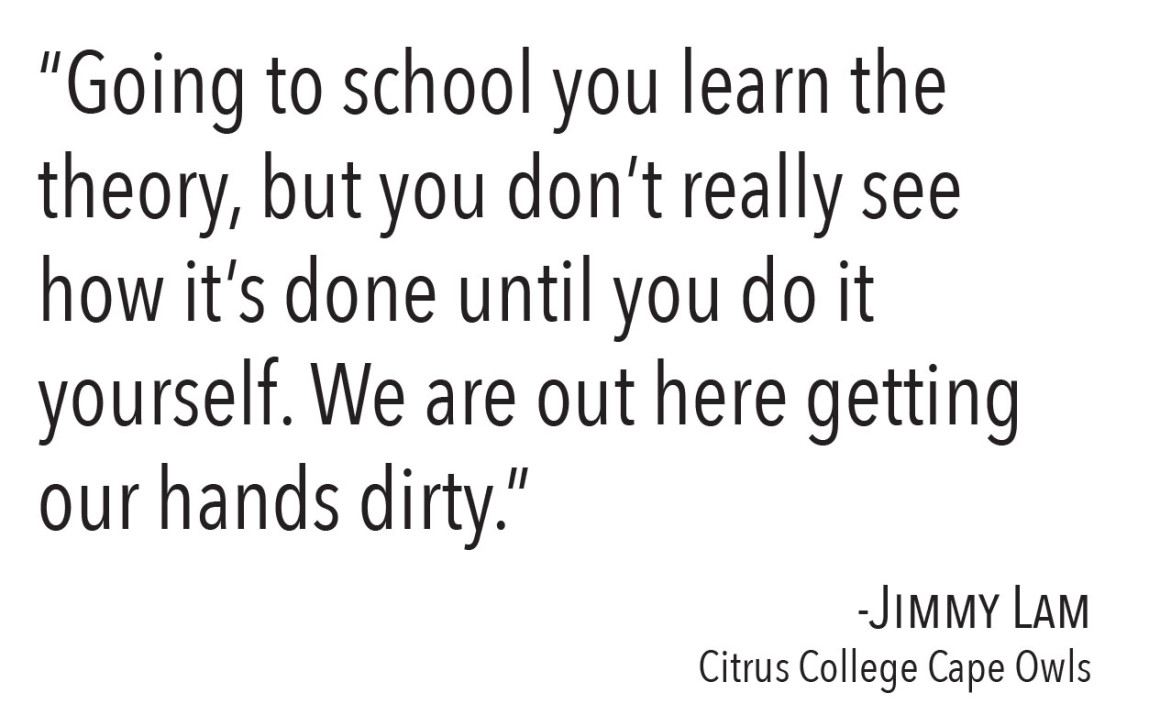 The CAPE Owls strive towards improving and standing out with their petrol prototype as they return for a second consecutive year.
"Last year was Citrus College's first year competing, so we went to the competition and pretty much learned as much as we possibly could," junior and returning member, Alec Nystrom said. "We started completely from scratch and built a whole new vehicle based off what we learned."
Nystrom elaborates on how driving strategy is also an element that was considered in this year's planning.
"The track is a closed area of downtown Detroit. The one lap itself is about 0.9 miles. Last year was 0.6 miles and we did about ten laps. I think [this year] we will do about six laps," Nystrom said.  "I just have to get used to driving procedures. When we did our first test run, I was able to make a 100 miles per gallon difference, just by the way I was using the throttle."
This year's team is made up of student recommendations from automotive instructor Mariano Rubio and physics instructor Dr. Lucia Riderer.
"Our physics teacher mentioned it briefly [in class]. I went to her office one of the last days of class and asked if I wanted to join," sophomore Casey Rudd said. "The team was already full, but she said she would add me because she thought I would be a good asset to the team."
Since summer, the CAPE Owls have been meeting to discuss designs and develop their fiberglass and welding skills before starting construction on their prototype in November. 
"There were a couple nights, we had to spend the night," James Couch said. "We work continuously through the night. We wake up and just start working again."
Nystrom is confident in his teammates' skills and chances at the Motor City.
"The team has come together really well. Everybody has their strengths and weaknesses and has developed a really strong suit," Nystrom said. "I am looking forward to placing in mileage. I think [we are] going to do very well this year."
Over the process of creating this prototype, the team learned through their hands on experience.
"Going to school you learn the theory, but you don't really see how it's done until you do it yourself.
We are out here getting our hands dirty," sophomore Jimmy Lam. "In this stage it is something you can actually touch and say we built it from nothing from air basically."
For months, the team's building experience was full of trial and error. The team researched together and learned from one another.
"Most of it is learning through my team members. Alec, our team leader, he taught me a lot of stuff and so did James," Rudd said. "You see how they are doing stuff, you grab it and just learn how to do everything."
In between studying and the long working hours, the team relies on each other like a family.
"I am an international student. I do not really have family here, sophomore Oumniam Maaoouni said.
"They are like my family here, like my second home. I see them all like brothers," she said.
Nearing the next phase of the competition, the team looks forward to seeing what the competition will bring.
In addition to the competition, the team will be able to meet students from all over globe to discuss and share their automotive passions.
"I just want to have a fun time there," Rudd said. "I'll talk to other schools, see what they did and just get possible ideas for future engineering projects."
---
---