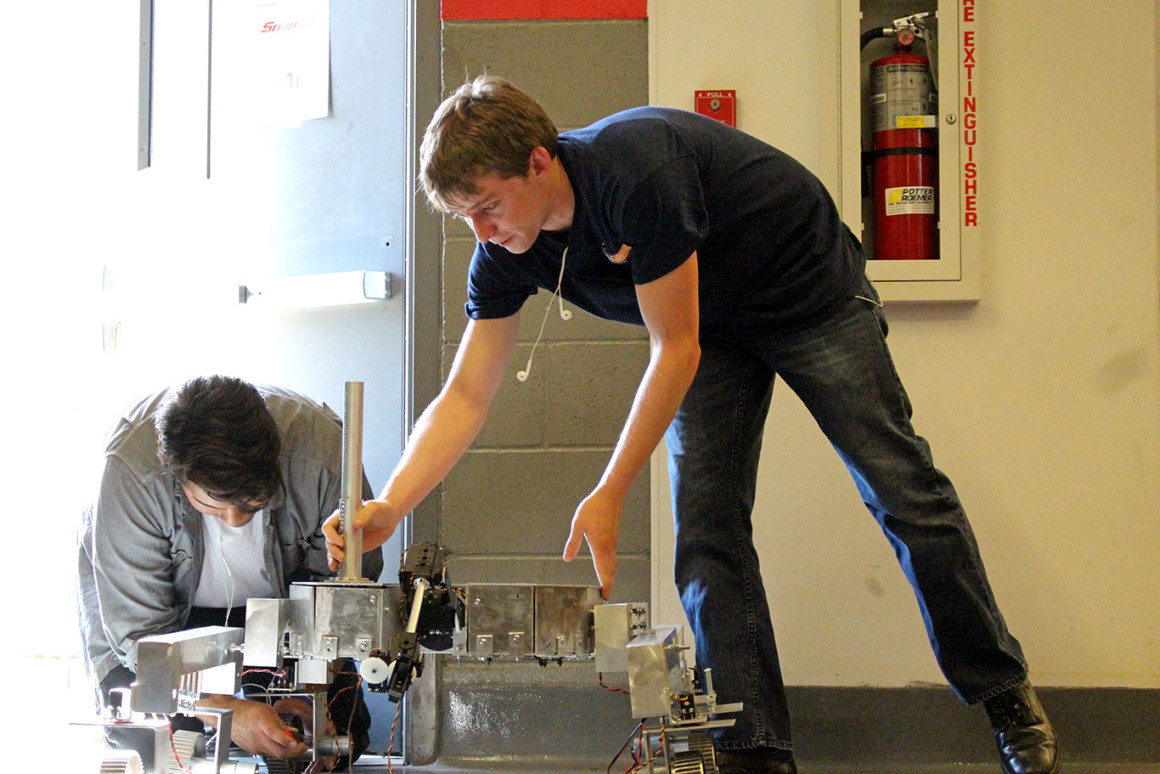 ---
Rocket Owl robotics specialist and aerospace engineering major Brian Weatherspoon and teammate Joe Molina prepare the team's Autonomous Ground Support Equipment robotic rover that the team will be taking to Huntsville, Alabama as part of the National Aeronautics and Space Administration's Student Launch Program on April 7-12. (Evan Solano/Clarion)
The Rocket Owls five members are leaving to Huntsville, Alabama  on April 7-12 to represent Citrus College in the National Aeronautics and Space Administration's Student Launch Program (SLP).
Citrus College is the only community college in California and only one of two community colleges in the nation, to compete with 32 colleges to launch a rocket 3,000 feet above ground. 
According to John Flores, a mechanical engineer major, the challenge requires a team to design, build, and launch a reusable rocket with a payload to mimic a Martian landing scenario, so that NASA can improve upon existing procedures to retrieve samples of soil and rocks and successfully return back to Earth.
"Showing Citrus can compete on the same page in a competition that NASA host, and with big time schools like Vanderbilt University and the U.S. Naval Academy says a lot about our STEM students and program," said Brian Weatherspoon, Rocket Owls robotics specialist and an aerospace engineer major.
"It will be nice to beat some of the four year schools with the outreach program," said Aaron Bunch, the Rocket Owls team leader and physics major.
A new requirement to the competition is the use of an Autonomous Ground Support Equipment, which is a robotic rover that collects samples and returns back to the rocket, "The AGSE [must] autonomously locate a payload, go to it, retrieve it, and then find the rocket put it in the rocket and seal it by itself," Weatherspoon said.
Not only are the Rocket Owls staying busy with building their 10-foot rocket for the competition, they also did outreach work with Slauson Middle School and La Fetra Elementary School teaching physics and math in a fun way, by building and launching rockets.
While working with fifth graders every month for five hours, the Rocket Owls enjoy spreading science to students. "They are really great kids, and we have met with them for eight months so we really got to know them," Bunch said.
Physics professor Lucia Riderer, is the Rocket Owls adviser, hand picks team members under certain requirements.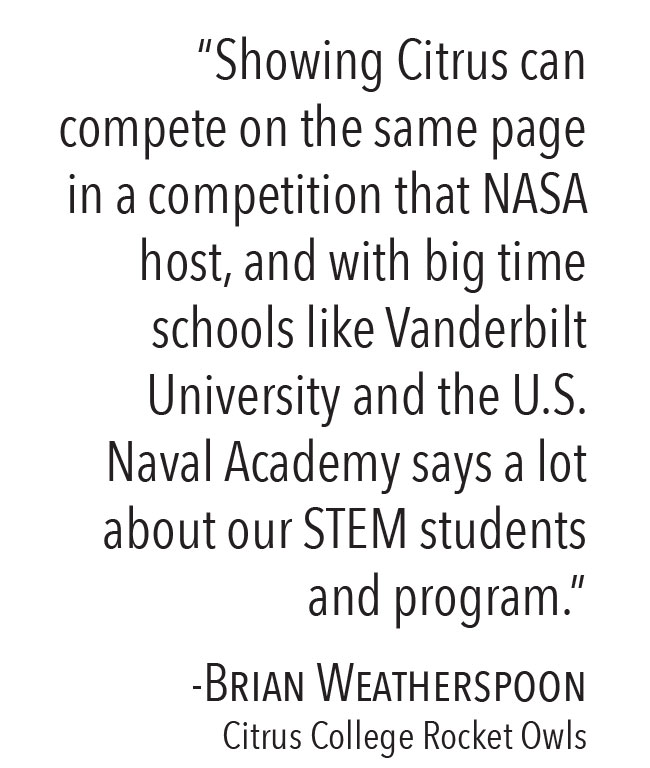 "She looks for people who are hard workers and really committed into doing the best work that they can," Flores said. "She's just looking for different traits that are necessary to get involved in a project that requires a lot of time and effort."
The Rocket Owls have been working in preparation for this launch for the past 10 months and if history is any indication, will be working on it up until lift off.
"Last year we were working until the day of," Flores said. "I was even programming in the hotel room the night before trying to make sure everything was working properly."
A necessary requirement of being on the Rocket Owls include a high level of dedication, 
"You have to go in knowing you will get many sleepless nights and just accept it, it's fun you have to enjoy that kind of thing," Bunch said.
Although the competition does not award trophies for all finalists, for Flores and the rest of the team, along with the experience and recognition that comes with winning, they are looking forward to something far greater.
"Our prize is to go home after the project and sleep in for the whole spring break." Flores laughed.
---
---