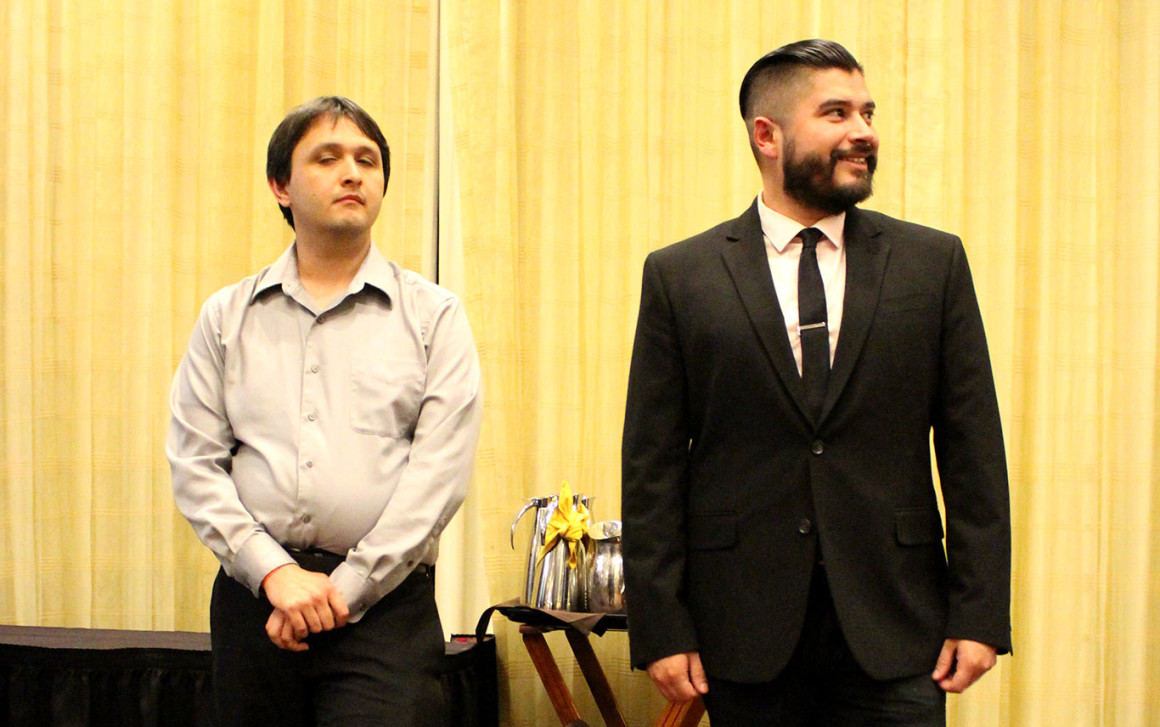 ---
Clarion editor in chief Evan Solano (right) and Joseph Daniels, NorCal JACC student president (left) during the awards ceremony at the JACC State Convention in Sacramento, Calif. on April 11. (Dillon Cooper/Clarion)
The editor in chief of the Citrus College Clarion has been elected president of the Journalism Association of Community Colleges southern region for 2015-16.
Evan Solano, editor in chief of this campus newspaper, was selected April 11 to represent Southern California journalism students during the JACC student leadership election during the 60th annual JACC state convention.
More than 480 students from 38 colleges attended the convention from April 9 through April 12 at the DoubleTree Hotel in Sacramento.
Only Southern California delegates were allowed to vote for the Southern California JACC student representative. Solano who ran against a candidate from Southwestern College was elected by majority vote.
Solano is one of three students and three faculty elected to serve as advisory board members to develop in a new initiative between JACC and the California Newspaper Publishers Association. CNPA is a professional trade organization that represents professional and campus publications. Solano will be representing community colleges that span from Bakersfield to San Diego.
Patricia Stark, journalism department chair at Santa Barbara City College and faculty president of JACC said in an email, "The board will absolutely be counting on Evan to help us with our transition to working with CNPA."
It has been more than 20 years since a Citrus College student has been elected to serve as a JACC officer. In 1993, Sarah Torribio, then the editor in chief at the Clarion and now features writer at The Claremont Courier, was elected JACC state president.
"The Clarion is lucky to have a great leader. Now he will be taking his leadership to help JACC move forward in his new position," wrote Jorge Medina, designer for the Orange County Register and former editor in chief of the Clarion. "I wouldn't be surprised to see him change or leave a legacy behind after his full year is done in his position."
At the JACC convention, attendants participated in more than 40 workshops conducted by media professionals, which included Medina; Jason Wells, news editor for Buzzfeed; Kelly Goff, social media reporter for NBC4 Southern California; and Bhavisha Patel of Q13 FOX News, Seattle.
The convention featured 17 on-the-spot competitions, including team feature writing, critical review and sports photography. Eight students and two faculty advisers represented the Clarion delegation. Solano won first place in the on-the-spot news judgment/tabloid layout competition.
"His design has improved impressively in the last couple of years," Medina wrote.
"He has taken a lot of risks, learned from his mistakes, and has put out one of the cleanest newspapers, design-wise, since I left Citrus College."
The Clarion won four publication awards, including two by Solano; fourth place in photo illustration and first place in inside page layout.
"It was really exciting to win first place in the design contest," Solano said. "Last year, I got knocked out in the first round so to come back this year and place is a real honor."
Waleed Rashidi, adjunct communications instructor at Citrus College, has also helped Solano learn Adobe InDesign. A full-time lecturer at CSU Fullerton, Rashidi also critiques the paper's latest editions.
"This is one of the most visually attractive versions of the Clarion I've ever seen," Rashidi said. "Evan understands the importance of publishing online as much as the traditions of having a strong print presence."
"Plus, he is truly passionate about working in the media. It's not just a hobby or something extracurricular, it's really part of his life," Rashidi said in an email.
Solano has been with the Clarion since fall 2013 and editor in chief for three semesters.
The JACC 61st state convention is scheduled for April 2016 at the Burbank Marriott. Students enrolled in Citrus College communications courses will be eligible to attend.
---
---