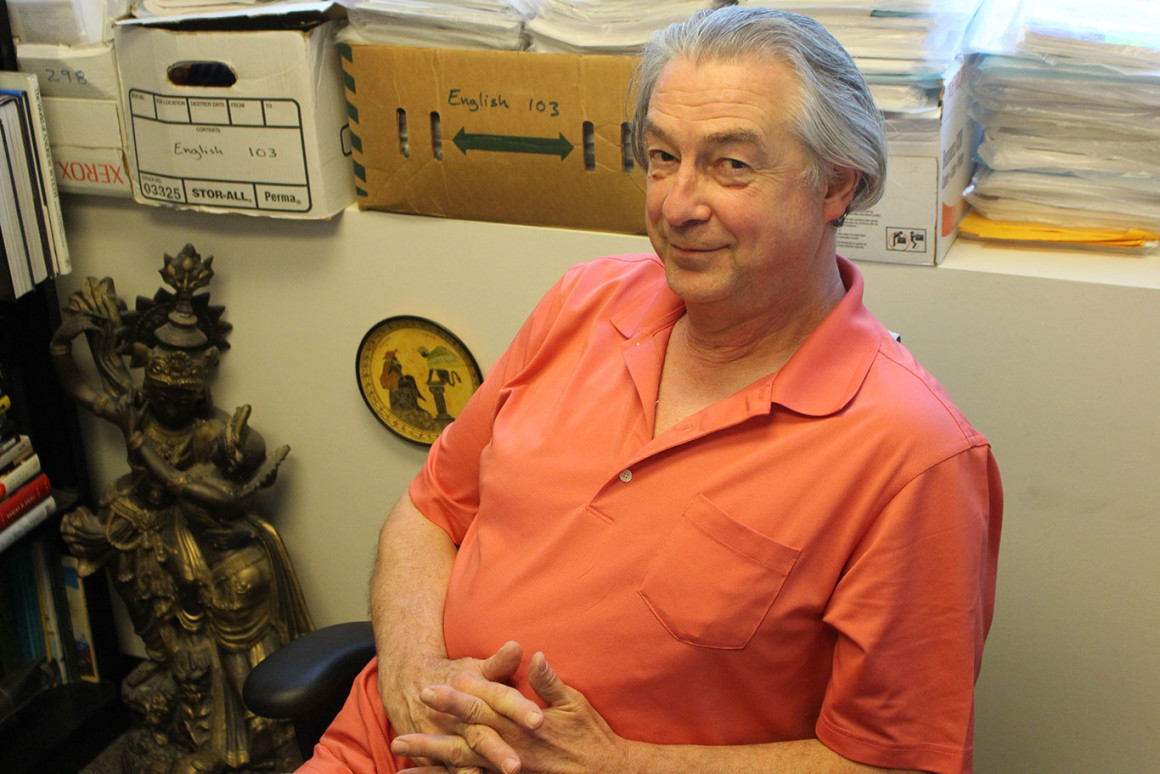 ---
English Professor David Overly, Ph.D., attended the Nobel Peace Institute in Norway to continue his research for the new program he is launching. The program he created will be titled "Strategies for Peace: Saving Civilization." (Evan Solano/Clarion)
For the first time at Citrus College, a peace studies class will be added to the spring 2016 schedule of classes.
David Overly, Ph.D., professor of English, is launching a new program in the humanities department. The first course in the program will be titled: "Strategies for Peace: Saving Civilization."
"It is very forward thinking," Overly said. "We need to learn a different way to resolve conflict, taking one small step in a positive direction."
The class will cover the destructive impact of war, not only on people, but also on art, literature and philosophy. It will also explore alternative conflict resolution strategies.
Eventually, Strategies for Peace will be offered as one class in a certificate program, Overly said.
Two other California colleges, Golden West and San Diego City, already offer peace studies programs.
"I would like Citrus College to join this cutting-edge endeavor," Overly said.
Four-year universities, such as Georgetown, San Diego and Notre Dame also offer peace studies degrees.
Several of Overly's colleagues have endorsed this addition to the Citrus College curriculum.
"This would be a good base, or 'ground work,' to have as your knowledge base going into a few careers," said Dana Hester, Ed.D, dean of social and behavioral sciences.
"It is another alternative for transfers," Hester said. "This is something that sparks interest since it is in the media's eyes now."
To prepare for this program, Overly attended the Nobel Peace Institute in Oslo, Norway in August 2014 and the Peace and Justice Studies Association convention at the University of San Diego in October 2014.
He is scheduled to attend the World Summit of Nobel Peace Laureates in Atlanta, Georgia in November 2015.
There he plans to attend several workshops, one such as "Promoting Global Peace and Engaging Youth."
Overly, who will be on sabbatical leave from in fall 2015, plans to attend a Nobel Peace Prize awards ceremony on Dec. 10, 2015, in Oslo.
While in Norway, he will do research at the Nobel Peace Institute and enjoy "being in the community of people wanting to take one small step in a positive direction."
He hopes to return to Citrus and inspire others, especially students, to find common strategies to resolve the world's conflicts.
Dale Salwak, Ph.D., professor of English, is expected to be a guest speaker in Overly's peace class.
Salwak will contribute by sharing his world view with an emphasis on Asia, as he has traveled extensively throughout China, South Korea, North Korea, Japan, Indonesia and Taiwan.
Salwak urges students to "keep an open mind, read widely, and think hard on the issues."
Johanna Medina, a sociology major, is looking forward to implementation of the peace studies programs.
"It will make people more aware of the world and how their action affects the bigger picture in humanity," she said.
Meanwhile, Overly is hoping to engage the Citrus community in an effort to become more socially conscious.
"Peace is not just 'not war,' but also another way to share resources," Overly said. "We all share a common humanity."
---
---