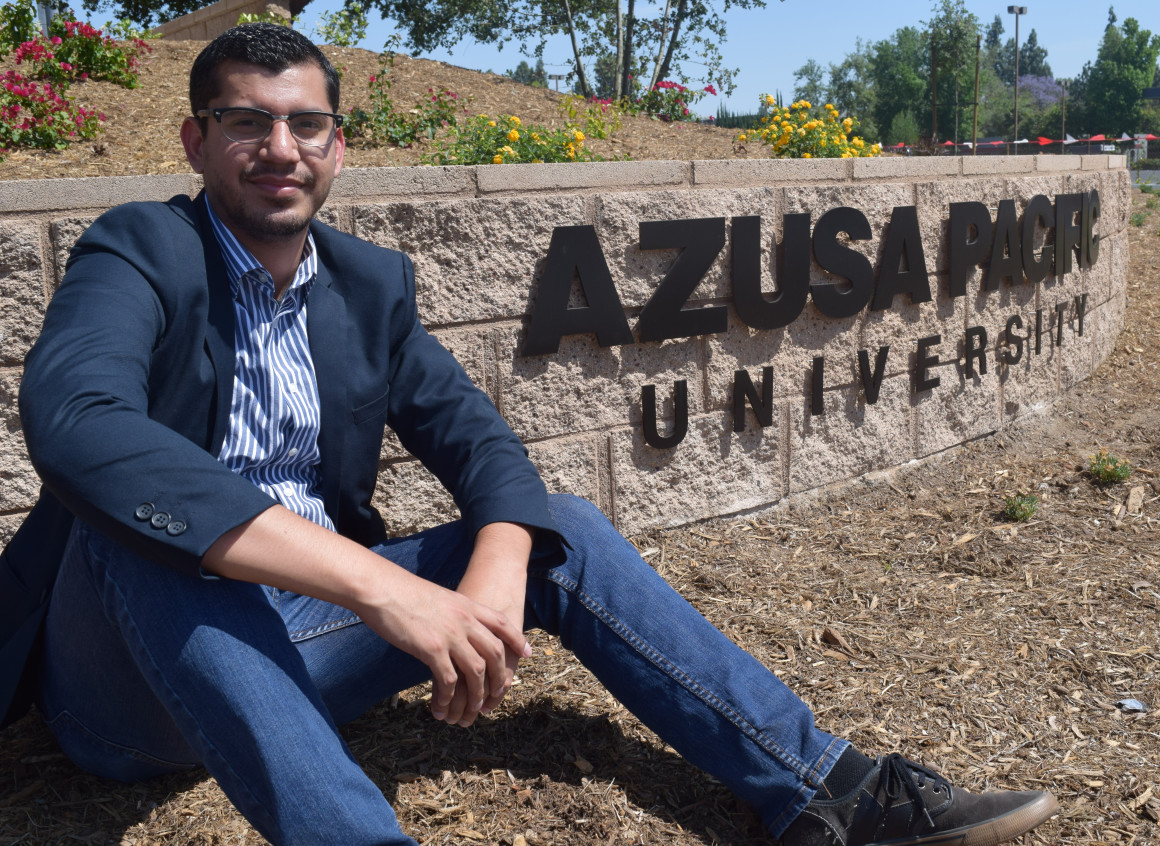 ---
At age 13, concerns of the average teenager can vary from passing school classes, to finding a prom date. However, for some teens, the unexpected delivery of life-changing news from the family doctor can jolt them into harsher realities.
Citrus College alumnus Daniel Celebertti, former ASCC vice president, now 28 years old, was diagnosed with Ulcerative Colitis when he was 13. The eighth grader was experiencing intensified internal bleeding and anemia. He spent his remaining teenage years in and out of the hospital, away from the social environment his peers took for granted.
Three years into college, at age 23, Celebertti's condition worsened. He underwent intensive medical treatments and months of recovery during  which time school was not an option.
These health issues slowed down Celebertti's successful completion of college, but he did not give up.
Working to overcome the depression that years of isolation had produced, Citrus College would become the platform of Celebertti's leadership development.
Although his first years at Citrus were spent introverted, constantly avoiding interaction with peers, his involvement with the Anime Club would spark interest in campus life and leadership.
His dedication to this club would lead Celebertti to become president of the group. After a successful term, Celebertti's presidency would pave a path to presidency of the Inter-Club Council, and eventually vice president of the Executive Board of the Associated Students of Citrus College.
"These executive positions have allowed me to develop my leadership skills," Celebertti said. "Setting me on a path toward a successful career in student services."
ASCC President Manuel Ramirez described Celebertti as dependably inclusive, compassionate and consistent.
Adrienne Thompson, supervisor of student life describes Celebertti as a "rarity in leadership," always able to see the bigger picture in campus plans, as well as how each event best fits into the overall health of the college.
Celebertti's medical condition continues to be a driving force in his determination to succeed.
"[Celebertti's medical obstacles] are a lesson and encouragement to other students," Thompson said, "that success is possible, no matter the challenges faced."
This was cemented as Celebertti successfully transferred from Citrus College to Azusa Pacific University, a respected private institution.
This transfer, according to Celebertti, "validated all the obstacles faced in years past," giving each challenge a purpose. It proved growth and determination are the best tools available to push past difficult times in life to reach success, Celebertti said.
"[Celebertti] has the potential to accomplish anything he sets his mind to," Sara Acevedo said. An ASCC commissioner of activities herself, Acevedo shared that the leadership witnessed in her time on the board with Celebertti distinguishes him from others.
Following the completion of his bachelor's degree at Azusa Pacific University, Celebertti hopes to focus his career in the California Community College system, particularly in student services.
A career in assisting community college students achieve their academic goals will serve as a career in giving back to the education system that saved his academic life, Celebertti said.
At 28 years old, as survivor of a near fatal medical scare and one of the newest students at Azusa Pacific University, Celebertti demonstrates that self-care and persistence has the potential to lead one to their future of success.
---
---